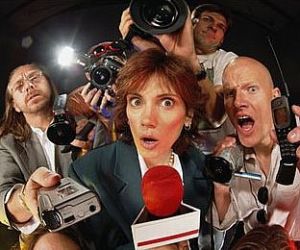 It's a new work week, anti CCSS Warriors, but that's okay. For us, it just means more days to fight Common Core, to preserve freedom of educational choice; it's a new week to reach out to our legislators and say "NO!" to the data mining, the psychological abuse, the workforce alignement, the public/private partnerships, and the media. Now, why would I include the 'media'? We've seen first hand, on several occasions where the sold out media circus has clamored to promote, misinform, throw stones at anyone and/or anything which might suggest the  CCSS Machine isn't great, true, honest, or just plain good for American students.
As a small participant in the social media anti CCSS side, I wanted to use my 'musings' article to help lay out some newer efforts the sold out media sources are using to push, sell, indoctrinate via the TV, radio, etc. possible.
ICYMI, "Think It Up":
This organization held a broadcast nation wide, on Sept. 11th, 2015. Backing it are the Gates Foundation, Exxon, and every major media company out there. Fox, NBC, CBS, ABC, and PBS were all involved. I was too appalled to watch the pro CCSS 'smooze fest', but I do know from some other anti CCSS Warriors, it was quite spectacular in the category of 'nation wide indoctrination broadcasting'. If you'd like to learn more about the TIU (Think It Up), visit their website, http://www.thinkitup.org/ 
Here's a short video I found on YouTube where Nick Jonas, the TIU Ambassador, helps promote the Initiative. For myself, the irony of Nick Jonas promoting this pro CCSS effort (in disguise) is that he is a homeschool graduate. Homeschoolers, as has been proven, are NOT exempt from CCSS, they certainly are being sucked into the CCSS Machine's grasp with the AP classes, the Career Tech Education (which waits for them in post-secondary education), and the SAT, ACT, GED, and CLEP exams.
[youtube https://www.youtube.com/watch?v=Xa9iUyb94bo&w=560&h=315]

(*Note: Since the broadcast date of 9/11/15, TIU has partnered with Project XQ. I wrote about that CCSS/CTE, workforce education project, https://www.commoncorediva.com/2015/09/15/ftf-revisit-to-redesigned-ccss-high-school/)

National Grads:
Coming soon to your PBS stations across America will be the "American Graduation Day", set for broadcast on Oct. 3rd, 2015. It's a 7 hour broadcast which will show the 'champions of education'. If you look at the promo clip, you'll see Chelsea Clinton, Michelle Obama, Arne Duncan, and major broadcasters in 'feel good about yourself' moments. Below, is the YouTube video:
Now, this is NOT the first American Graduation Day, it probably won't be the last, but it is becoming increasingly obvious that we, as a nation, must be convinced about American education's reform. If you look in-depth at the website, you'll see how your local community can get involved. You can see which states are helping promote this. No surprise, NC (where I live) is featured as an involved state.If you'd to see if your state is 'blue' for helping out, visit: http://www.americangraduate.org/local-communities/
To learn more about the 2015 AGD, http://www.americangraduate.org/american-graduate-day/
(*Note: This tireless push by the P3 led CCSS Machine is supporting the current administration's educational vision. What vision? For one, his $12 billion dollar initiative to produce more community college and college graduates. See: https://www.whitehouse.gov/blog/2009/07/14/investing-education-american-graduation-initiative Then, there's the high school push to graduate. It's part of the preK to college plan. See: https://www.whitehouse.gov/issues/education)
If you'd like to see just how deeply our public media is entrenched: http://www.americangraduate.org/about/why-public-media/
To see other partners involved in the 'graduation crisis': http://www.americangraduate.org/about/connect-partners/
Nothing New:
My dear, fellow warriors, this is not the first time in history we've seen mass media used to control our attitudes or beliefs. The CCSS Machine has spent many dollars employing those who know how to twist every facet of the agenda behind CCSS, CTE. History is repeating itself. Ask a Nazi Germany survivor. Ask a citizen who used to live in a Communist country. Ask someone who ever lived in ANY oppressed location. If  you don't such a person, use the London, England based "Jewish Culture Center" for their  historical proof. http://www.theholocaustexplained.org/ks4/the-nazification-of-germany/impact-of-the-nazi-state/how-did-the-nazis-use-propaganda/#.VghdmPlViko
For a refresher on the Communist propaganda, just look up the Cold War. Find "Lily 4 Liberty", the outspoken anti CCSS advocate. See: http://www.lily4liberty.com/thoughts-on-common-core.html
A personal associate of mine who's been warning Americans about the CCSS education reform for many years, Dr. Oddy Crist. See her quick anti CCSS testimony:
[youtube https://www.youtube.com/watch?v=DzBzJaIFdVI&w=560&h=315]
Closing:
So, what's the anti CCSS warrior to do? Stay informed, get loud, and don't give up! Join me tomorrow for my follow up article on the Workforce Aligned National efforts.