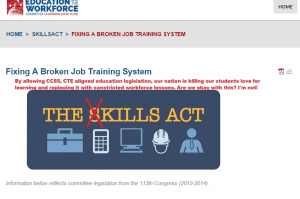 As promised, anti CCSS/CTE Warriors, here's the article detailing more information on how our nation is slowly, but surely becoming a workforce aligned nation.  Over the weekend, if you read my "Weekend News",  I shared 2 distinct graphics from the federal government's Education and the Workforce Committee.  See: https://www.commoncorediva.com/2015/09/27/weekend-news-tracking-the-ccsscteworkforce-aligned-society/
SKILLS Act? It's a Law Now and It Has a New Name!:
In today's 'From the File Tuesday', we'll look at several legislative moves meant for the express purpose of aligning our nation. First up, the SKILLS Act (Supporting Knowledge and Investing in Lifelong Skills Act). It's bill number was HR803. It was put before Congress in the 2013-14 Session. According to the Library of Congress, HR803 has had 6 makeovers. The very first one appeared in Feb. 2013. Now, if you'll remember, I shared with you over the weekend, that I'd tie the SKILLS Act to the WIOA (Workforce Innovation and Opportunity Act of 2014). Folks, you may already know this, or you may not. The tie? Quite simply, over the course of the Congressional ins/outs/swapping Chambers, etc. The SKILLS Act was renamed to become the Workforce Innovation and Opportunity Act!
(*Note: The WIOA became law in July 2015. One of my Nov. 2014 published articles detailed  information on how  legislation set in Washington trickled down to the state level and how the data collection in the name of Workforce was happening. If you'd like to see just HOW Workforce Data is handled in your state, see: https://www.commoncorediva.com/2014/11/06/tech-thursday-workforce-commissions-education-and-common-core/)
When it was SKILLS:
When HR803 was known as "SKILLS":
1) The bill (introduced by NC legislator Virginia Foxx)  'will empower employers, rein in bureaucracy, and provide America's workers with a more dynamic, flexible, and effective network of job training services."

2) The bill used a 2011 Government Accountability Office document, which reveals connections to  the 2009 "Recovery Act". (remember this was the Act which gave us 'shovel ready' projects, Affordable Health Care, and a host of other changes?)
The document:  2011GAOreport

3) A program "Temporary Assistance for Needy Families (TANF)" was included. Why is this important in 2015? Did WIOA keep this program? Expand it? Keep reading, my warriors!
4) The bill gave our governors even more power when it comes to workforce training programs. (If you've not seen any of my published work on just HOW far NC has gone to align education for the good of NC, here's one where not only will you see the selling out of the citizens of NC to the Common Core, you'll also get to see how the state used its grant money from the Workforce Quality Data (in the Nov. 2014 article above) : https://www.commoncorediva.com/2015/08/27/ccss-follow-up-system-more-than-money-will-follow-your-students/

5) The bill also gave greater power to businesses (the 'private' in "public, private partnerships embedded in the CCSS Machine). All the 'bonuses of HR803' are included in this archived 'fact sheet'. See: http://edworkforce.house.gov/uploadedfiles/short_bill_summary_-_skills_act_final.pdf
I give you these items so we can look at where these programs/efforts have been increased through the WIOA or other legislation (will include federal and state levels).
TANF:
The Temporary Assistance for Needy Families certainly sounds like a noble cause, and I'm sure for those in need, the help is appropriate. However, in the vane of aligning education for workforce needs, is it truly noble? To learn more about TANF, see their website: http://www.acf.hhs.gov/programs/ofa/programs/tanf
TANF is part of the U.S. Dept. of Health and Human Services (one of the 3 federal agencies using education as an alignment tool to reform America)
One of the features about TANF mentioned in that Government Accountability Report? The 'one-stop-job-centers' created by combining at least 2 programs. Here's an excerpt, "Options that may increase efficiencies include colocating services and consolidating administrative structures, but implementation may pose challenges. While WIA Adult and ES services are generally colocated in onestop
centers, TANF employment services are colocated in one-stops to a lesser extent. Florida, Texas, and Utah have consolidated their welfare and workforce agencies, and state officials said this reduced costs and improved services, but they could not provide a dollar figure for cost savings."
Did TANF get included in the WIOA (what SKILLS turned into)? You bet it did! Here's a document called "Aligned by Design": WIOA and TANF. 2015-06-Aligned-by-Design-WIOA-and-TANF
TANF funds include Title 4 funding for each state, Anita Hoge, a well known anti CCSS Warrior has shared many times how Title 4 funding is being abused to align our schools. The abuse WILL continue in the current Student Success Act (HR5), the Every Child Achieves Act (S1177), and the upcoming efforts toward re-authorizing the HEA (Higher Education Act).
In Kansas, TANF funds, the GED, and students highlight the stealthy Career Tech, College Readiness portions of CCSS. See the story: http://ksn.com/2014/12/11/state-focuses-on-g-e-d-and-tech-students/
In Utah, TANF funds are tying STEM (also connected to the CCSS Machine as one of the foremost nationally aligning efforts in education, workforce, and our nation) to the state's Dept. of Workforce. See that story: http://ksn.com/2014/12/11/state-focuses-on-g-e-d-and-tech-students/
Here in NC, a TANF report will reveal how the state's "Common Follow Up System" is involved in CTE for Workforce trained citizens. Access: NC TANF report
More Workforce/CTE resourced information:
The Career Tech Education (part of the Common Core) which made it from the SKILLS Act into the WIOA? Access this other "Aligned by Design": 2015-06-Aligned-by-Design-WIOA-and-CTE
To find out how the Career Pathways (part of the Career Tech Education) made it into the WIOA, see: https://www.commoncorediva.com/2014/11/02/rmt-sunday-vp-common-core-and-jobs/
If you'd like to see the state of Arkansas's TANF for Career Pathways funding/presentation:
http://www.powershow.com/view/ad4ea-ZDgwO/ARKANSAS_CAREER_PATHWAYS_INITIATIVE_powerpoint_ppt_presentation
If you'd like to see how Job Development Grants (given by the feds to the states) is also Common Core aligned and will continue to carry out the mission of helping align our nation to 'workforce readiness', see:
https://www.commoncorediva.com/2015/03/25/wybi-job-development-grants-and-ccss
Workforce/Education Historical Evidence you can use:
https://www.commoncorediva.com/2014/10/23/tech-thursday-blast-from-our-workforce-past/