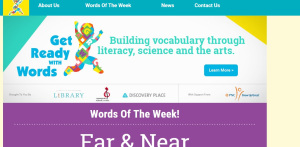 How many times in my anti CCSS research have I found things I shake my head over? Too many to count. However, when I find something that bring Common Core to those who aren't even school age, I REALLY shake my head..and my fists!
What brought me to this NC created educational offering? Quite simply a TV commercial. When I saw this commercial, I couldn't believe it. I knew I had to check it out. What I've found, I'm sharing with you. Even if you don't live in NC, with the plethora of social media, instant access to any kind of multi-media resources, we know where we live isn't really a factor.
About "Get Ready with Words":
From their 'About Us' page, the following excerpt, "Get Ready With Words is funded by a grant from PNC as part of PNC`s Grow Up Great program, which helps children from birth to age 5 prepare for school. It is a collaboration between Charlotte Mecklenburg Library, Discovery Place, and Community School of the Arts."  PNC is a banking institution. Discovery Place is a kids science museum. We'll look into the ties each of the partners in this birth to 5 years project in a bit. First, however, let's see if we can find any other 'smoking guns' of CCSS alignments or connections.
One of the things that cause me to suspect CCSS ties is several of the 'read more about here' tags take me to those '404 error pages' we hate to see when searching. Why would an error message cause me to suspect CCSS? Think about it, in our anti CCSS quest for fact based evidence, how many times have we been directed to a particular website or document, only to find it's been removed? More times than not, it's because someone or some group doesn't want that particular information to be known. That's where looking in between the cracks (or in this case words) to see where I can find information that's fact based.
Aside from the 'about us' page, the "Get Ready with Words" website doesn't have much more information at all. There are the 'Words of the Week'. So far, there are only a few pairs of words.
I did find another resource that shared a press release type bulletin about the collaborative effort. See: http://www.thecharlottepost.com/news/2015/09/26/local/word-up-vocabulary-initiative-helps-kids-develop/ Why I offer this particular website, is it clearly states 2 things we anti CCSS Warriors need to know. 1) it's an initiative with an educational vent to it and 2) it's a P3 or a public-private partnership. As you know, many P3s have meddled too much in education, especially since the Common Core State Standards Initiative came into being.
PNC's Grow Up Great Program:
Before I share much more about this banking institution's foray into education, see the screen shot below. Notice, how innocent it appears.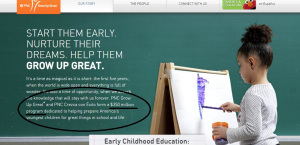 Now that you've seen the shot, you might think, 'oh, that's not so bad'. Oh, but my fellow Warriors, there's more to this $350 million early education effort.  Read their reason for doing all this early education activity, "The research is compelling: A focus on the years from birth to age five helps reap dividends for society and the economy — better achievement in school, more graduates of high school and college, higher salaries, less crime and drug abuse, fewer people on welfare…on and on. Even better: the chance to feed the passions and curiosity of all those young minds." In case you're curious, this educational effort began for PNC back in 2004.  They are advocates of education in each of the state capitals as well as at the Capitol. They offer reading resources, too. Those reading resources? Sesame Street readers. Sesame Street has aligned with CCSS. According to two different websites, ShareMyLesson.com and a blog by a teacher, Vicki Davis, you can search over 1,000 Sesame Street aligned resources. Ms. Davis blog entry from July of 2012, shared this excerpt, "Sesame Street has taken more than 1000 videos and resources (all for elementary school) and aligned them with Common Core standards on the sharemylesson website. This is a great account for elementary teachers to follow on the site." (see her blog, http://vickidavis.me/post/26820599057/sesame-street-resources-aligned-to-common-core) Over on ShareMyLesson, I found much about the CCSS aligned childhood classics.
See: http://www.sharemylesson.com/mypublicprofile.aspx?uc=2246999&page=1&SFBC_FilterOption=2 (*Note: be sure to scroll down and just read how many have 'aligns with the Common Core State Standard')
PNC's educational resource page (which includes not only the Sesame Street readers, but other lessons as well) has this 'lovely' statement at the bottom of their website page, " Common Core State Standards Initiative: These lessons are aligned with the Common Core State Standards ("CCSS"). The CCSS provide a consistent, clear understanding of the concepts and skills children are expected to learn and guide teachers to provide their students with opportunities to gain these important skills and foundational knowledge.*" (Note: the asterisk PNC provides you is a note which leads you to an embedded link…directly to the Common Core Standards homepage!) To see it for yourselves, https://www.pnc.com/grow-up-great/resources/lessons.html (*Note: you'll also need to look at what other groups provide content for the CCSS aligned lessons.)
Let me pause here, last week, I shared with you how USA Funds measures our post-secondary students by their ROI value (return on investment value). PNC has done it with the youngest of our learners as well! "For every dollar spent on high-quality early education, society stands to gain up to $16 in long-term savings." Please, read the rest for yourselves, https://www.pnc.com/grow-up-great
Discovery Place:
This science museum for kids is an interactive based one. It also is tied to Bank of America (a huge CCSS supporter) and is a STEM career readiness location. Here's an excerpt, "Uniquely located adjacent to Discovery Place in the Bank of America STEM Center for Career Development…" In Discovery Place's education resources you can find Next Generation Science Standards, as provided by NASA, Toyota and others. Get the guide: DPedguide
Why this is important, Discovery Place is a public place. Meaning its educational resources are available to any educational choice. Including private schools, homeschools, faith-based schools, day care programs, kindergartner programs, and charter schools. So again, CCSS is not intended for just K-12 public schools! To see more about Discovery Place, visit:
http://www.discoveryplace.org/education/resources/
Charlotte's Community School of the Arts:
From their "Giving Tuesday Share" website page, "Community School of the Arts (CSA) is a nonprofit arts education organization with the mission to "transform lives and inspire community through outstanding and accessible arts education." The School reaches 4,000 students annually through high-quality music and visual arts programming, with nearly half paying reduced or no tuition through CSA's extensive financial aid, merit scholarship, and outreach programs." See the rest, http://sharecharlotte.com/nonprofit/community-school-arts
Among the funding groups CSA has, PNC (back in 2012) gave plenty for new educational endeavors. You'll also find Discovery Place in the mix too. You'll see the NC Governor give his 'thumbs up' to this news as well. NC's Governor has made no mistake about his stance on Common Core. To see CSA's article about the big grant to involve the littlest of learners as well as school age children: http://www.csarts.org/resources/news/154-pnc-grants-530-000-for-new-pre-k-science-and-arts-programs-for-charlotte-children
The CSA also receives funds from the Arts Science Council(ASC). Even their logo screams CCSS! See below.


Before I share with you how ASC is connected to CCSS, please know the aforementioned groups are not the only financial backers of the CSA.
ASC, Arts Science Council:
This NC Council works directly with Charlotte Mecklenburg Schools. CMS is the largest school system in the state and is very CCSS loaded. From ASC's Education page, you can find the following, "All programs are meant to align the cultural community's resources with the Common Core State Standards and the North Carolina Essential Standards." To find out about the 5 year plan the ASC has in mind for education, see: 
http://www.asceducation.org/who-we-are
I've included the ASC Common Core aligned lesson plan for the Holocaust. Those of you who've shared the horrible times and events during that time in our world's history is being either marginalized or left out. c3588941-c2d0-4b50-8389-7ce35994a0c5
As far as the Charlotte Mecklenburg Library's involvement? Between the STEM Act of 2015 and my previously published article about all public libraries aligning to CCSS, you can guess where their educational efforts will be focused.
For the libraries alignment, see:
https://www.commoncorediva.com/2014/10/27/monday-musings-hitting-the-books/
For how the STEM Act of 2015 will involve libraries, museums, and more:
https://www.commoncorediva.com/2015/10/21/wybi-tying-stem-to-ccss-again/
Closing:
Remember, my fellow anti CCSS Warriors, all this is connected to not only every child from birth to 5 years, it's full of so much alignment, agenda, and indoctrination. The CCSS Machine may be trying to roll over us, but with information like this, I hope you not only share it, you contact your legislators NOW! If you live in NC, you can contact the Governor or any legislator. If you live outside NC, start looking? Has your state received PNC programs for education? Has your state received NASA educational aids? What P3s are in bed with STEM, CCSS, Next Generation, or any of the other CCSS acronyms. Don't forget the career readiness components woven in the lessons.