Featured image is courtesy of 'Clipart by Animals' and was drawn by Irene Murphy
Author's Correction on "Bamboozled", yesterday's article. In that article and pertaining to ESSA, page 151, I did not clearly state my concerns for teachers and students. I do ask that you forgive that error. My point to the language there is that under the present SEL training teachers are receiving, it is an over-burdening addition to their already  'full plate' of responsibilities. Teachers should be able to note and help point out any learning disability.
At the CCSS Machine's beckoning, however, it seems that teachers will be asked to do much more than this. As Warriors, this is an area we must watch. Teachers and students need protecting from the harm ESSA is dishing out.
Warriors Against the Core, in the past 2 articles I've gone back over ESSA (Every Student Succeeds Act). As you know, I combed through it when it was first introduced, as well as re-visited it quite a bit after it became Law. So why now? Since implementation is in swing, we need to see what's happened. We need to see how much of a lie 'giving the States back control of education' is being carried out on a daily basis.
My most recent ESSA reviews have covered the 'at-risk', or, troubled youth. Then, special needs. Today's review? Native Americans. If you missed when I first uncovered the CCSS Machine grasp on the original citizens of our nation, you can go back and read it now.
In that article you'll see how 21st Century Community Learning Centers, school reform, and much more from ESSA and other federally contrived legislative acts.
ESSA: No Feather of Greatness:
Of all the student subgroups (as ESSA likes to refer to our children by), the Native Americans (including the HI and AK tribal nations) are mentioned a whopping 244 times! The first 16 are in the Table of Contents. Warriors, I do not know about you, but by the sheer number of times our fellow citizens are brought up, I  have to ponder WHY so much attention is being directed their way.
No American group deserves to be more left alone by the federal government.
The ESSA Strings:
With over 200 references to the Indians of America in ESSA, I'm only going to point out the worst 'strings' (aka: mandates).
The Sections pertaining to Native American education are: 4505 (Family Engagement in Education); 6001 and 6101 are the 'conforming amendments'; 6121 (Improving Educational Opportunities); 6141 (National Advisory Council on Indian Education); 7004 (Impact Aid); 8004 and 8103 (BIE schools, see the article embedded in 'now', above), and 8535 (must consult with tribal organizations).
Page 19 of ESSA's law mandates Native Americans must be included in State Plans.
Page 44 shows how the SEAs (State Education Agencies) and LEAs (Local Education Agencies) having control over Native American education.
Below is Page 51: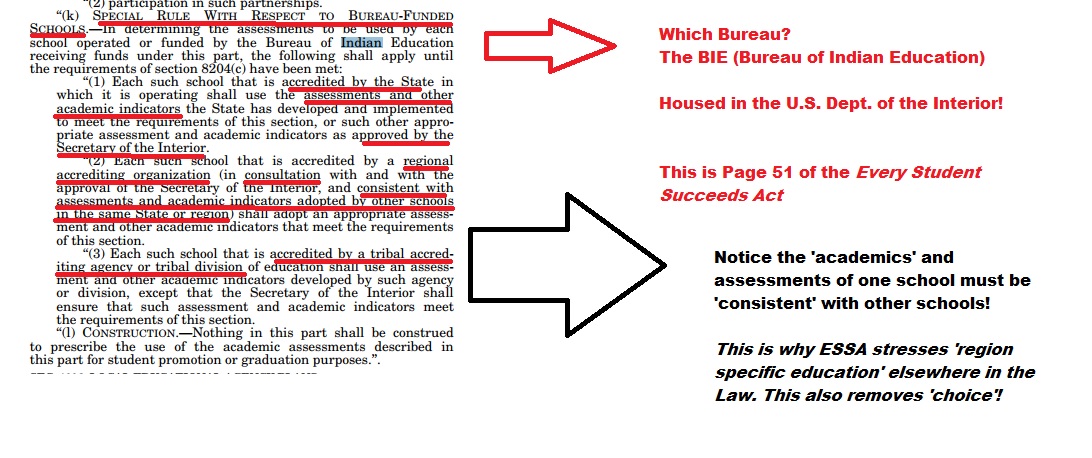 On Page 102, what appears to be a simple word being replaced is a 'front' for a much deeper agenda: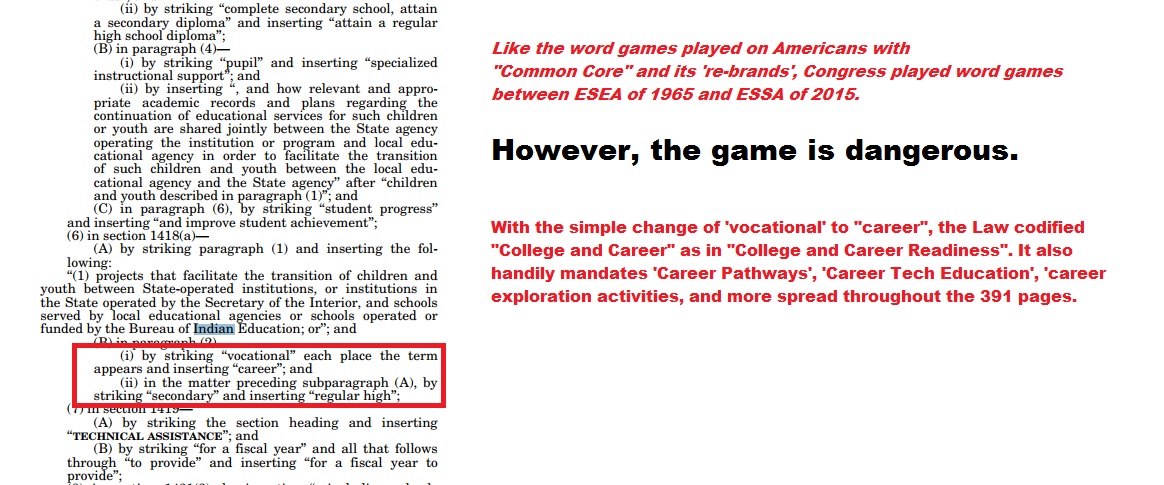 Following on Page 103: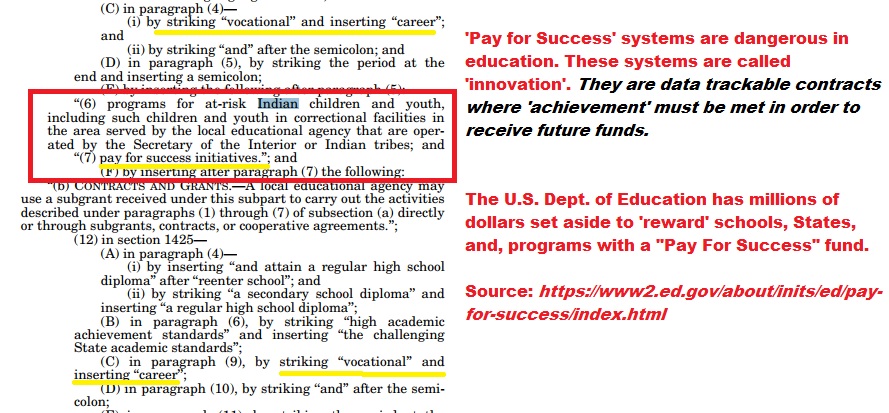 Over on Page 125, you'll see a 'blast from the past' tie Native American education to more government strings: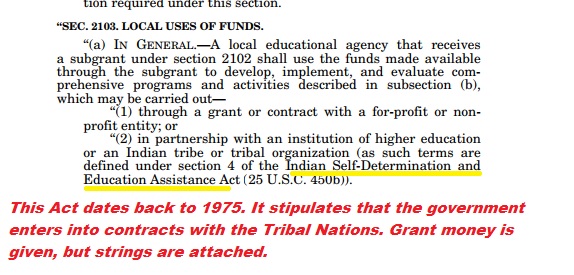 Notice the 'national' levels of control or funding on Page 143 and what it is to be used for: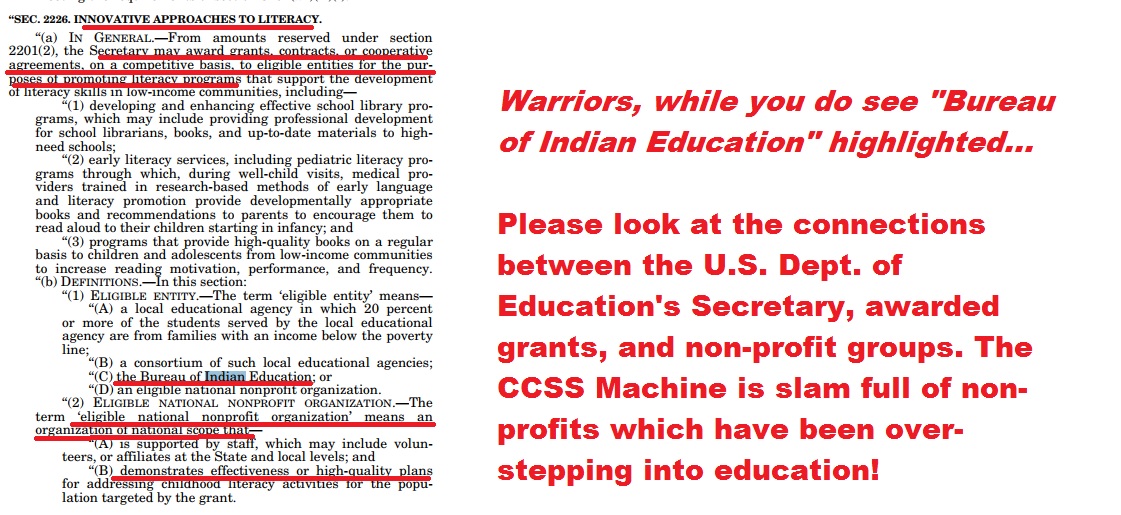 On Page 219, we'll find family engagement centers: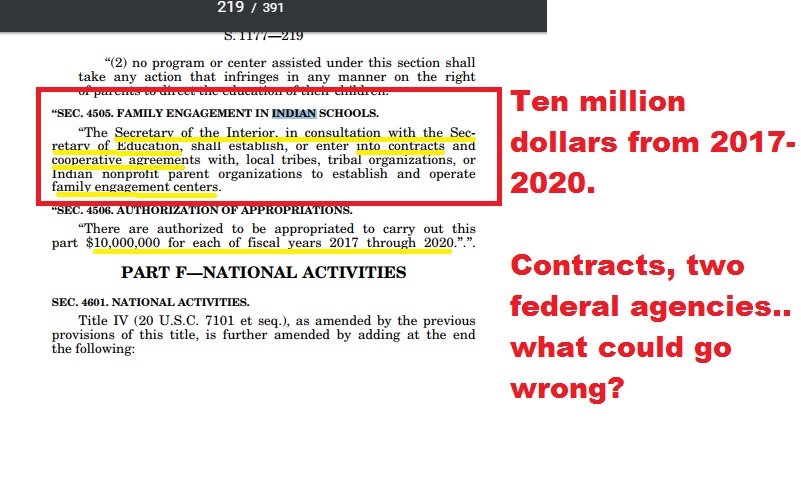 Page 222, full service community schools, especially in low-income areas and Native American tribal groups. Not sure what that means? ESSA's definition: "FULL-SERVICE COMMUNITY SCHOOL.—means a public elementary school or secondary school that— ''(A) participates in a community-based effort to coordinate and integrate educational, developmental, family, health, and other comprehensive services through community-based organizations and public and private partnerships; ''(B) provides access to such services in school to students, families, and the community, such as access during the school year (including before- and after-school hours and weekends), as well as during the summer."
Warriors, there is plenty more like all this above,  in store for all of us.
Injurious Insults:
From a fellow Warrior in WY, shared with me the day my "Captive Education" article was published, that, U.S. Sec. of Education DeVos visited an Indian Reservation's school to help jump start her "Rethink Education" tour. It's quite interesting (and not to mention, telling) that 'her' choice of wording smacked of the recently broadcast Project XQ: Super School Live! Where the entire CCSS Machine propaganda fest was geared on 'rethinking/reforming' high schools.
It's ironic that the school on the Reservation didn't have DeVos's visit in their school news or on their calendar.
NIEA (National Indian Education Association) is partners with the CCSSO (Council of Chief State School Officers), so any question of what side of the CCSS Machine they are on, is an automatic 'supportive'. NIEA's website.
The 2016 (114th Congressional Session) RAISE Act (Reforming American Indian Standards of Education) announcement can be found on the NIEA website. You'll want to see the Report which accompanied the RAISE Act. In it you'll see how many students are involved in Native American education, how much money is involved, and also, the 'federal education' shift.
Current Congressional bills to reform Native American education are:
HR 1528 (Native American Indian Education Act) will amend the HEA (Higher Education Act) to continue federal mandates for Indians in post-secondary education.
S 660 (Native American Indian Education Act) this is the Senate's version of the HR 1528.
S 934 (Johnson-O'Malley Act) would data mine students for the sake of 'modernization'.
S 1294 (Native American Education Opportunity Act) will give education savings accounts to the Native American students.
HR 2727 (NEST Act or Native Educator Support and Training Act) amends the HEA and will give scholarships for Native Americans to become teachers and school administrators.
S 458 (NEST Act) this is the Senate version of HR 2727.
Warriors, there are more like these, as well. You can find any federal legislative bill by using the website: https://www.congress.gov
State Levels of Control?
Since my fellow Warrior is from WY, I thought we should end with looking at what is happening to our Native Americans at the State level. We see the alignment and confinement from the federal level, above. Below is a blog entry I thought you, Warriors, would 'love':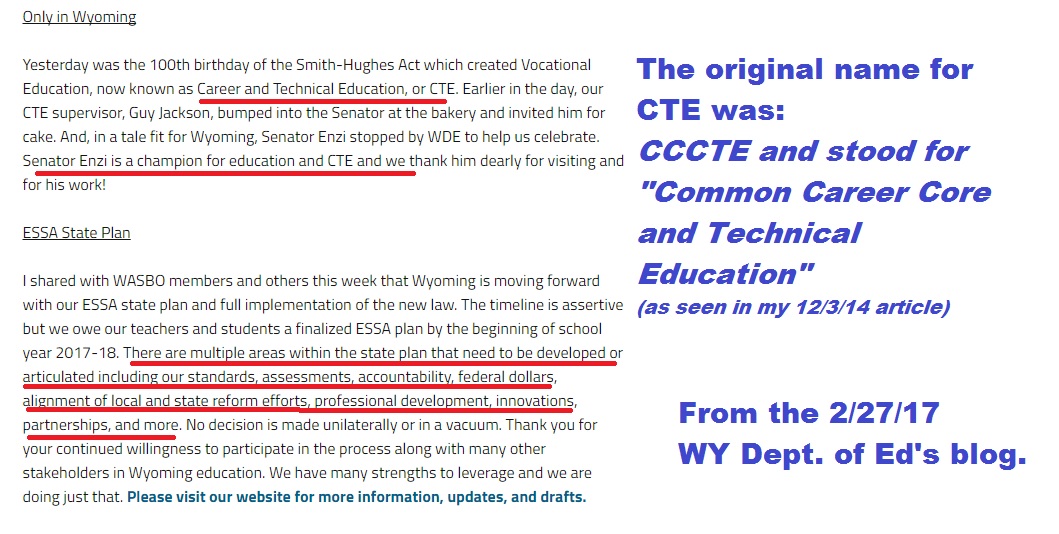 If you'd like to read that Dec. 2014 article, here it is.
WY has a Tribal Children's Triad. This is a partnership between communities and schools. ESSA 'loves' these kinds of relationships. In fact, in some of my earlier ESSA research, I shared with you how entire communities will be assessed/measured/tested for alignment to ensure 'student success'.
According to WY's ESSA State Plan, a mere $6.6 million will be used for 21st Century Community Learning Centers, which the ESSA law mandated. Page 51 of the Plan, is where you'll find this figure.
Closing:

Warriors, I trust you will find this information helpful wherever you live in America.
One last thought I'd like to leave you with. You'll see it below. Share it if you like.