Anti Fed Ed Warriors, did you hear the recent news that First Lady Trump went on a mini-tour of her own to promote her 2018 "Be BEST" Initiative? Not much happened (that we know of) between the 2018 announcement and the recent tour.
Mrs. Trump chose 3 different cities to roll out each of the 3 main points in Be BEST.
***I'll take a moment, here, to point out these 3 interconnect quite a bit in the shift in education reform we've seen and are seeing.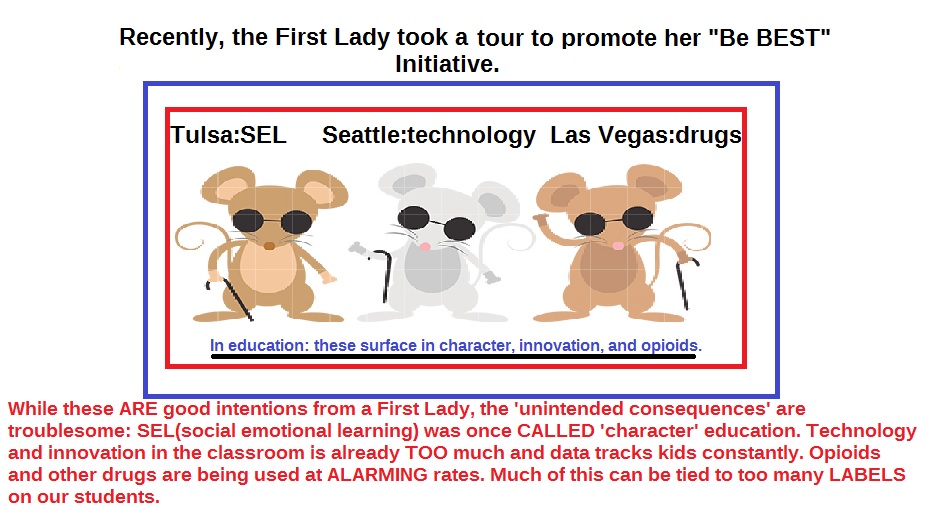 Tulsa, OK was where the SEL (social emotional learning) stop was made. Seattle, WA was where a tour of Microsoft was made to see the latest 'on-line safety' and special education 'innovations'. Lastly, Las Vegas, NV was where the opioid crisis was discussed.
A few notes about each of the media sources I've embedded:
a) "Tulsa" will take you to TulsaWorld.com, where you'll find the school visited (Dove School of Discovery, is part of a network of public charters and serves K-6th graders. This school was named a 2018 Character.org School of the Year. We'll look in-depth at this group in a bit.)
b) 'Learing' will take you to Tulsa's News on 6, where you'll see the First Lady stated that 'character education' is critical. As I pointed out in the 3 mice image, SEL was previously known as character education or CE. (*Related resource, back in 2014, I showed you a CE group for charter schools called "Clarity".)
c) "Seattle" will take you to K5 NBC, where you'll see Mrs. Trump ask a Microsoft employee about parents and on-line safety. Listen to the response she gets, then consider the source and topic. Seriously? One of the chief CCSS Machine members is actually going to pass off data safety?! We'll look more in-depth to the latest 'innovations' in special education in a bit, as well.
d) "Las Vegas" will take you to KVVU Fox 5, where you'll see the First Lady speak on how bad the opioid crisis is and that the President has declared an opioid emergency across the country. Don't miss the sound bite about whatever it takes to stop the drug abuse.
We'll also look at how THIS impacts education, in a bit.
e) "Crisis" will take you to the White House's written remarks from the Las Vegas meeting.
The last source I have for you is the Spotlight article from CNN: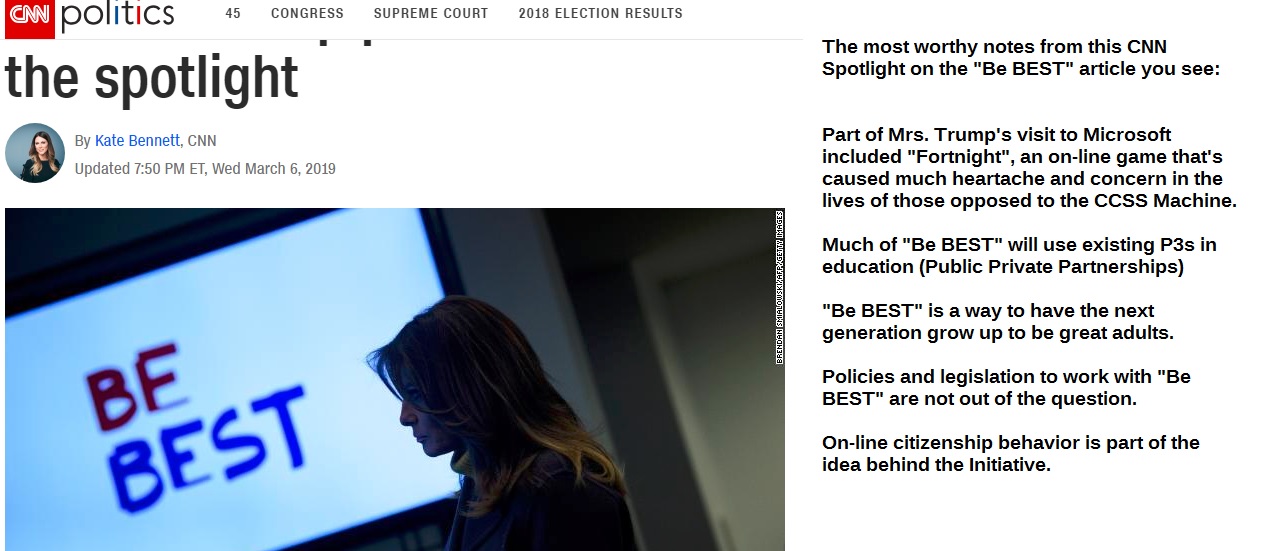 Character.org:
Warriors, if you've not heard of this CE (Character Education)/SEL (Social Emotional Learning) group, it's downright scary how many ties it has to the CCSS Machine. This is a globally reaching group, too.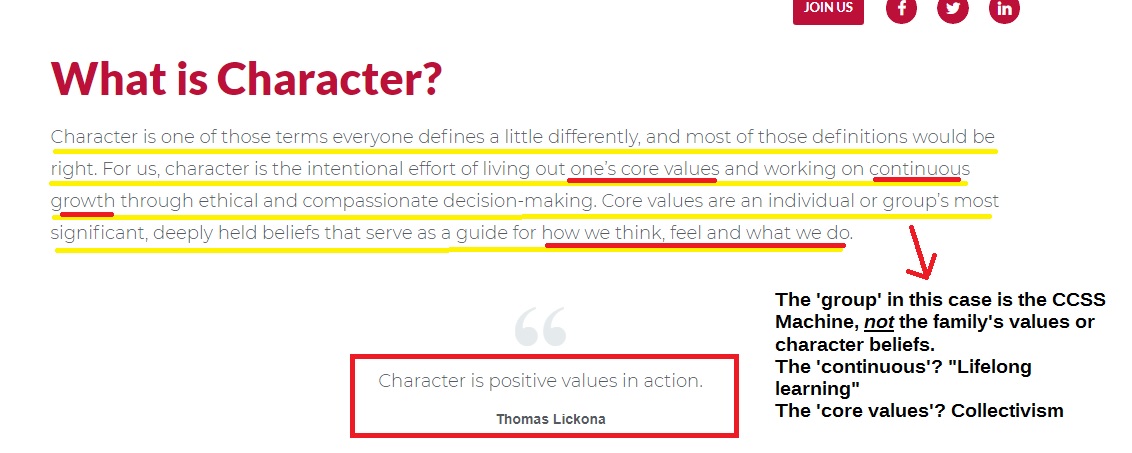 There are 11 Principles of character used in the CE/SEL programs at schools. Every one of them is school led, not family led, BUT does encompass the family.
a) CE/SEL is embedded in the school's culture
b) The school defines comprehensive CE/SEL
c) CE/SEL is intentional and pro-active
d) Because of a-c, the school is a caring community
e) Schools provide opportunities for moral actions
f) CE/SEL has school-led meaningful and challenging academics
g) Schools foster student's self-motivation
h) All school staff models CE/SEL
i) CE/SEL is a shared activity with continuous long-term goals
j) Schools use CE/SEL to partner with parents, communities, and, others
k) CE/SEL school assessments gauge that all kids are 'on track'.
*****Why this matters to us as anti Fed Ed Warriors? Mrs. Trump will use groups like this in her "Be BEST" initiative! (Look back at the CNN visual and read the 2nd point.).
Most of the 11 points will be passed off as some sort of mentoring. Scroll back up and look at point #3, 'legislation' is already in the works for national mentoring.
The CCSS Machine member groups tied to Character.org include:
Jesse Lewis Choose Love, Rutgers Univ., Harvard Univ., Boston Univ., Midtown Education Foundation ("virtue education" is used in place of 'character'); the School for Ethical Education (ethics in action creates character), and One World (character building for a global world).
You can find all the names of the groups and people associated with them, here. Be sure to scroll down and look to see how the States have different names for CE/SEL.
Below, is a special Foundation tied to Character.org. Children's books are used to 'painlessly' impart character and social behavior.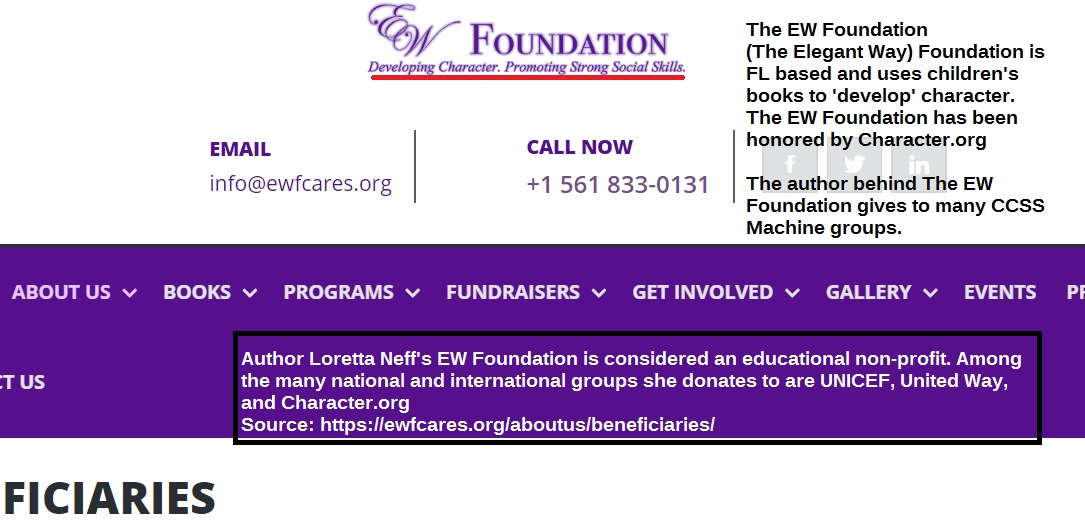 Before we leave Character.org, if you look at their privacy policy, you'll see Google handles data collected in any of the character activities and programs. If you look at their "Promising Practices", you'll see CE/SEL is used in sports, higher education, the parents and families, and 'elsewhere'.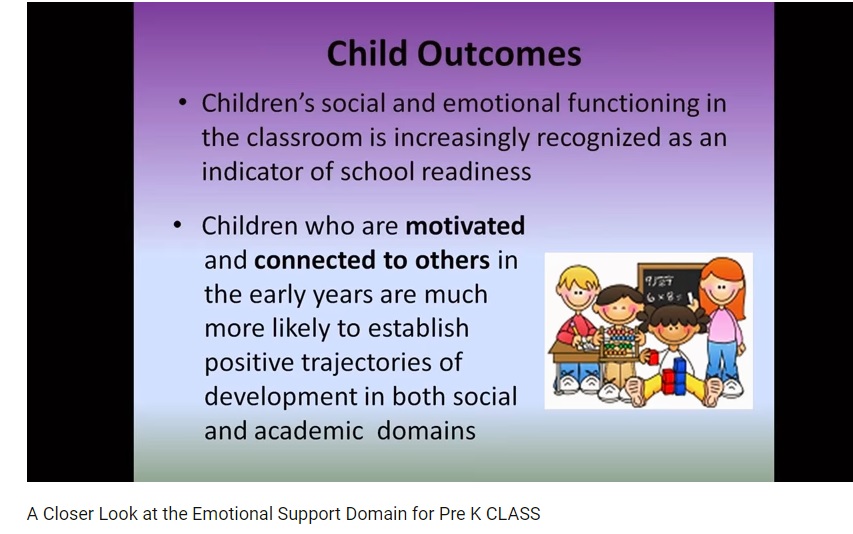 Oh, Microsoft!
Remember, Warriors, "Be BEST" will use existing partnerships in education. We know very WELL how 'buddy-buddy' the Gates led corporation is with CCSS and all that comes with it. If you're like me, I don't trust Microsoft's 'on-line' safety concerns or innovations whatsoever. How can we when it's been proven the massive amounts of data being taken from our kids and families without consent!
So, according to the media reports, Mrs. Trump was able to witness safe gaming. Here's a screen shot from the pdf file Microsoft has published about 'safety'. The added emphasis is mine: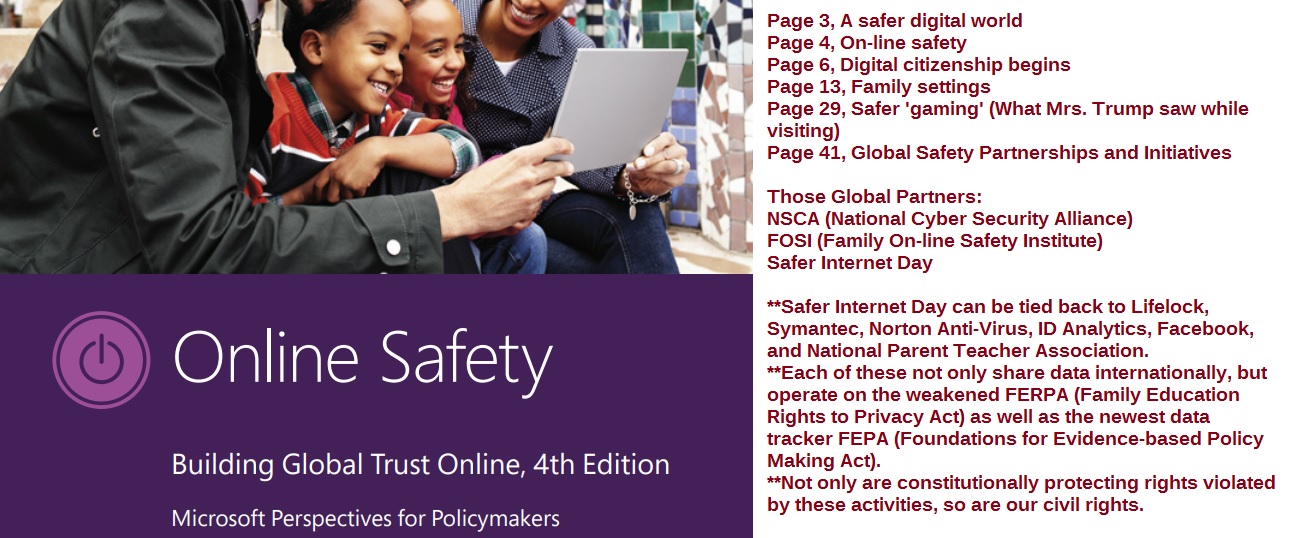 To see my research on Lifelock, Symantec, ID Analytics and the others, go here.
Sorry to say it, but I think the staff on hand for the First Lady's visit told her what she wanted to hear.
Other Microsoft innovations which we know will conduct massive amounts of 'student data rape' include working with the Obama era created, ESSA (Every Student Succeeds Act) codified "Digital Promise"; WY's largest school district as a 'testing' site for special needs inclusion via digital learning; GAAD (Global Accessibility Awareness Day) for special needs students, and the latest education/educratic innovations as featured during BETT Day (British Educational Training and Technology Day).
Those innovations?
PL (Personalized Learning) which is also in CE/SEL; line focusing (where students will only pay attention to certain excerpts of text at a time); grammar and parts of speech (on-line vs written because grammar is always better on a computer..not!), and, improving math. See this link for Day 1 of BETT. During Day 2, 'Emotion and Cognitive' in connection with (AI) Artificial Intelligence; finally, on Day 3 BETT attendees were shown the latest computers and devices for school districts and schools under $300.00.
Warriors, back in January 2018, I exposed the BETT Conference. In that article, I showed you that the PL push from ESSA was a CE/SEL grab (as well as the personal private information in the data). I also showed you how U.S. Secretary of Education, Betsy DeVos had done nothing to end Common Core, nor had President Trump. Go back to 2016, and I showed you DeVos's ties to the tech companies handling that student data!
School Prescriptions:
Warriors, if you listened to Mrs. Trump's comments during her Las Vegas stop for "Be BEST" you heard her bring up how the Wall at our Southern border would stop the opioid crisis. I offer this as a type of researched rebuttal. No, it won't STOP opioids or other types of child-altering prescriptions given to our students based off on-line algorithm mental health or behavior assessments.
In 2018, I showed you the off-the-charts numbers of children in this country on heavy duty drugs, not illegally, but through doctors offices. What drove the children to the doctor? SEL intervention information!
Just a few days ago, you saw the massive SEL assessments which will test 'universally', meaning every child, not just public school children.
Closing:
Warriors, I hope you can see that while the First Lady may have a great plan, it resembles more of a ticking time bomb we cannot afford to see go off. This "Be BEST" is an initiative which is already being played out, horribly wrong, on our nation. I don't see how more of the same will help.