Warriors Against Fed Ed, Common Core, and, Global Education's takeover in America, we find ourselves approaching the end of June 2017. As I said earlier in the year, summer would not be a time the CCSS Machine would slow down its continual grinding down of education.
To that end, a CCSS/Global Ed laced Conference is just getting started. It's the ISTE (International Society for Technology in Education) 2017 Conference. It's meeting in Texas. Late Sunday afternoon, #ISTE and #GlobalEd17 were trending topics on Twitter.
The proganda was digusting. The painted on smiles of those attending and leading were deceiving.  Be sure to check all the latest 'news' out.
As I also stated earlier in the year, the summer is the ideal time for us Warriors to continue to arm ourselves with information to be ready for action when the new school year begins. The War Vs. the Core is NOT over, not by a long stretch.
Briefly, ISTE's Connection To Global Education:
Warriors, back in 2015, I shared with you, an article titled "Tech Thursday: Global Day for Education". It was the first time I'd run across ISTE. Quickly, just think "Microsoft" (and we know who THAT leads us to). Microsoft is the main sponsor of ISTE. Does it align the standards for technology in the classrooms to the dreaded CCSS (Common Core State Standards)? Absolutely. Does the ISTE apply its alignment to the re-branded names of CCSS, certainly! Where there's international data, there's got to be international data mining. That too, has an annual conference. Here's an article where you can see the plethora of workshops devoted to harvesting education information.
Because technology is global, we know data created by technology is also global. However, the connections to global education and technology, which are very disturbing, (CCSS Machine propaganda uses 'disruptive') are the cultural mindset shifts hiding behind all those neat sounding apps and computer programs.
For example, from the article I've linked above, is a screen shot (below) where you 'll see the 'global' pledge. This pledge is used by all kinds of education related groups.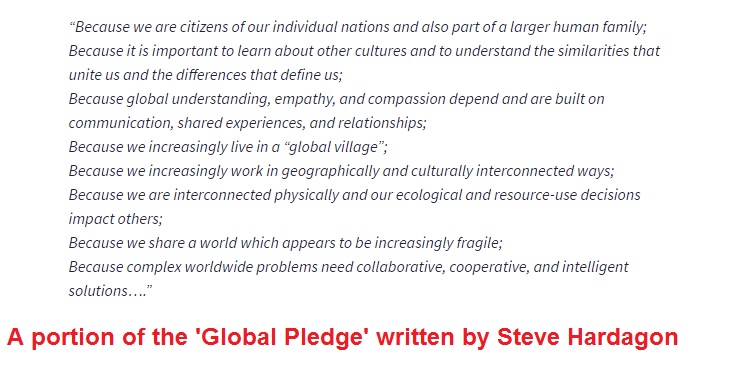 With international technology comes the need for global education days. At least that's what Harvard University and the others involved in the Global Education Conference Network believe. You can find out more about the Network in the article I've linked you to to learn more about the ISTE. You'll also see how the AFT (American Federation of Teachers) is connected. (*Note: both the NEA (National Education Association and AFT) have 'bought' into the Education International, an organization with ties to UNESCO (you know, an arm of the United Nations. UNESCO is also known for it's "Education for All" Program.) You can find out more about this, here.
Related: One of my most in-depth global education articles can be accessed here. It is from earlier this year and jam packed with information you can use to ready yourselves for the 2017-18 school year. (*Note: global education is present in all educaiton choices and will continue to seek out ways in which to lessen those choices until there is no choice at all. ESSA, Every Student Succeeds Act, is a great example for reducing school choices, not increasing them.)
ISTE 2017 and Global2017:
Warriors, since the ISTE Conference is technology based, you know the latest and most aligned resources will be available to you, even if you can't make it to TX. Here's the schedule, with embedded links 
Wait, is there a separate Global Ed 2017 Conference at the same location? From what I can find, no; the global education is part of the ISTE Conference. How? The location is the same.  See below:

Warriors, you can sign up for free to access all the Global Education Network resources (you'll want to see the Google classroom items, the lists of global organizations, the resources and those who've written them (I saw Steve Hardagon's name pop up).
How to access all this? Visit this website, click on 'visit'. Sign in (you can use your Facebook, Google Plus, or email if you don't have an Iparticipate i.d.) Notice at the bottom of the page, that the P21, Inc (Partnership for 21st Century Skills) is a sponsor.
Access this list of global education organizations and people on Twitter. Even if you do no 'tweet' you can still find out about this CCSS Machine global members.
Why access all this? After all, it's from the CCSS Machine. Warriors, if we are to be armed with the latest information, especially when it comes to technology and data mining, we must 'hang out' among the creators. Since so many of our schools are leaving parents, grandparents, and taxpayers in the dark, any advantage we can gain by seeing what the CCSS Machine is doing, is needed.
First Isn't Always Best:
So far, Warriors, I've not said anything which relates to the title of this article. What is 'first of its kind'? In the push for global technology, these two examples I want to leave you with. Ask yourselves, is this being planned for my school district? Is this where my tax dollars are going? Am I okay with the continued misuse of money to not educate students, but, to indoctrinate them?
Digital Portfolios may NOT be brand new, but a school district in AL is featured among the ISTE resources (and global education) for its first of its kind update. What's the update? "Whole Story for the Whole Child". This is about 30 minutes of video.
By giving the students a computer, showing them how to use it to lay out their lives, this portfolio COULD be used for other purposes. Such as, at the 3:25 mark (or just after it) a high school teacher reveals just ONE of the 'other' purposes: a track to see where each student needs to round themselves out for "college and career readiness"! (If you are new to the War vs Common Core, 'College and Career Ready" is a re-branded name for the same thing.)
You'll also have the person in charge of the federal funding for this AL school district explain how to start digital portfolios in your area. She will tell you that as school leaders implementing this you'll WANT to look into each student's personal life as well as their academic 'lives'. Watch for the grade levels involved and the end result. (hint: by the times the students get to colleges, not enough is known about them)
Here is the website's banner from the school district featured:

Warriors, so much of global education and technolgy involves STEM (Science, Engineering, and Math), but they also include STEAM (Science, Technology, Engineering, the Arts, and Math).
Both STEM and STEAM are not American. STEM is the marketing name dreamed up by the NSF (National Science Foundation) to incorporate the UN's Sustainable Development Goals. STEM and CCSS go hand in hand. STEM was introduced about the time the CCSS was rolled out. Common Core was the distraction; STEM was the real agenda for education. It's all been researched and documented.  As far as STEAM, it too, is not American. It's roots are from South Korea and brought to the US. If you've missed these facts, please find them here.
This leads me to another 'first of its kind' and in the nation. This time we'll find it in TN.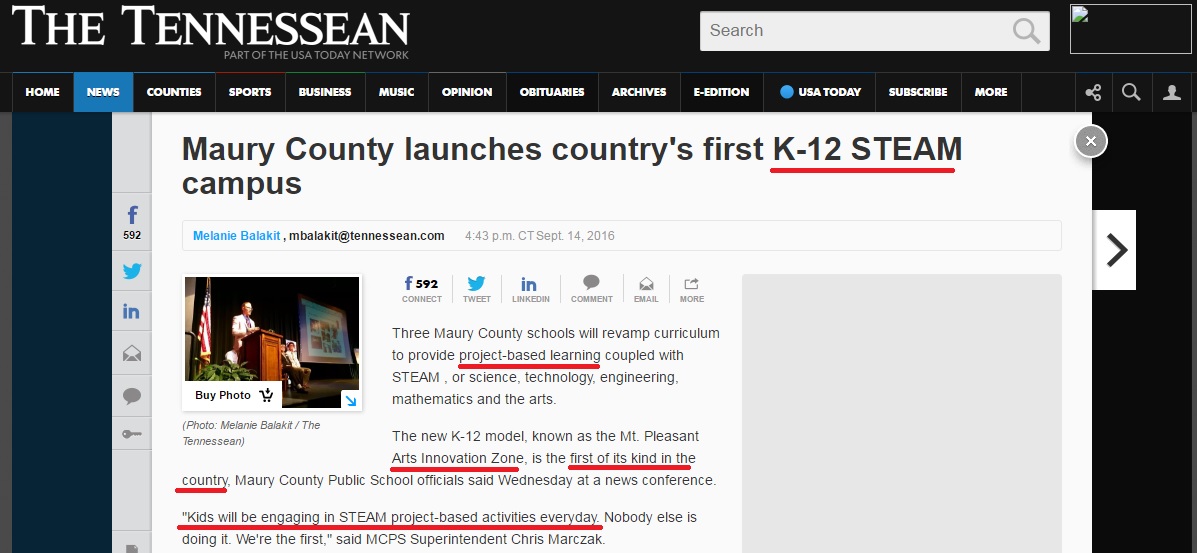 Full article  (*Note: this was back in 2016). Warriors, notice the underlined portions of this published article. K-12 grades; Arts Innovation Zone, PBL(Project Based Learning) daily on STEAM. Do we have any idea how one-dimensional this is going to be for our littlest ones? Sure, the CCSS Machine talks it up that all kinds of engaging education will happen with STEAM, but every day?! True education honors that while engaging needs to happen, so does some down-time. So what's happened to this one-of-a-kind school since 2016? A big dollar donation from a private company to go to a public school; the hope that those big bucks will prove STEAM can work for both inner city schools and rural schools. See the article here.
Closing:
Warriors, the bottom line to all the ISTE/global ed dribble is this:
"Learning without limits" will get us farther in education than ever before. Yeah, right…