Anti Fed Ed Warriors, we all know who John Dewey was and how the modern education reform has created  "Dewey Disciples". One such person was Phil Schlechty.
Phil has passed on, so he's got 'disciples' as well, carrying on his Dewey-esque agenda.
Warriors, if you've not heard of the Schlechty Center (based in KY), you're about to find out all about it.
While much of the Center's work did focus on the South, Schlechty's influence is not only nationally felt, it's globally encompassing.
This research paper from TX, shows that since the 1983 release of "A Nation At Risk", schools across the nation scrambled to find 'solutions'. Schlechty's work has been an 'across the board' answer.
Below is a screen shot of a 1989 CA based research paper on educational partnerships:


(Source)
(*Note: you'll see much of the modern day shift (2019 and beyond) is still rooted in Dewey's system, carried on by Schlechty's Center and others, when you read this document.)

The Schlechty Center:
Is a Center for education PD (Professional Development). In fact, the website wants to 'transform' PD. There are also mentions of regionalism and collaboration-led PD and resources.

With so much computer based learning, why is the Center making such a big deal about transformation? Because by 'transforming what education is', you can refocus the 'end results': a molded worker, not a free thinker.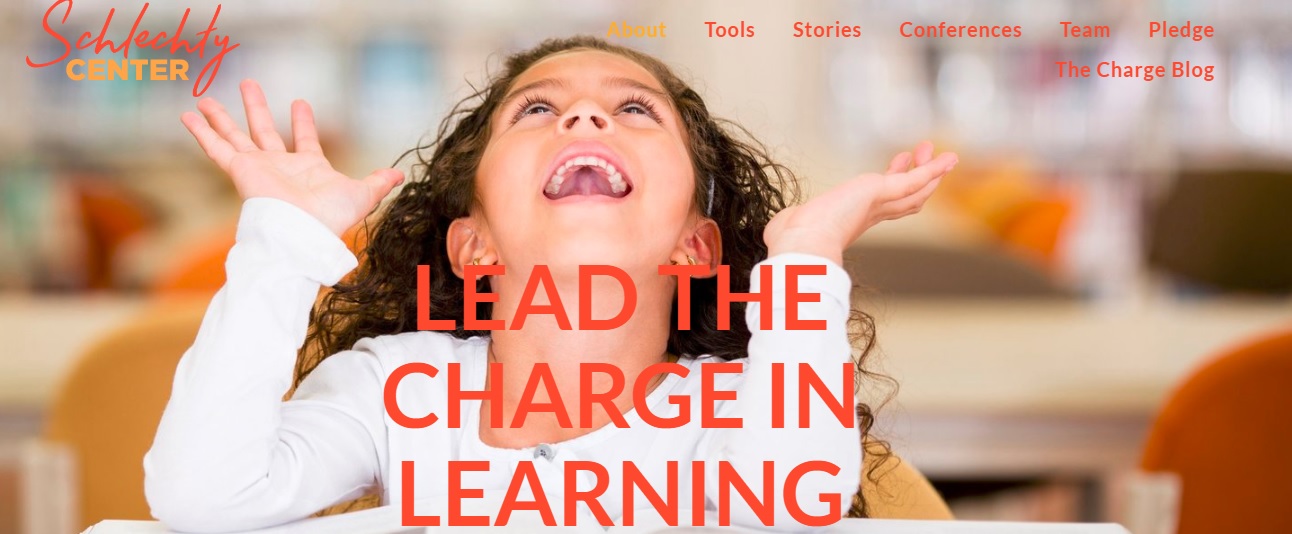 If you want to go to the website, you can, but information is limited.
The Schlechty Center partners with the AFT (American Federation of Teachers). The Center is a private, non profit group.
Right off the bat, the AFT is a big clue as to the Dewey-esque agenda. It's also a big clue to the UN (United Nations).
Below is a screen shot of a UNESCO book where Schlechty's work had been incorporated for transforming global education. Today, we know that 'global education' is embedded in STEM (Science, Technology, Engineering, and, Math) via the SDGs (Sustainable Development Goals) of UN/UNESCO: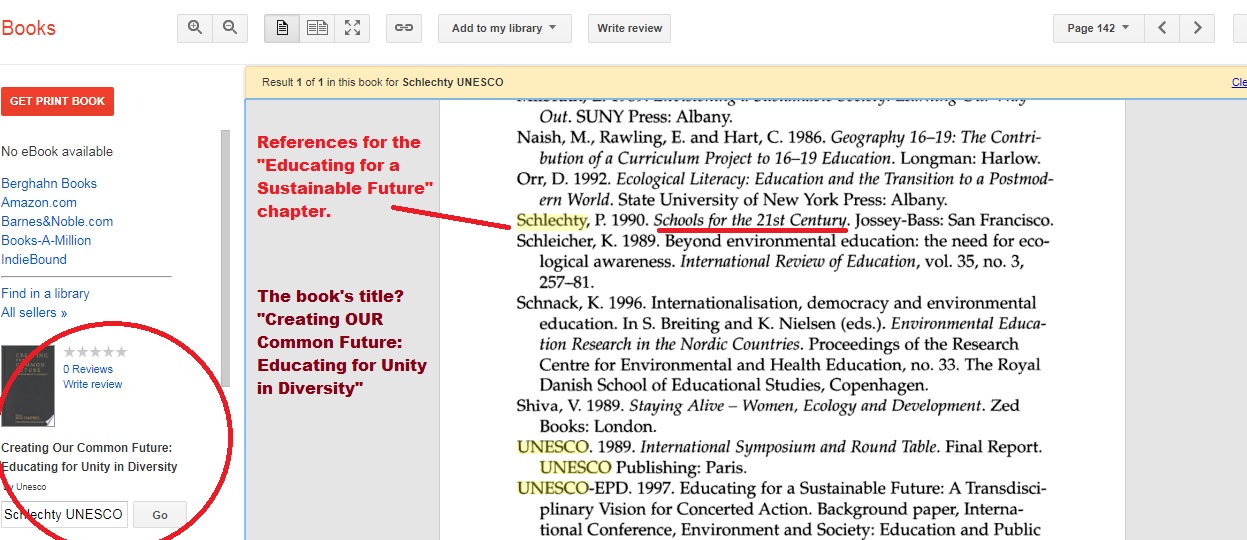 (*Note: UNESCO has embedded much more of Schlechty's work in their quest for one world education. Just type in both in your search engine and see how many results you get.)
The Center's Modern Partners Include:
TASA's corporate partner list is long AND filled with many CCSS Machine member groups.
PAGE is an alternative to the GA chapter of the NEA (National Education Assoc.) However, look at the visions and goals for PAGE, and it almost reads exactly like the Schlechty Center's website in places.
Below is a screen shot from 2017; TASA's mid winter conference: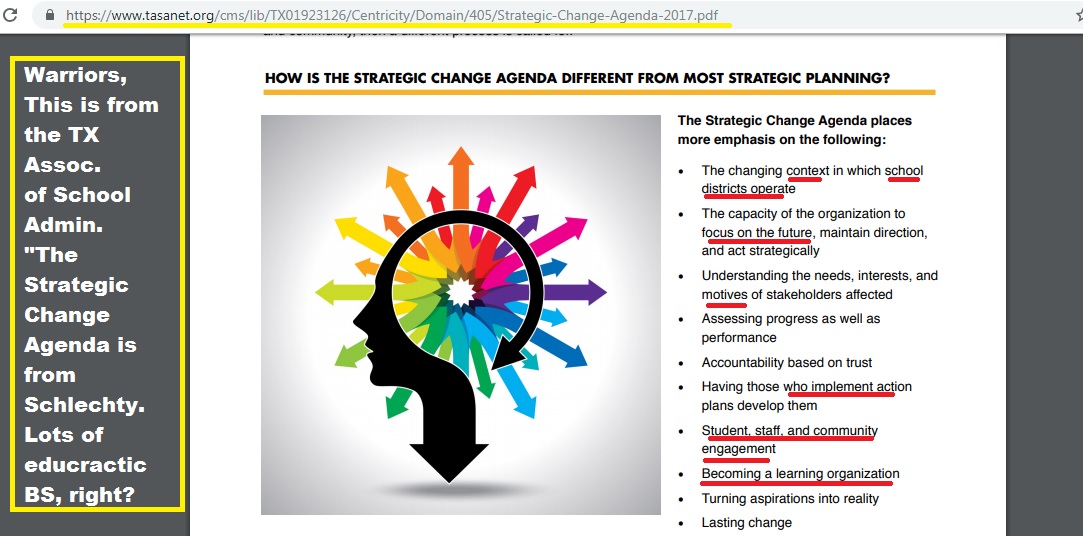 (Source)
I can also share that the Center is very digital dependent in its tools for teachers.
Education is called a 'product', students are 'knowledge workers'. Along this line of thinking, the Center has 'capacity standards' teachers are to use to lay out concise expectations for the students. When all works well in this system, the students are 'engaged' with 'high content' education. However, what you see is not teacher led, it's computer led.
If you look at bit closer at the Center's layout for education, you'll see reform and discipline. You'll see community based accountability for schools. Yes, that's also one of the mandates in ESSA (Every Student Succeeds Act) in order for States to receive federal funds. 
One of the biggest Schlechty Center tools for educators and school leaders is called the WOW system. Working on Work. (*Note: If you search for WOW schools, you'll find there are several types of schools with the acronym. From what I saw, most are not connected.)
Below is a screen shot of the WOW system. Notice the student section. Remember the old saying, "All work and no play?" This is what the Center is encouraging  our school leaders to carry out in education.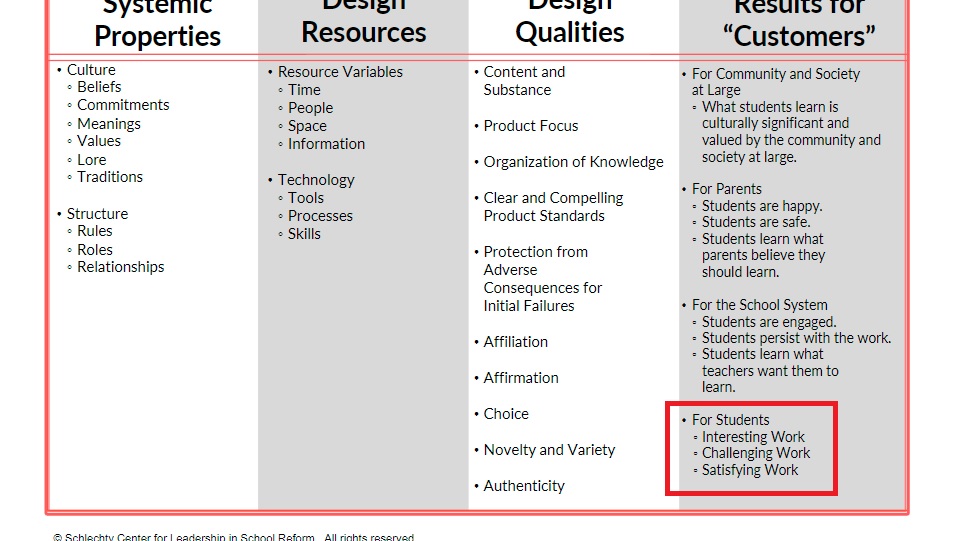 (Source)
****Warriors, who WAS Phil Schlechty, anyway?***
"Dewey Disciple", Schlechty:
He was regarded as a public school champion. The Gates Foundation backed EdWeek's "In Memory" article (2016) shared that he had written 9 books, started two professional development centers, worked in NC schools, got his degrees in OH, won a Horace Mann award, and innovated many school systems.
Warriors, one of the items in that article also said his WOW system was designed to not make learning more interesting for students, it was to force learning as a means to an end. Or, as the government likes to call it, 'outcomes'. 
Before the Schlechty Center was founded, Phil was founding executive director for the Gheens Professional Development Academy. His ties to Dewey's philosophy on education are worth reading.
Below is a screen shot of a 1993 Report on the Gheens P3 (public private partnership) with Jefferson County KY Public Schools: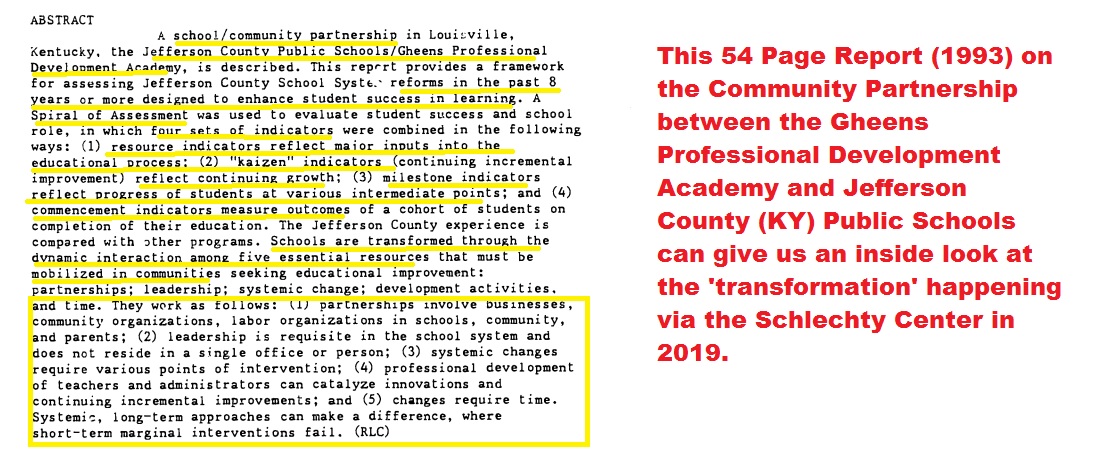 Gheens Roots To P3s And The Workforce Education Shift:
Hold on to your hats, Warriors! Gheens PD Academy (where Schlechty was before opening his own Center for PD) has some deep KY roots you need to read. In a document called "Transforming Our Schools".
On Pages 7 and 8 of this Report, is the foreword, written by a Harvard professor. In the foreword, he shares the history of the education and business world mixing. (*Note: Schlechty's name is not in this Report.)
Education/business partnerships were jumped all over when the Common Core State Standards were unleashed.
However, if you want to know WHY they did, the answer is in this document.  The Harvard professor shared that Jefferson County, KY is among the largest school districts in the entire US. As such education reform couldn't happen quickly by simply relying on the school district, so businesses HAD to get involved to 'save the day'.
So, in 1983 (about 10 years before this paper was written), the very beginnings of a P3 relationship between the Jefferson County Schools and Gheens. This led to other P3s like Humana and the schools; General Electric and the schools, and so on.

In 1990, the "Ketuckiana Education and Workforce Institute established to facilitate workforce education and training across the metropolitan area that includes counties in Indiana. Committees from the separate sectors of industry survey the enterprises to identify workforce education and training problems. These committees and reports are used to shape technical education programs. Teachers and counselors are provided month-long summer internships in companies. These school-to-work partnerships are at an early stage but the three Labor Day reports have provided significant information for students, teachers and public and private managements."
Basically, the Report went on to solidify that without transformation from the business world, education would suffer horribly. The type of transformation Gheens was using is one Schlechty picked up and carried on into his Center.
It's the type of transformation we are seeing play out via the CCSS Machine and the workforce shift in ALL education. It's the transformation of no academics and aligning to ESSA's mandate for all education to align to post-secondary readiness as laid out by WIOA (Workforce Innovation and Opportunity Act). It's also the global transformation the UN has embedded in the SDGs (Sustainable Development Goals); that the World Bank has spoken as 'gospel'; that the G20 supports by blending education and labor departments.
Warriors, it's exactly WHY the BusinessRoundtable jumped all over CCSS and STEM.
Warriors, for us, on THIS side of the Anti Fed Ed War vs the Core, it's criminal; it's disgusting; and, it's time it was stopped.
By 1998 the Education and Employment Partnership was created as a pilot project of the National Business Alliance.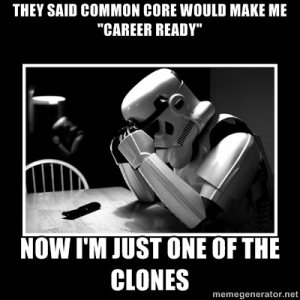 Schlechty and Company:
Below, from EdWeek (1988), Schlechty, BellSouth (now AT & T), Gheens, and Matsushita: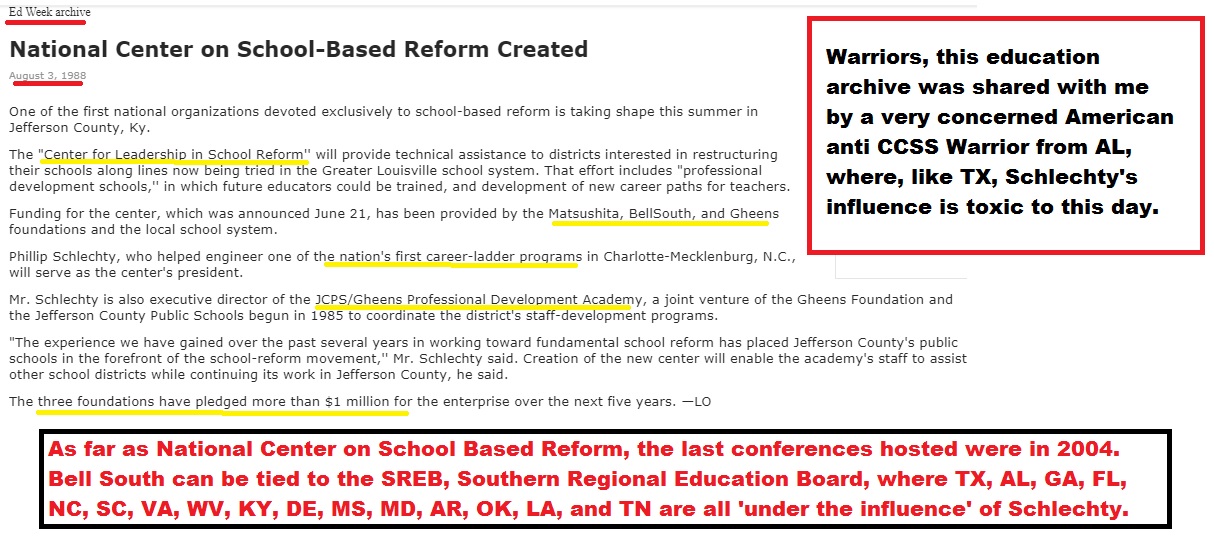 (You can open this image in a new tab to see it better.)
To learn more about the National Center of Leadership for Education Reform, go here.
From 2006, this pro-Schlechty/anti-Schlechty screen shot: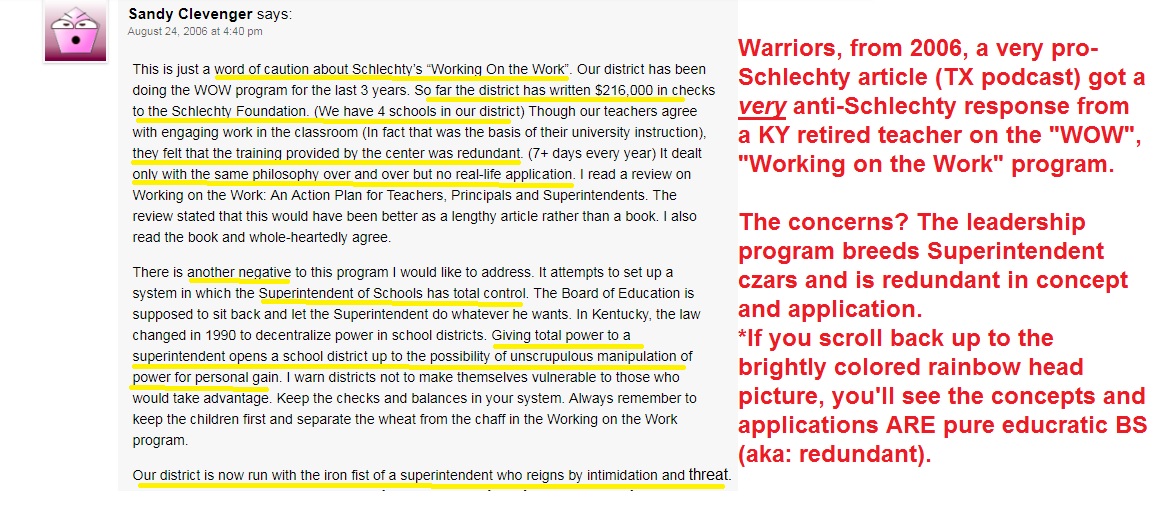 Warriors, read the entire article, then the comments, that's where you'll find the retired KY teacher's concerns.
2013, A SC Teachers are Citizens, Too blog (written and researched by Bobby Chandler) revealed how Dr. Cindy Elsberry (SC's State Superintendent of Education) had falsified the SC's Race to the Top application. Dr. Elsberry has ties to the Schlecthy Center which she brought with her from AL. I encourage you to read the entire thread of articles this blog has to offer. You'll see States, like TX and WI mentioned, several CCSS Machine member groups and tactics to turn our schools into corporations to be ruled by heavy hands and dirty fingers. (*Note: this blog also reveals OTHER groups which are transforming superintendents, teachers, school systems like John Carver's Policy Governance.)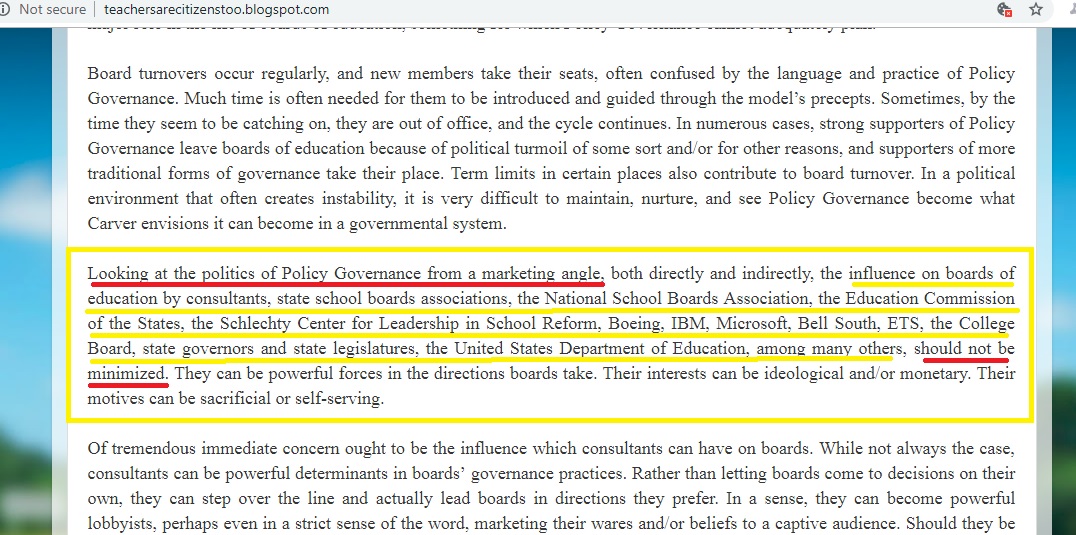 Warriors, it's important to point out the Carver Policy Model was created for businesses and non-profits, NOT, schools!
Also from 2013, the AL based "Education Solutions" partnered with Schlechty Center, to the best of my knowledge, the partnership still exists.
Tied to this, you'll find Samford University. Samford has an on-going partnership with Schlechty.  As you'll see below, Samford, Schlechty, and, Education Solutions are in a partnership: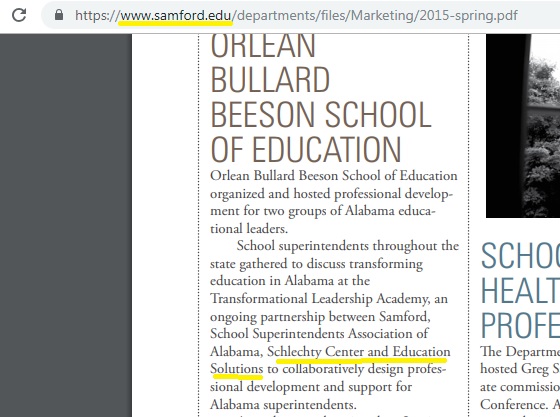 (Source, page 45)
One of the key members of Education Solutions is Pat Hodge.
In 2001, Hodge was principal at Mountain Brook Elementary in AL. Mountain Brook had been selected as a NSDC (National Staff Development Council) School. NSDC incorporated Schlechty's beliefs and approaches in ALL their schools!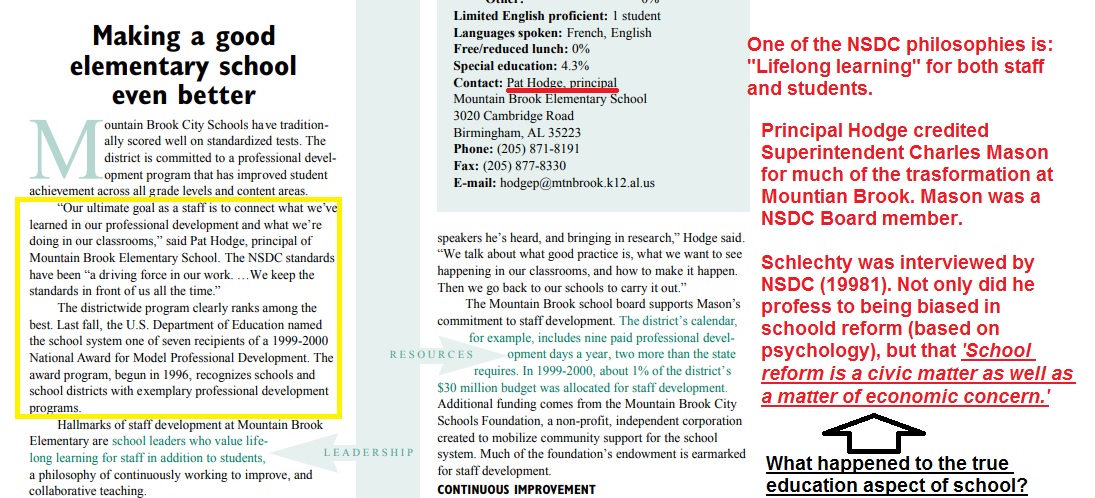 As far as Superintendent Mason, his work has been featured by Learning Forward (based in OH). Principal Hodge's school was also featured by Learning Forward. Learning Forward and Schlechty Center are well connected.
In fact, if you scroll back up to near the beginning, I shared that a huge digital push by the Schlechty Center is in place. Learning Forward has a guide on 'leveraging' digital education, especially since ESSA (Every Student Succeeds Act) is the law of the land.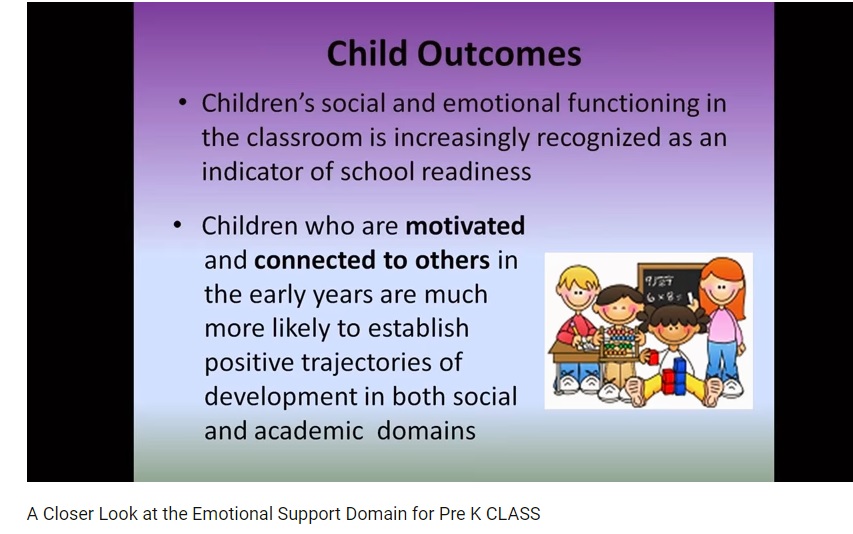 Warriors, in 2019, you won't find the Kentuckiana Education and Workforce Institute, but you will find "Kentuckiana Works". A P3 Partnership funded mainly by WIOA (U.S. Dept. of Labor) and KY Workforce Education Cabinet. There are others footing the costs.
Just like the Schlechty Center relies on regionalism for PD transformation, the Kentuckiana Works relies on regionalism. ESSA, has it in its mandates, as well. Ironically, the UN's global education plan uses regionalism. 
                                      Are you seeing the pattern, my followers?

Education is now run as a TQM (total quality management) business, NOT an institution for learning! No wonder the WOW system calls students workers so much!
Related Resources:
1)From 1994, another research link to Transformation/Transacation in education.
2) SREB, Southern Regional Education Board can be tied to Schlechty, Gates Foundation, the Columbia Group and oversees 16 States: AL, GA, SC, NC, TX, FL, VA, WV, MD, DE, KY, MS, AR, OK, LA, and TN. SREB is also a huge supporter for globally led workforce based education.
3) In 2015, How former NC Governor Hunt's Institute can be tied to SREB.
4) From 2017, another 'Dewey Disciple' of bad education reform (Seymour Papert).
5) From the School Superintendents Association (AASA, American Association of School Administrators) archives, their feature on another AL superintendent (Susan Freeman) who can be tied to Schlechty's Center.
6) The Center for Creative Leadership (NC based) teamed up with American Express to publish the Emerging Trends in Effective Leadership. This document is expressly for the workforce world. However, I'm including it so that you can see the overreaches the workforce world has taken and are being applied to education.
7) Since 'innovation' is such a huge part in the shift away from academics to workforce training and digital learning, this 1999 paper, shows yet another business model for transformation, being applied in education.
8) SEL, social emotional learning is a huge part of the education/educratic transformation. This research paper from 2011, will give you at least 5 references to tie into 'transforming for transactions'.

Closing:
There you have it, Warriors, a complete look at the Schlechty/Dewey influence ruining our nation.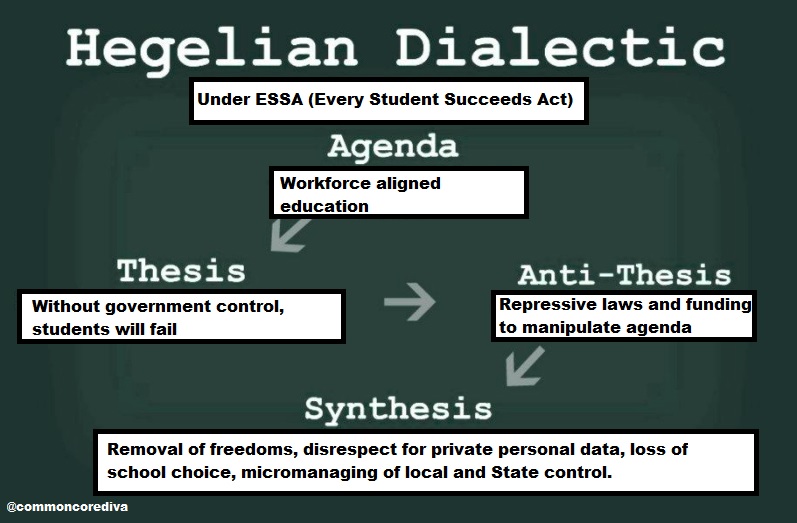 ***Author Note: Dr. Elsberry was a SC County Superintendent, NOT the State Superintendent, as stated above. Please pardon the error.