To my fellow Anti Fed Ed Warriors, I've been contacted by several parents from all over the nation in response to the recent article titled "To Your Health?!"
As one parent put it (paraphrasing) "Why not just have your child live at the school after you've signed away your rights!"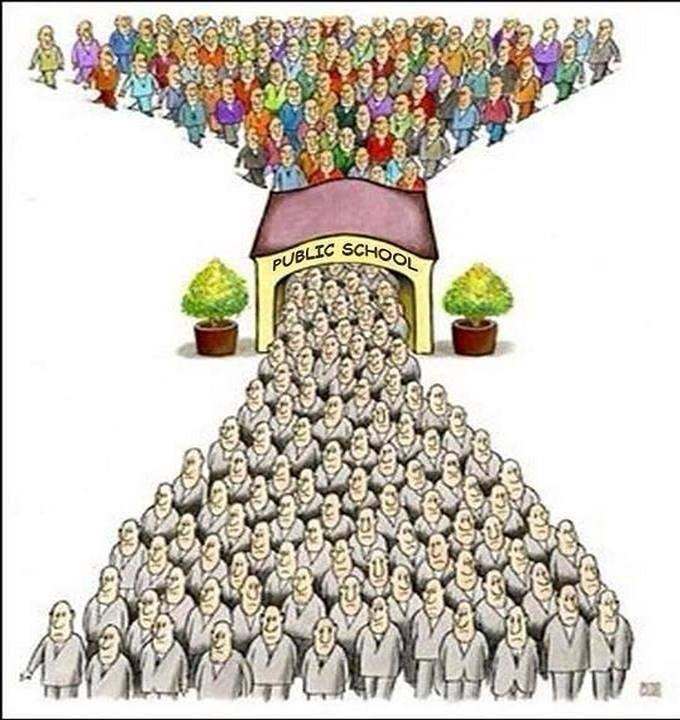 (Picture source)
New Evidence Shared With Me:
Warriors, some of the information is very recent, some is dated. Use the dated information as background so you can see the overall agenda. As we have seen time and time again,  compliance and alignment are the goals. I must highlight that many of the pieces you see below deal with birth to middle school, the high school students are just as targeted.  Parents of teens, contact me, please! We need evidence to help protect our children of all ages!!
A Dated Piece Which Laid A Foundation For Now:
From Anita Hoge's testimony before the National Information Infrastructure, (1994), this screen shot of Page 2: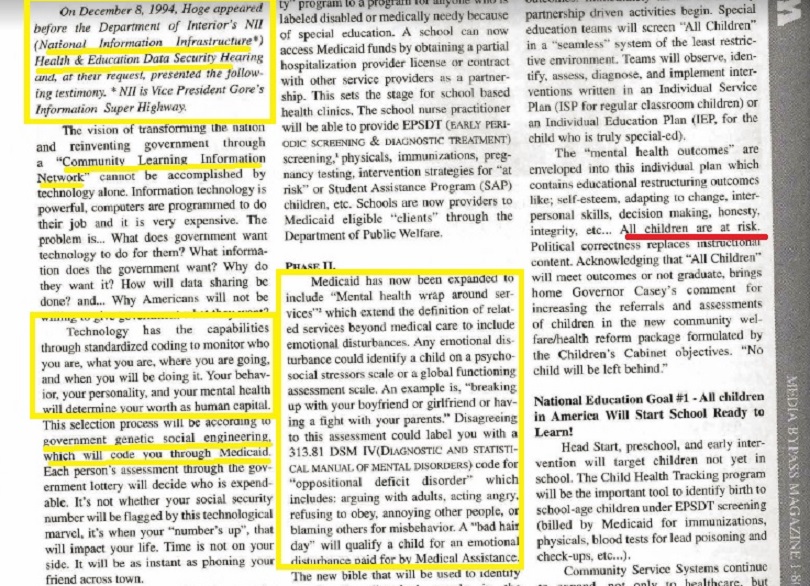 (To access the entire article and testimony, Womb_to_Tomb )
According to Mrs. Hoge this was part of the original "HillaryCare" which was struck down. From Mrs. Hoge's research, she's been able to tie together the system that's taken years to be in place.
This is done so in-school health-care like the Health-e-Schools are allowed to exist.
Parents and Warriors, once your child is coded for health reasons, especially mental health. Specific types of codes then follow the student for the rest of their lives.
Consider what this will mean for those P3s (public private partnerships), they'll be chomping at the bit to get their hands of school funding. How? State Medicaid reimbursements.
Your school gets these funds from Title One funding..ie: your taxpayer dollars! Another 'free money' pool for schools was revealed in late 2016 here on my blog. The E-Rate funding schools receive. Since the Health-e-Schools use technology, this will certainly be money to be fought over.
*Warriors, use this foundation for what's below. You should be able to see the connections.*
Evidence From Texas:

The Meadows Foundation (heavy ties to the Bush Family, which is a CCSS Machine member family. We know George, the 2nd's 'contribution' was NCLB (No Child Left Behind). Others: First, Barbara, Jeb) is supporting legislative bills to continue the links between medical billing and schools. Below is a screen shot from the Foundation's 2016 Annual Report: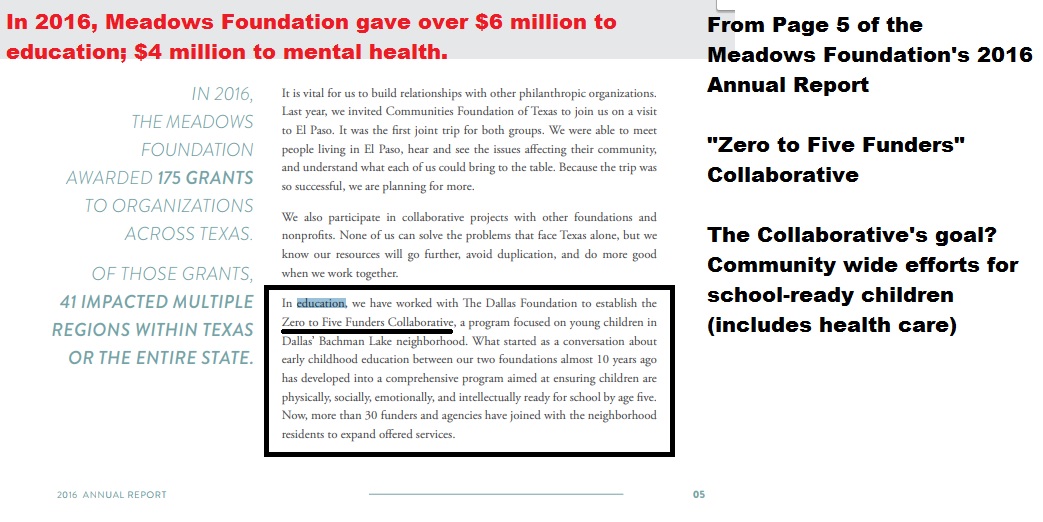 Warriors, in the Meadows 2016 Annual Report, (74 pages) education is cited 72 times! Schools? Forty-two times. The main reference is the one connected to the Zero to Five Funders. Zero to Five is full of mental and education programs.

Here's another screen shot from the Meadows Foundation:



Source, Page 42. (*Note: there are several other CCSS Machine supporting efforts in education by this Foundation. The highlighted link is to their Education Plan.)

Warriors, you're probably wondering "Okay, Lynne, but WHERE is the link between telemedicine and the Meadows Foundation?" Look below: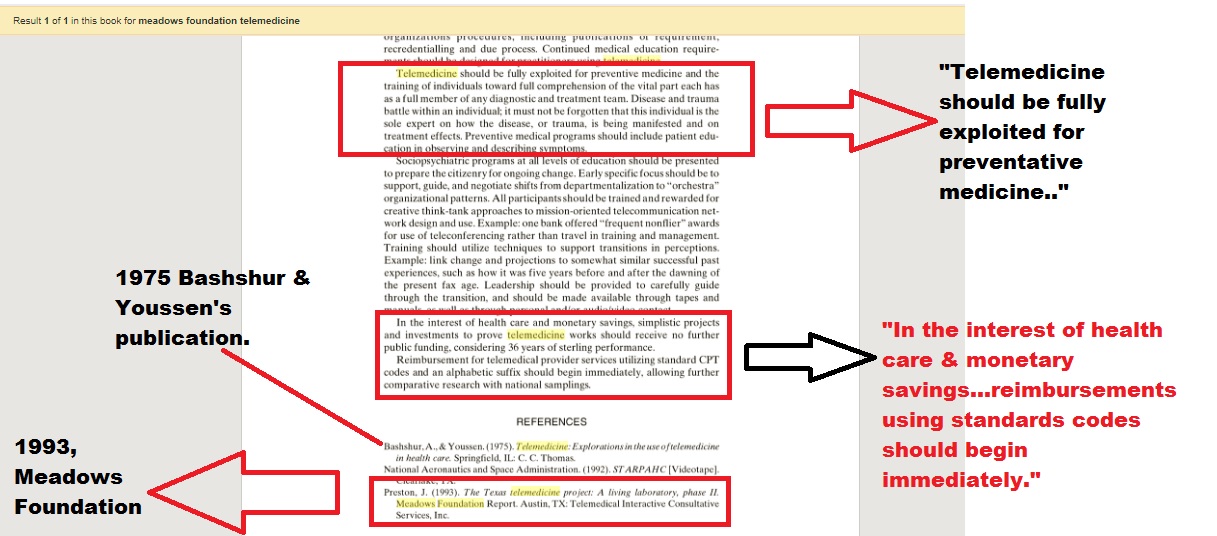 Source for this screen shot will be on Page 85 of this Google Book results.
Warriors, NASA (as in the government organization sending rockets into space and is a CCSS Machine member) was also cited as a source on page 85.
*****************************************************************************
Evidence From NC:

The brave NC grandma who shared her evidence with me about Health-e-Schools (telemedicine) in school, got me to wondering if there are several laws already on the books. Here's what I found:

In 2013, HB 704 was created to encourage the use of telemedicine. Notice the first box allows the 'consulting' site; to be anyway the health care provider is. The second box encompasses mental health and substance abuse (including diagnosis AND treatment). The third box actually reveals telemedical patients have limits.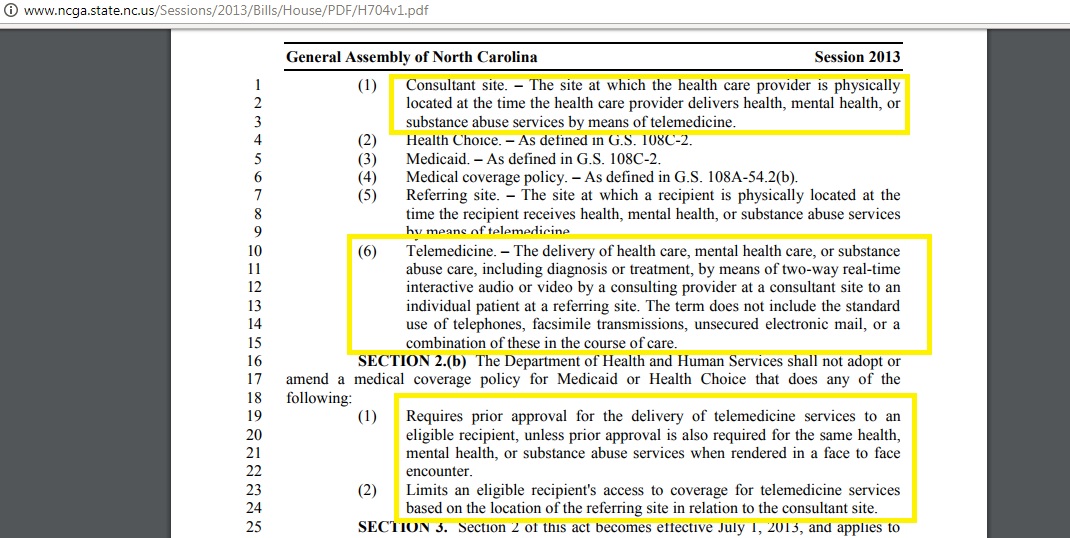 Warriors, HB 704 passed the House (117-0), crossed over to the Senate, passed its first vote and was referred to a Senate Committee. It didn't become law at that time.
However, earlier this year (2017) a bill very SIMILAR was made into law. HB 283 became Session Law 133. The NC Dept. of Health and Human Services had an accompanying Study for the General Assembly in relation to HB 283. The Study cites the National Council of State Legislators (NCSL) as a credible resource.
Warriors, the NCSL was one of the groups personally thanked by Sen. Lamar Alexander when ESSA was passed and signed into law!
Also cited in the NC Dept. of HHS's report to the General Assembly was the 2016 Fifty State Policy Guide for Telemedicine. The Guide includes how this ties to Medicaid. This will be an excellent tool to trace the data mining trail, Warriors!
**************************************************************
Evidence From Colorado:
In early childhood, see the visual for expected outcome of each student: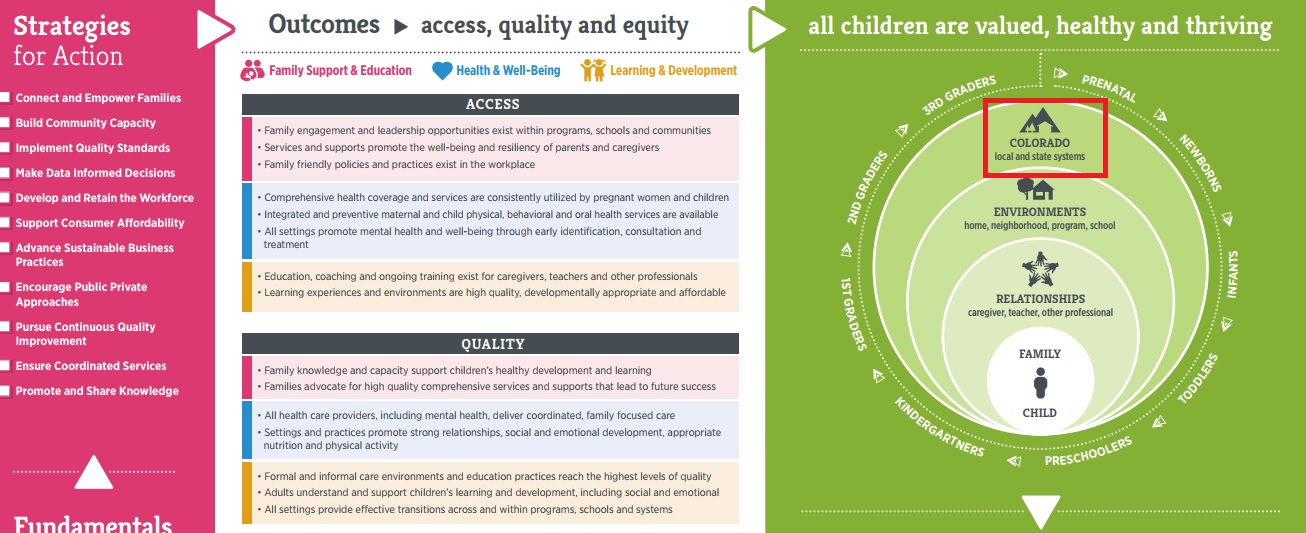 Source
*Warriors, be sure to access the source. In it you'll see the wrap around services for the family, including 'equity' (one of the equity highlights is 'how far apart to space the birth of your children'.).
Also, from CO, is an Early Childhood Provider Form. This form harvests much more than the basic information. In this particular case, a source who must remain protected, warns that with this type of form two things happen, a) it targets low-income students and families and b) if the forms are NOT filled out after the first few visits to the provider, any mental health services (under Medicaid) will be discontinued. In other words, Warriors, no completed form, no mental health treatments.
In Oct. 2017, Colorado hosted a mental health webinar. Below is a screen shot of it. Notice I highlight Dr. Riggs for you.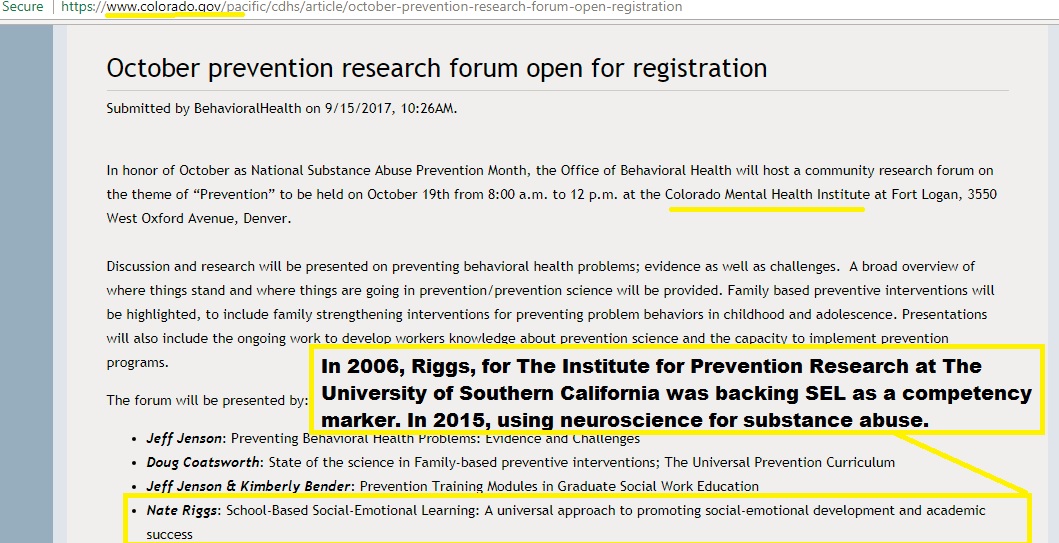 Warriors, Dr. Riggs has two papers he's cited in. The first one is from 2006, the second is the 2015 one. The 2015 Document is featured on the National Institute of Health's archives.
******************************************
Evidence From Pennsylvania:
In PA, The Robert Wood Johnson Foundation is among those cited in a Plan for increased technology wherever medicine is used (means schools, too!) (*Note: in the PA Plan, look for HIT funds (Health Information Technology), I laid out for you what those are in the original article. You'll also find the American Academy of Pediatrics in the Plan.)
**By the way, Warriors, the Robert W. Johnson Foundation has an entire section of their website devoted to SEL (Social Emotional Learning). SEL is woven all through ESSA (Every Student Succeeds Act). SEL also plays right into the mental health coding.
In 2015, I shared with you an article where the Robert W. Johnson Foundation was helping cement the birth to adult track through an initiative which builds "Living Cities".
Various Other Evidence and Links:
Warriors, below are various related links shared on this topic of telemedicine. Use them for more research in your State:
1) Robots sitting in for sick students.
2) From the CHCS, Inc (Center for Health Care Strategies, Inc). Telemental Care Management.
3) From the archives of the President's New Freedom Commission on Mental Health Library, the 2003 Document outlining the 6 Goals of innovated mental health.
4) From the ATA (American Telemedicine Association), a visual of their 5 Year Strategy Plan . To see the ATA/Senate article, go here.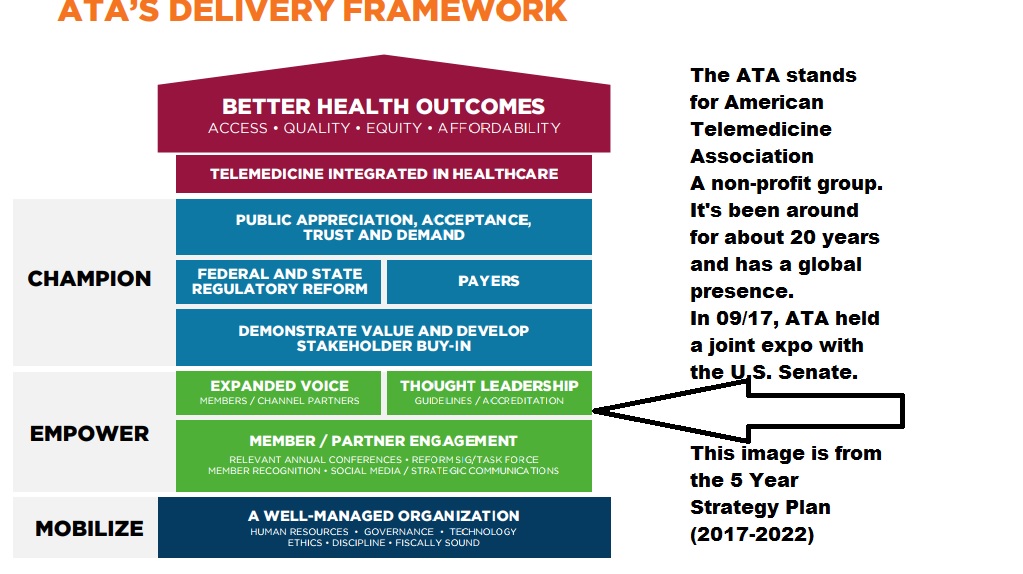 5) From CASEL, their 2011, SEL Guide to encompassing schools into managing health care.
6) My look the biometrics and the CCSS Machine's influence in education.
Closing:
Warriors, as you can see, quite a flood gate was opened when Grandma shared her information. Again, keep it coming. I've already been contacted by a very concerned education case worker who says there are things we CAN do to help protect the kids.
In the meantime, look into your school district for ANY of the items you've seen in the original article or this follow up.
Read Dr. Karen Effrem's article and contact D.C.
If you've not seen or heard of the latest data grab for our children, be sure to see what's just be introduced by sell out Rep. Ryan. HR 4174 is nothing more than a thin veil of data mining madness.
Watch for HR 3922 known as the CHAMPION Act. This one expands health care activities and locations. Also, how does the late 2016 passage into law of the 21st Century Cures Act impact a school based health care activity ('telemedicine' is embedded twice; 'school', 18 times. Section 14010 deals with school mental health crisis intervention teams)?