Anti Fed Ed Warriors, do you remember when I shared with you that ESSA (Every Student Succeeds Act) would broaden the definition of which students were most 'at-risk'? How about when I first showed you how ESSA would encroach on homeschooling families?
Well, it's getting even worse. Every day and in every State. We've looked at the increasing amount of  'in-home visits' and what that means about parental rights, data privacy, and all that surrounds both. 
But do you know that there are at least 25 States where 'failure to educate' your child is grounds for the children being removed from your home?
Warriors, re-read that. HALF of the United States ('home of the free and land of the brave') can remove your child from your home IF they are labeled 'at risk' or 'failure to educate' has been proven.
It's not the State Dept. of Education which will do this, it's the State level of Family and Children Services (usually housed in your State Dept. of Health/Human Services).
Warriors, do you remember, I often I've shared in interviews that the U.S. Dept. of Health and Human Services was given the largest power increase (for overreach purposes in education) via ESSA?! If you look at the federal budgets since ESSA, you'll see that the power increase has been well funded with some disturbing plans connected. 
We cannot rely on ALL education overreaches into our homes will come from ONE direction, federal OR state level. We MUST realize the 'cradle to grave' grab is coming from MANY angles.
The CCSS Machine has turned away from the sole focus of students and has zeroed in on entire families. The US federal government (regardless of political party or Administrative leadership) has also ignored and disregarded families where the PARENTS are the authority and have inserted themselves as the PARENT. The government has hyper-focused on THEIR ability to fulfill ALL those 'unmet needs'.
Warriors, the State leaders are following this pattern, 'lock, stock, and barrel'!
This is WHY students are being labeled as 'at-risk'!!
The government has shifted the definition of who is truly in trouble in life to mean any student who doesn't MEASURE up to 'college and career readiness'!
This encompasses those who homeschool, especially! Families are being measured to see if Johnny and Suzy are 'ready', if not, parents CAN be charged with 'failure to educate'!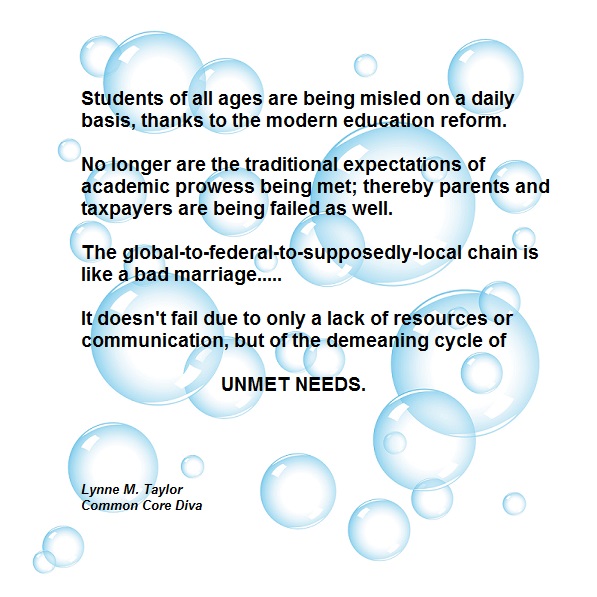 Why is our federal and state level government doing this? To meet the mandates in ESSA! That's the most honest way to put it, Warriors.
From WY To You:
Warriors, I saw the picture you see below on Facebook a few days ago, and I was curious as to what other States, besides WY are set up for this: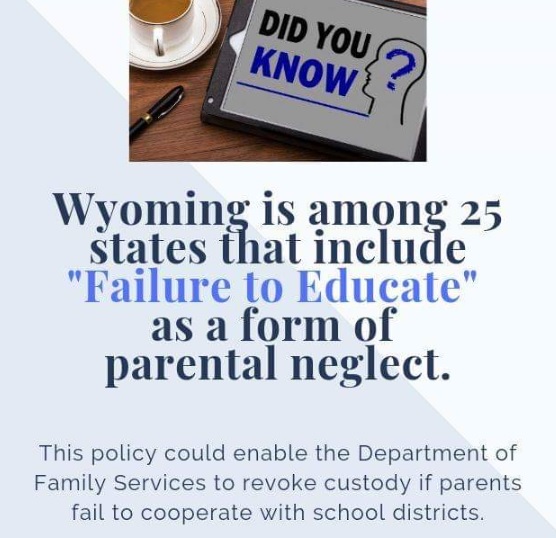 What group shared this? WY Liberty Group. While I couldn't find the 'other 24' on this website, I did notice the many articles on 'school choice'.
So, where can we find the list of the other States? Here's what I found: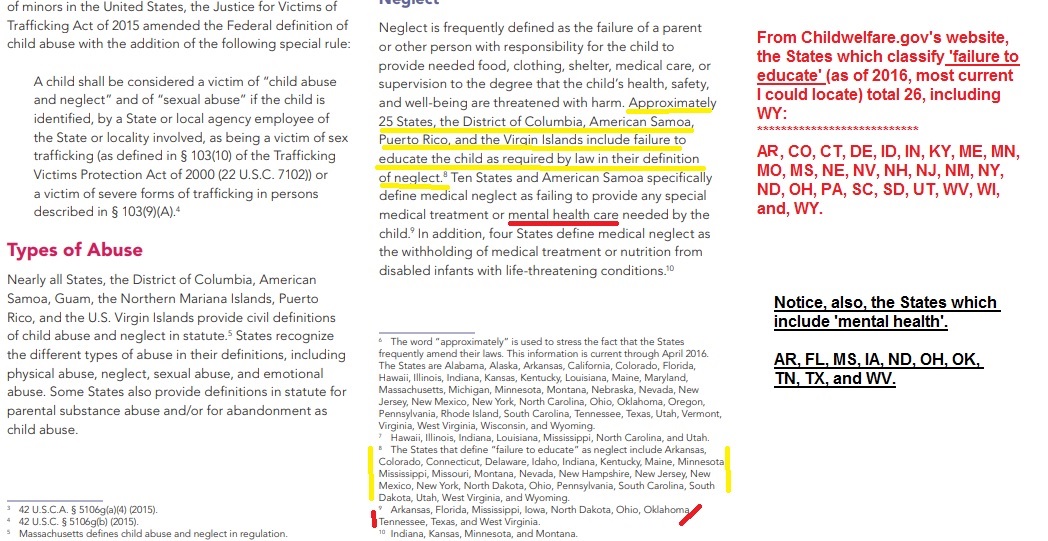 Warriors, if you're interested, here's the document detailing the felony charges for NOT reporting child neglect. From that document, you'll see CT and MD have the toughest parameters. Why would I include this document? Because if you look closely, you'll see that educators are among those who are charged with reporting neglect.
From the same website, this 2018 information, updated the news from above.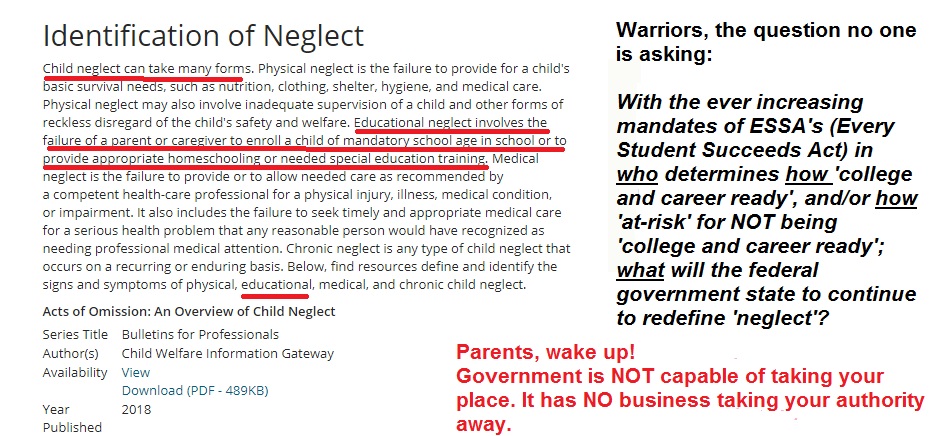 I'll be sure to provide the entire PDF for 'identifying neglect', but look at what else can be found in this 2018 Report: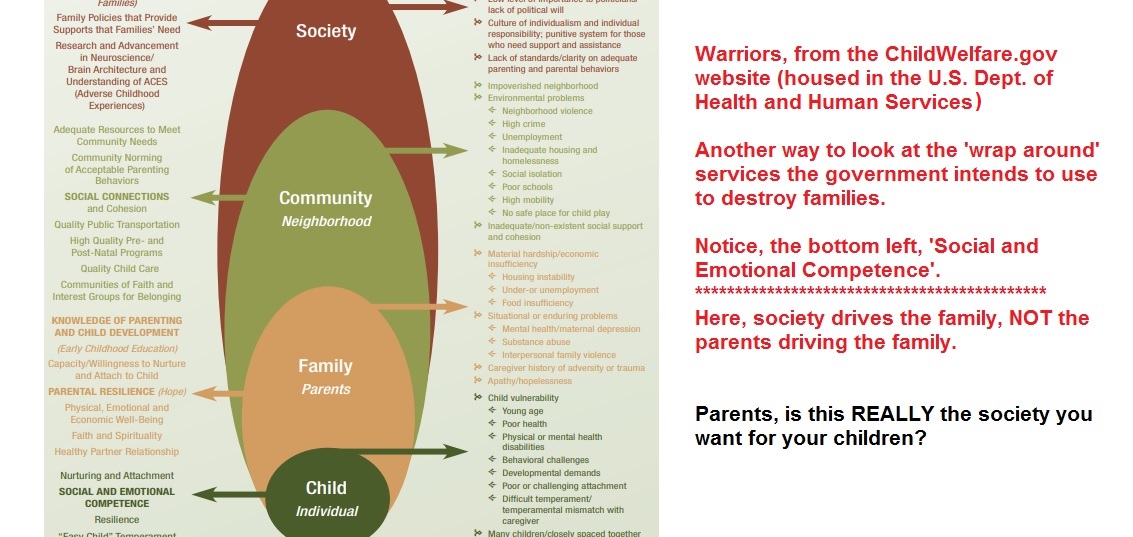 (Source)
If you homeschool or have 'chronic truancy', this resource not only listed the States (from the same website I used above, but includes each State's statute detailing the 'failure to educate'.
Look at this archived article of mine, where the States are laid out with the most SEL (Social and Emotional Learning) alignment. How many of these States are also the States citing 'failure to educate'?
Closing:
Warriors, no one I know likes to be forced to do something. However, I hope you can see how ESSA, the CCSS Machine, and, our government are forcing our families into smaller and smaller 'spaces' where our liberty and freedoms are protected.
How dare our government decree that only 'they' can ascertain who is educationally ready to face the world! Remember, the federal government has no business directing the States in education matters for ANY reason. The States, also, should be exercising what's best for their citizens, not what satisfies unconstitutional laws.
Maybe no one from your local or State government has come to your home yet. Maybe no one from the federal government has notified you of 'failure to educate'.
However, Warriors, with the traps set in place; laws to give teeth to those ESSA mandates, we CANNOT gamble with our children's place in our homes. WE MUST BE DILIGENT TO PROTECT THEM. STOP THE CCSS MACHINE!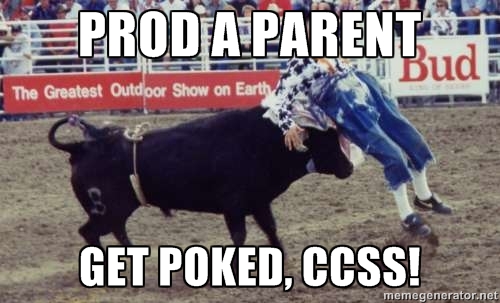 **Personal note, I'll be out of town most of this week due to a speaking engagement.
Look for a new article coming soon.