Anti Fed Ed Warriors, it's my final article of the recent series I have published looking at the 116th Congress's educractic BS.
In today's article, a look at S 5 (Education Opportunities Act) and HR 425 (Supporting Veterans in STEM Careers Act).
S 5 is sponsored by Sen. Rubio (FL) and is 15 pages long. There are no co-sponsors. Currently, S 5 is in the Senate Finance Committee.
HR 425 is sponsored by Rep. Dr. Dunn (FL), there is one co-sponsor, Rep. Lamb (PA)
Warriors, we know Sen. Rubio is an educrat. My articles on his alliance with the CCSS Machine are here. Sen. Rubio's current committees list. Recent campaign backing for the Senator included Goldman Sachs and Bank of America. Two huge CCSS Machine member organizations.
Rep. Dr. Dunn's issues do not include education, but he does list veterans. Rep. Dr. Dunn is on the Veterans Affairs Committee and the Committee for Science, Space, and Technology. Rep. Lamb lists education and veterans as two of his issues. Rep. Lamb is the Vice Chair of the Veterans Affairs Committee. He is on the Science, Space, and Tech Committee, too.
Rep. Lamb's recent campaign donors include the NEA (National Education Assoc.) and at least 3 universities tied to the CCSS Machine.

What S 5 Says/Does:
Here's the link to the Bill. It's called the Educational Opportunities Act.
1) S 5 will amend the IRS Code. The purpose is to allow tax credits for elementary and secondary tuition.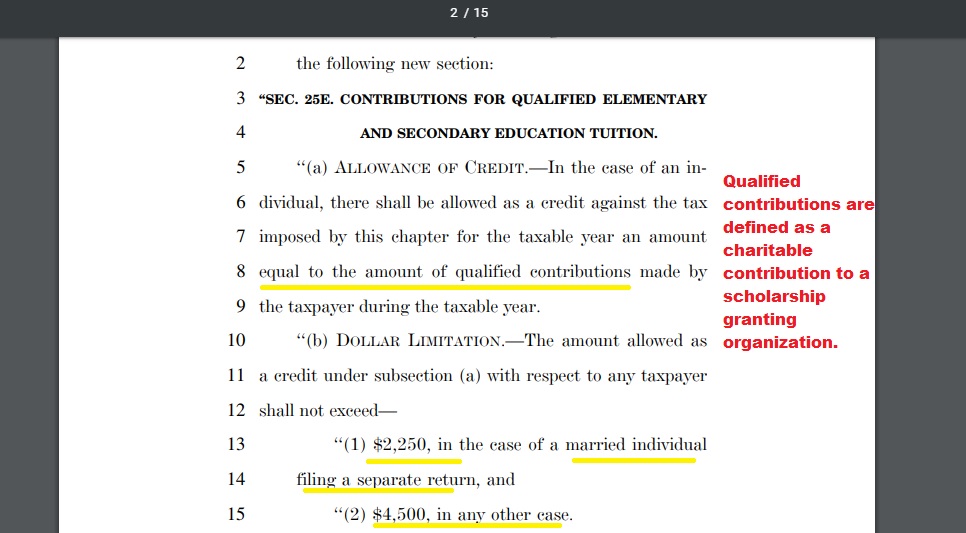 2) Eligible 'scholarship granting organizations' are defined by Section 501 (C3) and 501 (A) of the IRS Code. This means that the organization is tax exempt and that it's only purpose is to provide scholarships to eligible students.
3) Eligible students are defined as person enrolled in a school defined in the IRS Code Section 530 (b3B) and Section 4(B) as well as below the U.S. Dept. of Health and Human Services' poverty line.
4) Eligible schools are ones which charge tuition, comply with all State laws and agree to annual reports.  Part of the data collected will be off the nationally normed, State aligned tests and assessments. Page 8 does say no personal identifiable data will be shared, but Warriors, how many times have we been sold that lie? Consider, also, with the recent passage of FEPA, the IRS's data will now be up for grabs by data trackers.
The scholarships given cannot go to pay for anything at a school or in a school system in public education.
5) Reports and data will be fed to the U.S. Dept. of Education's Institute of Education Science, (IES). IES, is a huge CCSS Machine member organization which shares student data freely. In 2016, I showed you how ESSA (Every Student Succeeds Act) would have IES  pop up in homeschooling data mining. Also from 2016, how IES is woven throughout more than we thought.
6) Corporations will also be included in the tax credits. The credits cannot exceed $100,000.00.
****************************************************************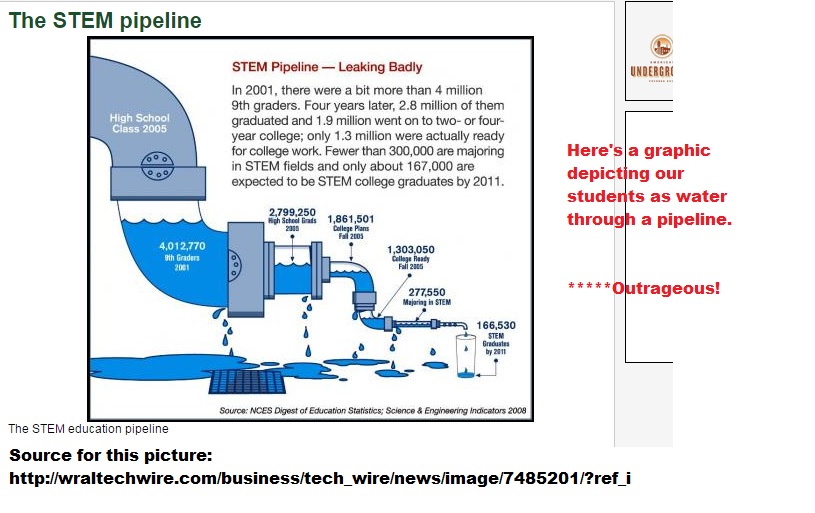 HR 425, Supporting Veterans in STEM Careers Act:
Warriors, here's the link to this Bill.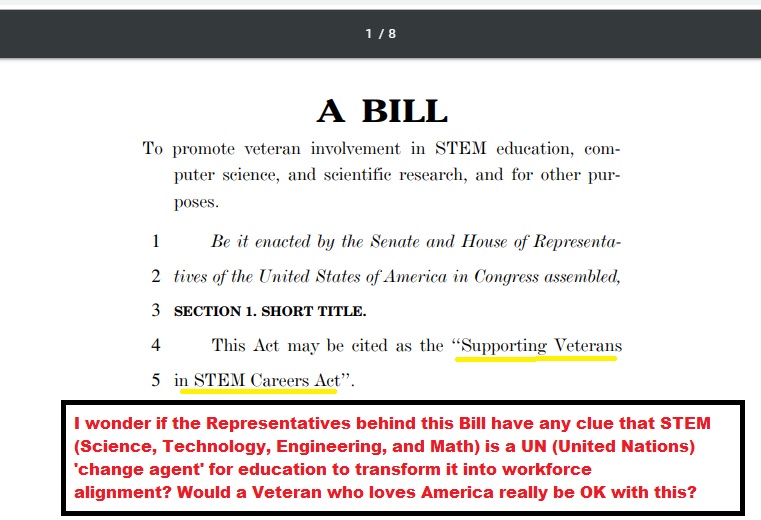 1) HR 425 puts the NSF (National Science Foundation) as the directing entity for the veterans program. The program? It's a veteran outreach plan. Warriors, I've shown you before, many times, how the NSF is tied to the United Nations.
I can think of no greater insult to our veterans that to assimilate them into a global minion. That's so anti-American.
2) Look at how the NSF will manipulate us and data track our vets: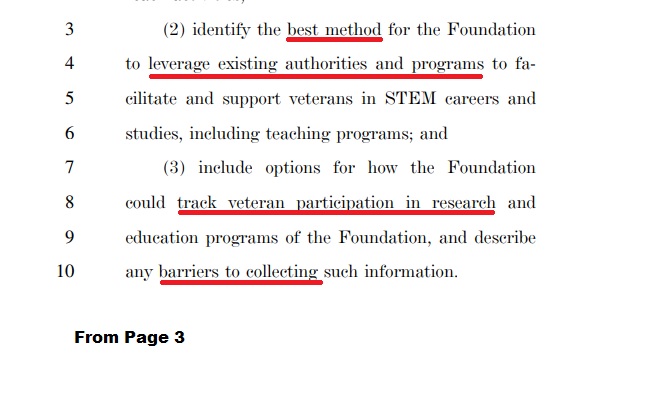 3) Any research and/or leverage used for the veterans plan will be based off the NSF's Report called the "National Science Board Indicators". This will be totally subjective, not objective. It's also going to be geared toward the global workforce. Here's the 2018 Report.
4) HR 425 updates the Robert Noyce Teacher Scholarship to include veterans. This scholarship is expressly for STEM teachers and has been made into a public law (2002).
If you are not familiar with the name Robert Noyce, that's okay. Maybe you recognize his contribution to the computer, called Intel. I've written about the Robert Noyce Foundation before.
5) Also amended is the NSF Act of 2002 concerning the Teaching Fellows and Masters Program.
6) The NSF's Computer and Network Security and Capacity Building Grants will also be updated to include vets.
7) A new government interagency will be established with HR 425. It's to be called the
"Veterans and Military Families STEM Education Interagency Working Group". This group will use federal resources to transition veterans and military spouses into STEM careers.
This interagency will close after 5 years after this Bill becomes law, should it.
Connected to this is the Office of Science and Technology Policy's Director making sure all STEM strategies in HR 425 are carried out. The Director is also known as the "President's Science Advisor".
Many have argued that President Trump is dedicated to getting all parts of the US out of the UN, but I ask you to consider how when he wholeheartedly supports STEM.
Related:
HR 627, is also STEM legislation which broadens the NSF in all education.
STEM connects to Smart Cities, also a part of the UN's agenda.
ESSA upped the CCSS/STEM ante to gel with the UN's SDGs (Sustainable Development Goals).
The power shift in DC didn't end the educratic BS we've grown so accustom to seeing. Review or discover how deep the STEM 'love' goes in DC.
Closing:
Warriors, I hope this series has helped spur you on to keep fighting to save our nation, as well as our schools. Will the 116th Congress continue to pump out harmful legislation? Absolutely. Will I keep you updated? You know I will.
I'll be back on the blazing trail next week.
In the meantime, share the Series with your leaders and concerned citizens.