Anti Fed Ed Warriors, yesterday, I showed you how S 406 (Federal Rotational Cyber Workforce Program Act) is being fast-tracked. The article laid out for you the links between education and labor; how cybersecurity is to be increased, not only in education, but all across America. The article also showed you the federal and global co-operation where education and labor are concerned.
Below, is an old screen shot I created back from our campaign to stop the confirmation of Dr. King as U.S. Sec. of Education. Under DeVos (as Ed Sec.), all these are not only still in place, but have been increased. Especially STEM and STEAM.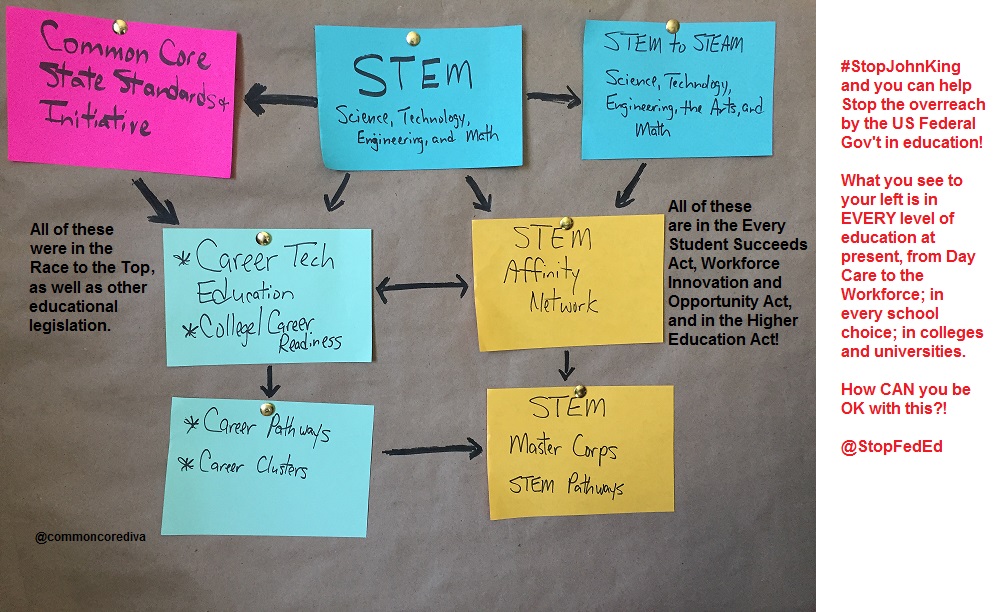 Cybersecurity is not all about protecting We the People from the hackers and whackers out there. Cybersecurity tracks all we do, on-line and, we're finding it off-line, too.
In education, cybersecurity is passed off as 'coding'. In the early grade levels (remember, coding is available to ALL education choices) coding is called 'fun and games'.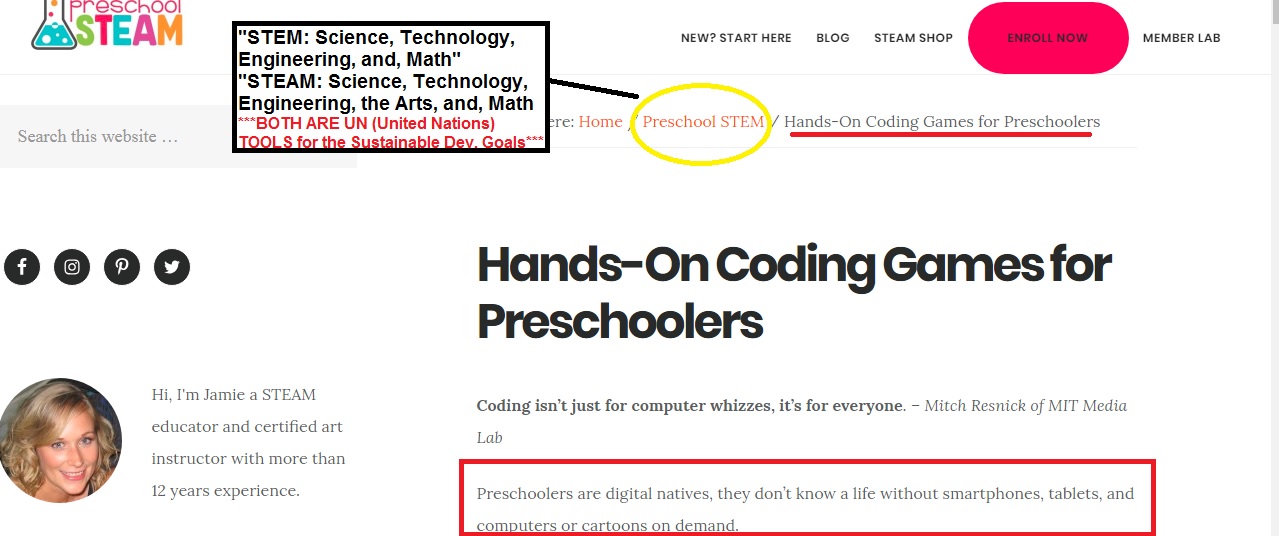 Where will cybersecurity 'pop up' in education and labor? STEM, STEAM, CTE, and CCR. All these connect to CCSS, too.

Warriors, not only will be tracked by 'human capital police', we're going to see their training embedded in PreK to adult education.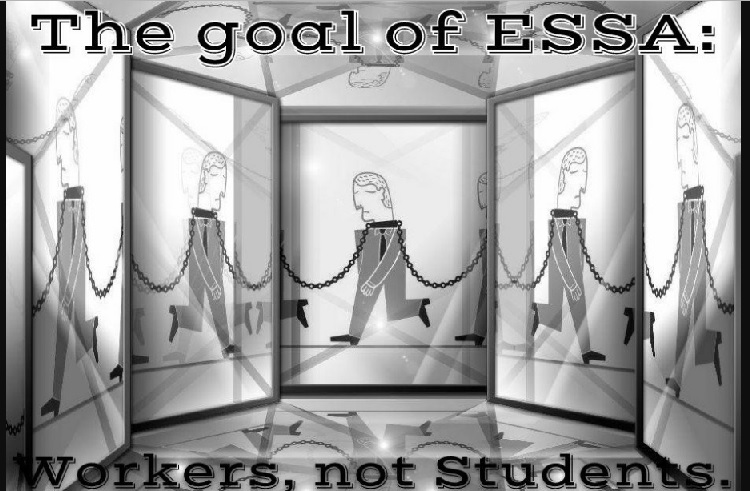 The 116th HC Plans:
Warriors, not only do we have S 406, but there's HR 1592. HR 1592 directs Sec. DeVos to create a pilot program for cybersecurity education. There are other related bills from both Chambers, but we'll start with HR 1592. Cybersecurity Skills Integration Act is HR 1592's title.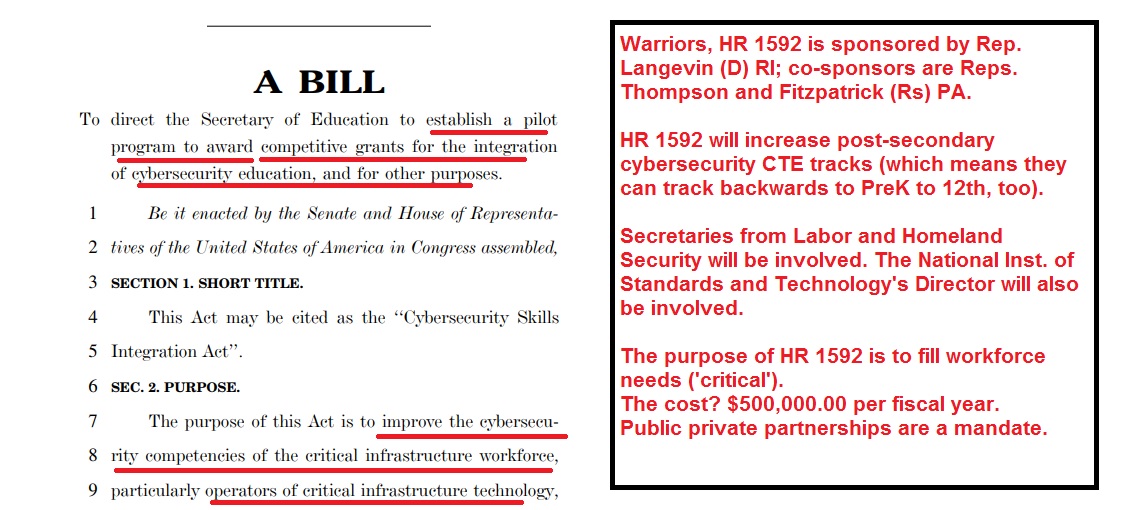 Warriors, the supposed benefits of HR 1592:
a) Credentialed and employable US citizens
b) Improved infrastructure in the US (ties back to the Patriot Act)
c) CTE (Career Tech Education) cybersecurity will promote diversity in the workplace
d) Competitive grants will be used to promote regionalism
e) Ties back to ESEA (Elementary and Secondary Education Act of 1965 aka ESSA, Every Student Succeeds Act, 2015)
f) Tracks which students get credentialed
g) Gives Sec. DeVos $10 million dollars in all for the pilot creation and competitive grants
h) Opens the partnerships up to 'alternative stakeholders'
i) Must meet 'in demand' and economic trends
j) Uses work-based learning (aka apprenticeships) Ties to WIOA (Workforce Innovation and Opportunity Act) and the HEA (Higher Education Act) Both WIOA and HEA were embedded in ESSA's language.
k) Targets special sub-groups of the population for workforce needs
Currently, HR 1592 is in the U.S. House Education and Labor Committee.
If you'd like to read Rep. Langevine's Press Release on the Executive Order by President Trump on the cybersecurity workforce needs, go here. In his release, Langevine promotes HR 1592.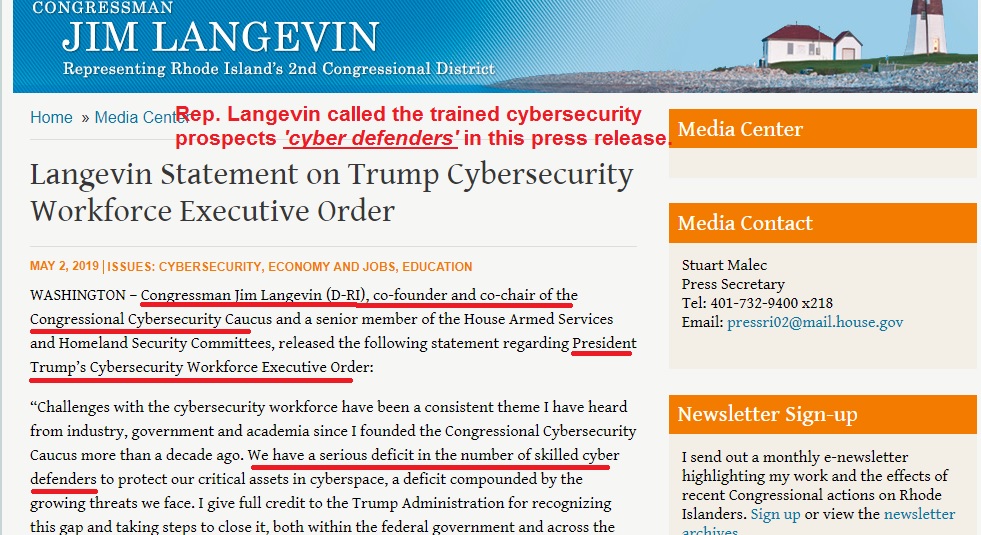 That EO (Executive Order) Rep. Langevine referred to? That's EO 13800, issued in 2017.
EO 13800 called for every federal agency (which included the U.S. Dept. of Education) to comply with the framework for cybersecurity. The EO also called for increased workforce development of cybersecurity.
EO 13859 (Feb. 2019) called for increased workforce development of AI (artificial intelligence) which relates to cybersecurity.
What about the ties all this will have to not only S 406, but the Education and Information Exchange Act (both were discussed in yesterday's article)?
The President issued a Proclamation on "World Intellectual Property Day" (May 2, 2019). In that Proclamation (#9865) the USMCA (United States-Mexico-Canada Agreement) was a key piece in intellectual property (personal private information) rights.
Warriors, the cybersecurity directly relates to all this. Also, think about the global data tracking and trails which have also been discussed in yesterday's article and other previously published research of mine.
As far as USMCA in education, that's a huge problem in data collection/sharing!
Back in Nov. 2018, before Congress voted on USMCA, I showed you how it would embed everything the UN (United Nations) needed for the SDGs (Sustainable Development Goals) to thrive in the US.
Since the vote for USMCA went through, I've shown you other ways USMCA is not our friend.
As I pointed out yesterday, cybersecurity unites SDGs #4 and #8 (education/decent work).
Related Resources:
1) If you missed my review of how President Trump is 'helping' education in the light of the upcoming 2020 Presidential race, I urge you to read this. He has not lessened the federal overreaches, nor the global ones. He has helped increase them. 

2) If you think all this cybersecurity won't impact FEPA (Foundations for Evidence-based Policy-making), I urge you to read this. FEPA was signed into law even though much push-back was given by We the Poeple.
3) Use www.congress.gov to look up the bills related in topic to data mining, STEM/STEAM, CTE, and, cybersecurity.
For example, these bills are of big concern:
House Bills:
HR 1591 (Targets girls and underrepresented students for more STEM; amends ESSA for funding streams to increase technology); HR 1672 (Amends HEA for freedom of expression); HR 1634 (Amends WIOA for more Youth Corps) HR 1635 (Community based jobs); HR 1571 (Creates fed/State partnership, amends HEA for DREAMers); HR 1565 (Creates a new higher ed data tracking system); HR 1519 (Increases culture exchanges); House Resolution 169 (calls for increase in STEAM education); HR 1637 (Allows high schools to be come voter registration locations); HR 1652 (Improves Veteran education grants); HR 1676 (Increases STEAM and amends ESSA); HR 1678 (Creates a Task Force in the US Dept of Ed); HR 1662 (Creates a pilot program under U.S. Dept. of Ed for high tech to assist families of special needs students); HR 1688 (Fulfills federal mandates for Native American education); and, HR 1485 (Authorizes U.S. Dept. of Education to create more PreK-12th computer science).
Senate Bills:
S 1292 (Amends HEA and will use data for student loans); S 1299 (Amends ESSA for more STEM); S 1221 (Amends HEA to create innovation zones); S 1072 (Amends HEA for Pell Grants to go for job training); S 1074 (Reinstates Pell Grants for prisoners); S 1157 (Amends both HEA and ESSA); S 1119 (School lunches/anti bully); S 1168 (Amends HEA for increased religious groups access); S 1176 (Amends HEA for disabled students); S 1198 (Increases U.S. Dept. of Ed's study abroad programming for global competency); S 1172 (Amends ESSA/IDEA for fully funded Part A of Title One); S 1153 (Makes unauthorized education data access a crime (certain types of ed data)); S 1204 (Expands the U.S. Dept of Ed and implants mental health in higher education); S 1175 (Amends HEA in technical information); S 1117 (Amends HEA and creates Career Pathways Grants); S 1203 and S 1219 Amend HEA; and, S 1137 (streamlines education/job training for environmental health workforce).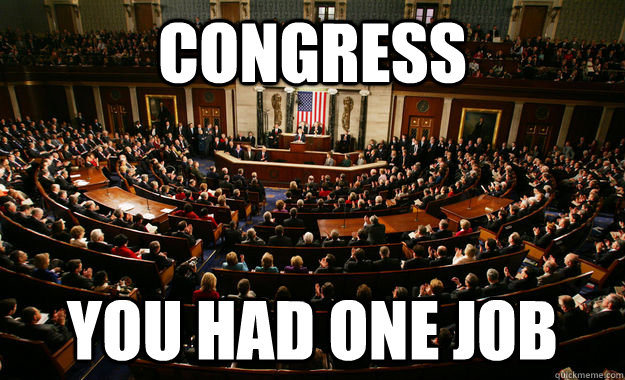 It's called represent 'We the People', not Yourself, the "sold out"!
Closing:
Warriors, we MUST be pro-active in seeing where Congress is steering our nation. So far, it's not in any direction we ever desired. the "HC" Plans (Human Capital Plans) are wretched and MUST be stopped!
For my next article, I'll be focusing on the federal overreaches in education where mental health is concerned to honor May as "Mental Health Awareness" Month.