*Fourth is a series about September 2019 as "Workforce Development Month"*
Anti Fed Ed Warriors, we've seen so much educratic BS from global forces which has encroached on our federal government, we could fill a dump. That overreach has been passed down like a 'hot potato' from the federal government, to our States, and, to our local levels. All in the name of education 'success'. However, education is NOT the goal.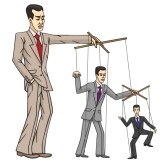 As we've been uncovering in this series, the goal is citizens prepared for a workforce future of servitude.  As we've seen the pressure to conform to this is coming at us from all angles and targeting all ages, as well as, all school choices.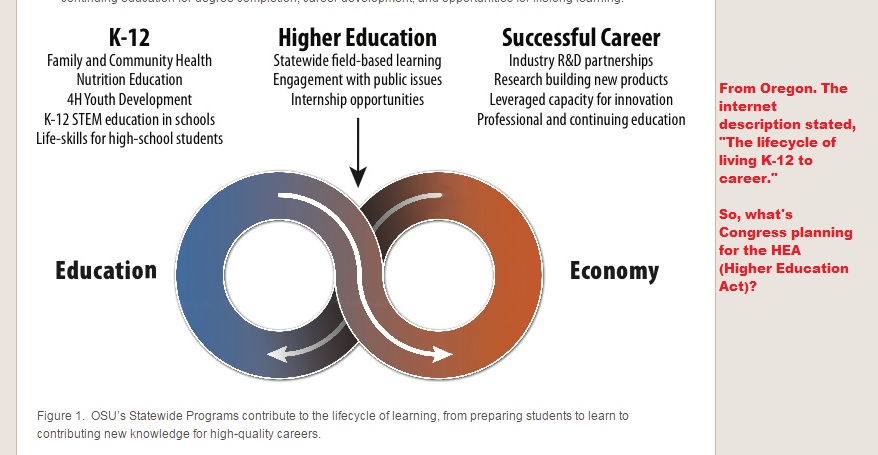 Warriors, back in 2015, I shared with you the States lining up our students for workforce based "Career Paths" via the Career Paths Network. In that article, you could also find the 10/6 Agenda Points for workforce education (aka: workforce development).
Since that article, State after State is announcing some 'new idea or program' to entrench CBE (Competency Based Education) as some way to boost the job market and economy for their citizens. State after State is doing away with traditional grades, courses for what we knew as academics to usher in aligned courses for mastering skills. Just go to your State Dept. of Education's website and look.
I used the OR example above, so let's see what updates OR has made to the never ending treadmill you see.

(Original Source, added emphasis is mine)
To access the "Future Ready OR", go here.
More Pressure, Less Academics: 
Again, Warriors, OR is not the only State in America doing this. EVERY State is. Did you notice the overreaches into healthcare and housing this will usher in? In August of this year, I showed you how NC is using inclusionary zoning to create workforce housing tied to education. What type of education? Workforce skill based! (ie: STEM: Science, Technology, Engineering, and Math; CTE: Career Tech Education, and more)

In SC, they are using TV ads to promote the value of workforce based education from a 'new' angle. Joining unions. How will this work? Increases your take home pay to better serve your family, but the lead in for the commercial uses 'choice', 'path', and 'drowning in student debt'. This ad is from the IBEW (International Brotherhood of Electrical Workers). The video I'm linking is the generic version. The version I saw on TV was geared for SC families and was only slightly different.
(*Notes: The 'international' denotes the US and Canada. The IBEW is a 'star' in the world of unions,  especially the AFL-CIO. Why? So many skilled workers in several career fields. The IBEW also is against weakening apprenticeship standards. This letter addresses those concerns in connection to Pres. Trump's Executive Order 13801. IBEW also has a legislative/political arm which includes 'education'. The PAC (Political Action Committee) leans more toward the Democrats, but as we know Warriors, Democrats and Republicans LOVE workforce based education. Lastly, as with all unions, 'collectivism' is key. Source)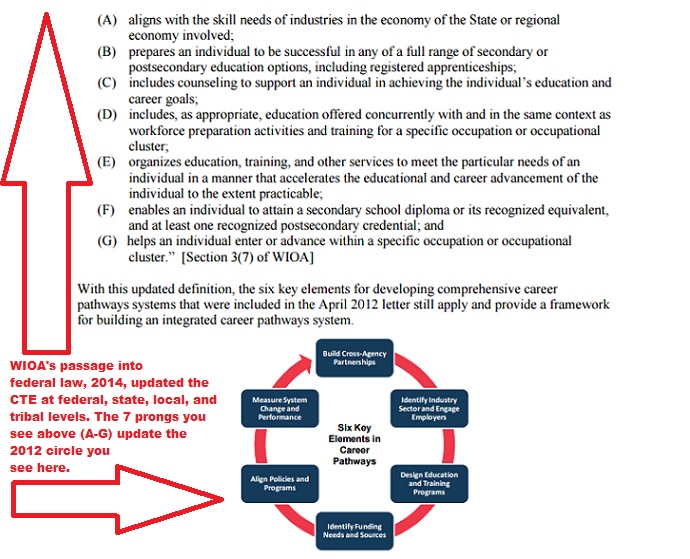 ICYMI:
Warriors, in 2017, I showed you the "Dear Colleague" Letters from 13 different federal agencies in full support of CTE plans from their offices. These letters and plans were directed at education from cradle to grave.
In 2014, the AFL-CIO CCSS Toolkit, then VP Biden, and American Labor Unions and how they tied (still will tie) to STEM, Perkins Funding, and, more.
From the President's Supporters:

Warriors, we've seen support for workforce based education well before our current President was sworn in. We've seen the unabashed support Pres. Trump has given workforce development (aka workforce education).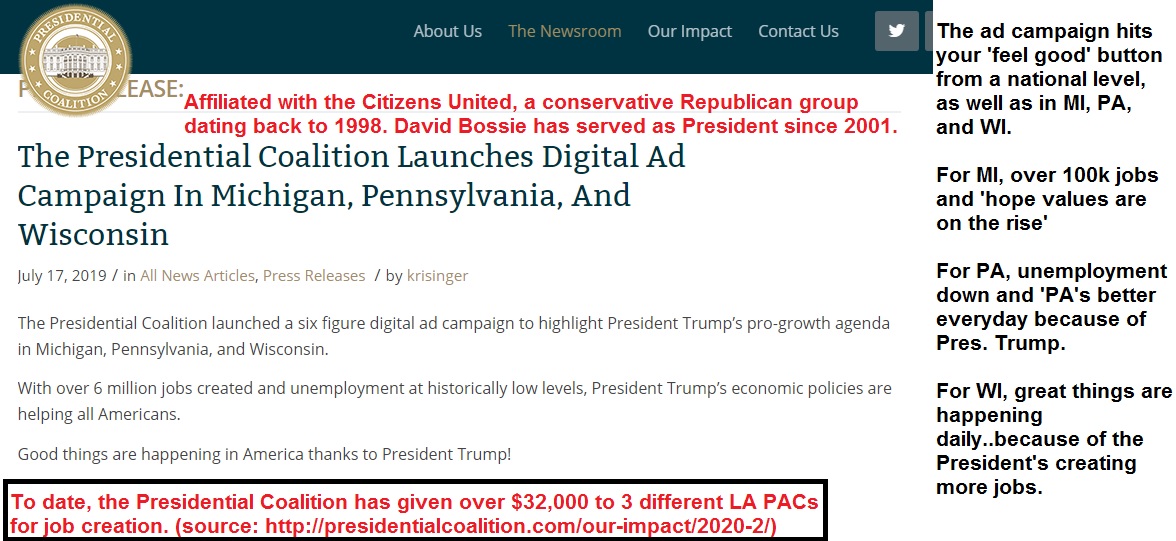 In this July 2019 ad from the Presidential Coalition, you'll see how all Americans are being called 'a nation of doers' and it's all thanks to our President.
If you'd like to learn more about the Presidential Coalition, go here.
If you'd like to see the other 2020 Campaigns PC is donating to, go here.
To learn more about David Bossie's ties from Little Sis's website (thanks to Alison M. for providing this), go here.
Closing:
Warriors, in my next installment, we'll dive into the workforce development/education sales pitch we've had from STEM/STEAM (That's STEM with 'the arts' thrown in). Trust me, the research is plentiful about how deceptive the pitch has been. From the global level to the President's office to your community. 
As you can see, the pressure's on to align us all, we MUST fight back and take the air out of the CCSS Machine's tires, so to speak.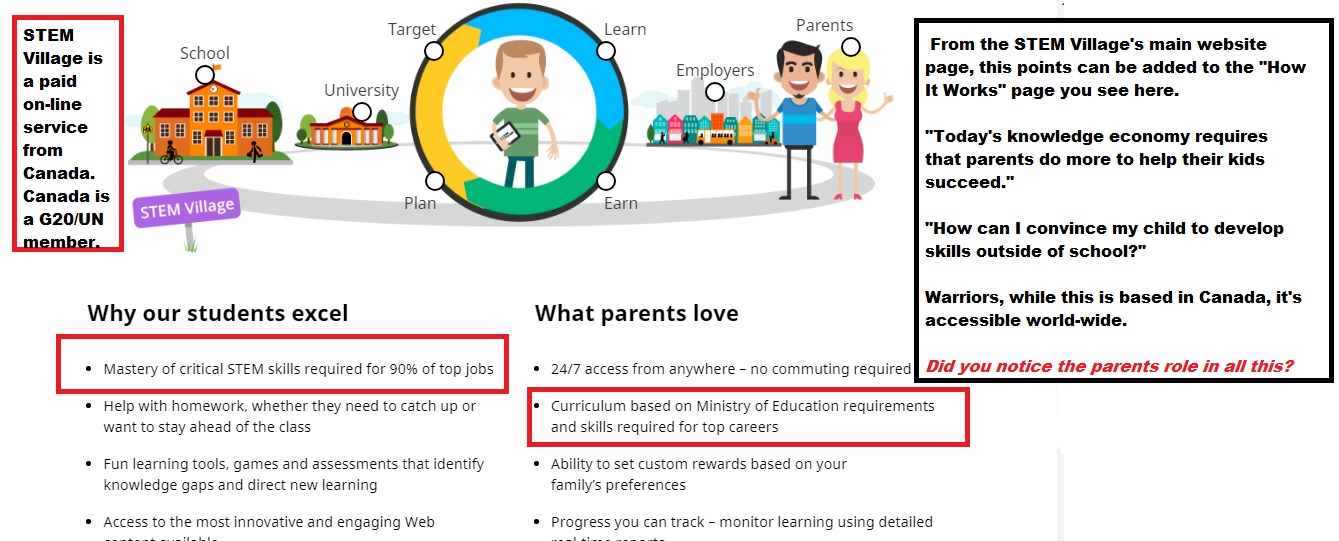 Part One of this Sept. 2019 series.
Part Two
Part Three
Personal note: If you've enjoyed this series or, if you'd like to help support my research and personal appearances, please click on the PayPal picture after reading my thank you message. LINK