Anti CCSS Warriors, Fed Ed Warriors, and everyone in between…
Are you fed up with the lies about education from educrats?!
I am! My article today is a response to the Vice President's education remarks during the recent CPAC event.
Talk is cheap. I feel mocked…again. Some educratic buzz phrases we've heard SO many times showed up in Pence's words. I am so tired of people in power who think they can mutter what sounds good or popular and be trusted. The one statement which really ticked me off?! "We're in the promise keeping business."  Before I go any further, here is the link to his speech.
From Pence's Time In IN:
His work, in education, did not  keep his constituents happy. Just ask the anti CCSS/Fed Ed Warriors in IN. They KNOW he's a CCSS Machine member. I know it from previous research. Our entire nation needs to wake up and see he is an EDUCRAT!

From the Washington Post's article, Pence, as Governor ignored the voice of the People in IN many times when it came to education. So, how are the American Citizens supposed to believe anything Pence says about education as VP?!
(Below is a screen shot showing Gov. Pence's signature on a Race to the Top document for IN.)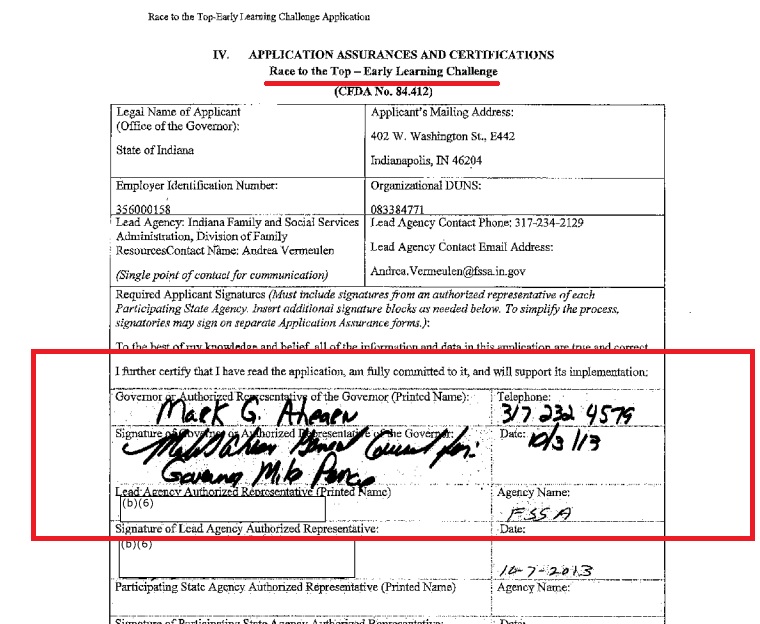 Source of the screen shot can be accessed here.
Back to the CPAC Words:

Anyone given the right words can whip up a crowd. Especially when you leave out key facts. Pence near the 13:32 mark that no State should ever be forced to adopt 'Common Core'. The crowd cheered loudly.
Of course cheering would happen when you preempt your 'adoption' comment behind how the Trump Administration is on board with education reform which wants to give more school choices and that recognizes education is a local function. Pence didn't appear uncomfortable one bit when saying these things. However, let's look at WHY these statements ARE supportive of ESSA (Every Student Succeeds Act).
First off, neither the President or Vice President should be on board with education reform in its current state of top-down, bottom-up; anti teacher; anti parent;  and willingly selling out our students. They should not be supportive of any of the educational federal laws which are illegally based and contridict the U.S. Constitution! Secondly, ESSA has been sold by the CCSS Machine as education is given back 'locally'. False!  By acknowledging the 'local control' yet doing nothing to end the illegally based reform is double speak. Lastly, ESSA lies have been spread that 'school choice' will somehow give you more in education, when it reality it is more of the same! Look below. (My thanks to Michele K. for the work on the image below.)
**********************************************************
In a fairly recent article, I showed you how the Trump/Pence Education Plan was about expanding fed ed, not lessening it. Since that publication, it appears Trump STILL doesn't know what's Common Core and what isn't. Since Pence likes to claim he balances the President, apply that concept here.  Pence isn't clueless about CCSS or CTE (Common Core State Standards/Career Tech Education). Suddenly, now that he's the second most powerful man in America, he wants us to believe he is among our best allies in fighting the CCSS Machine. A quick internet search shows Pence is closely tied to CTE.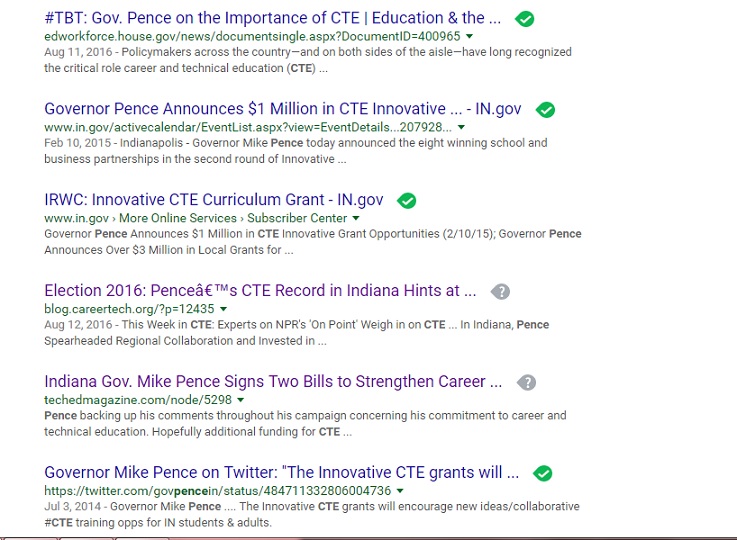 IF all this wasn't enough, add Pence's claims about school choice and his alliance with Betsy DeVos. Research which shows her family's friendships with Pence. One could even point out these ties may have swayed him, especially in his vote for DeVos as Secretary of Education.  Pence has a close relationship with DeVos's brother, Erik Prince. Here's proof of campaign donations. This link shows you the Prince family donations to the Trump/Pence "Make American number 1").
As Far As The Reality of "School Choice":
Recently, Alice Linahan asked me to guest appear on the Women on the Wall National Conference Call. It is imperative the Trump Administration listens. Why?
'School Choice' via ESSA is exposed to be exactly what we, the anti CCSS Warriors know: an unadulterated farce. You sure haven't heard Mr. Pence share THAT truth with anyone, especially when appearing before adoring fans.

If You Want to Speak The Truth:
After absorbing all this information, use the #KeepYourPromise on Twitter and help tweet on Feb. 27th that the Trump/Pence campaign promised  "No More Common Core!" For there to be NO 'Common Core', it MUST be destroyed in ALL its forms, even Pence's champion cause, CTE!!

From the White House:
President Trump's "National School Choice Week" Proclamation included this excerpt shows us just how effective the CCSS Machine's propaganda has been. At almost every turn, since Trump/Pence's inauguration, their ears have been plugged to our consistent truths about the CCSS Machine. If they'd listened, they would know the Proclamation was a victory for the CCSS Machine, NOT a blow against it. Here's an excerpt:
"By expanding school choice and providing more educational opportunities for every American family, we can help make sure that every child has an equal shot at achieving the American Dream.  More choices for our students will make our schools better for everybody."
****************************************************************
From VP Pence's official White House biography, "As Governor of Indiana, Vice President Pence increased school funding, expanded school choice, and created the first state-funded Pre-K plan in Indiana history. He made career and technical education a priority in every high school."
A painful truth I found on the White House's website, education is not listed among the 'top issues'.
What is top among the Trump/Pence Administration? Energy (the U.S. Dept of Energy is in the CCSS Machine via CTE.), Foreign Policy, Jobs Returning to America and Job Growth (will most definitely encompass STEM and CTE), Military and Law Enforcement (tied to the CCSS Machine), and, Trade Agreements (will definitely tie to global economy).
********************************************************************
My Last Thoughts, Comments, and, Responses to Pence's Speech:
1)The friendship between so many in the Administration is giving off the attitude of greatness and shaking the established system up, especially in education. BS! You CANNOT possibly have greatness or beating the Establishment as long as you deceive the nation with ridding us of CCSS when you have so much firmly embedded to carry it on.
2) 'Government for the people, by the people, and, of the people' would be more believable when the People speak by the millions to not confirm the worst Secretary of Education to date. Somehow, though that message got blocked. Very much like when Pence, as IN's Governor ignored the will of the citizens there.
3) Pence said Trump was already delievering results for American citizens, so far, I must disagree on education. If you really want America  to buy into the "Promise Keeping Business", Mr. Pence, STOP the misinformation! STOP the CCSS Machine in ALL its forms, NOT just Common Core! Do not tell us (the anti CCSS/Fed Ed Warriors) education reform begins with MORE SCHOOL CHOICE. ESSA kills 'school choice'. If you've not read ESSA like I have, you would know this and not spread the lie that 'school choice' is the answer.
4) Pence said (CPAC Speech) the States should not be forced to adopt CCSS. Is he serious? Does he not remember that the 'CCSS forced acceptance' happened back with Race to the Top?!  States had no choice when it came to CCSS being in their educational system thanks to the federal funds and the strings which came with them.

What Should Be Said:

1) "States shouldn't have to CONTINUE to be forced to adhere to CCSS or anything connected to it." (my words)
2) "I will uphold the U.S. Constitution and recognize all that goes with Common Core violates it." (words to be spoken by Pence, Trump, and the entire Congress)