Warriors, as you know, it takes dedicated teamwork to to what we do everyday. Finding information and then sharing it to help each other in our War Vs. the Core.
In the past, we've heard lots about this U.S. Dept. of Ed's "Dear Colleague" Letter. The Letter was to dispel and discourage bullying, however, it was a distinct overrstep of control by the U.S. Dept. of Ed.
The U.S. Dept. of Education, uses many "Dear Colleague" letters to create the illusion of more power and authority. Think of it as intimidation. The U.S. Dept. of Education  takes guidelines and treats them as federally approved legislation they must carry out.
So, when an avid anti CCSS Warrior shared this 'new' "Dear Colleague" Letter, I knew I had to share it with you. Below is a screen shot of it.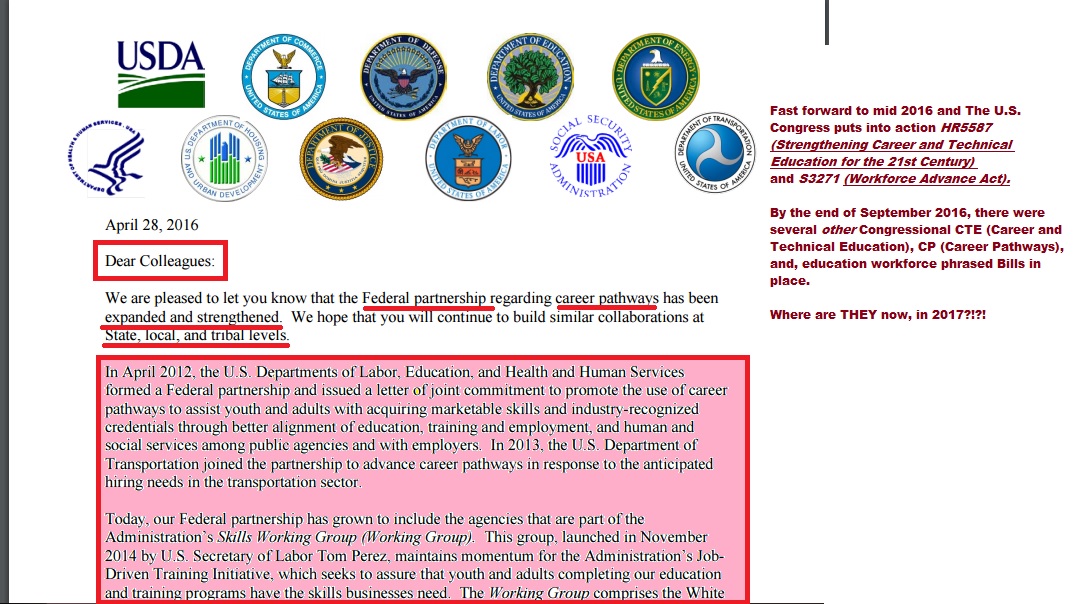 In the shot you see the question 'Where are they now, in 2017?' If you missed when I first exposed S3271, HR5587, and the others, click here. I'll give an update later in this article.
Right now, let's look at this 2016 Colleague Letter to promote CTE (Career Tech Education).
1): CTE (Career Tech Education) is part of the streamlined birth to grave educational shift for a skilled workforce.
2): Look at the federal level partnership! Not only to we have an illegally based U.S. Dept. of Education, but we now have it partnering with several other federal departments!
This isn't a new partnership, however, some time ago, I shared with you a workforce education graphic where it laid out all the different federal agencies where student data flowed freely. In case you missed it, look below: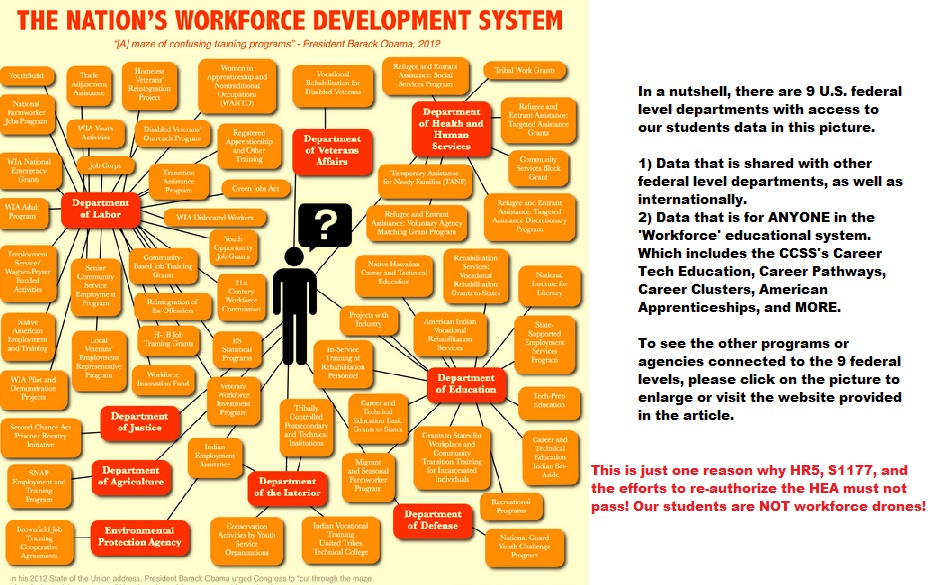 (*Note: The Bills, HR5 and S1177, were combined to become what we now know as ESSA, Every Student Succeeds Act.)
3) In 2012, the U.S. Dept. of Education joined forces with the U.S. Dept. of Labor and the U.S. Dept. of Health and Human Services to create a federal partnership. Here's an excerpt, " issued a letter of joint commitment to promote the use of career pathways to assist youth and adults with acquiring marketable skills and industry-recognized credentials through better alignment of education, training and employment, and human and social services among public agencies and with employers." (*Note: I give you a detailed historical timeline of the joint efforts of the U.S. Dept. of Education and the U.S. Dept. of Labor here.)
4) In 2013, the U.S. Dept. of Transportation joined those in #3 to support CTE.
5) In 2014, (then) Secretary of the U.S. Dept. of Labor, Tom Perez, launched a "Skills Working Group" for the Obama Administration. The Group was to push the Administration's "Job-Driven Training Initiative".
Group member agencies/departments/offices:  "White House National Economic Council, the Office of Management and Budget, and thirteen Federal agencies, including: the U. S. Departments of Agriculture, Commerce, Defense, Education, Energy, Health and Human Services, Housing and Urban Development, Interior, Justice, Labor, the Social Security Administration, Transportation, and Veterans Affairs. The Working Group coordinates activities across these various agencies, including efforts to ensure that career pathways are available to all individuals, especially our nation's low-skilled youth and adults, many of whom are already in the workplace."
6) This powerhouse Partnership expanded the federal role in education, especially for workforce development. As the Letter puts it, the expansion was (and continues to be) to help the States carry out CTE. Look below: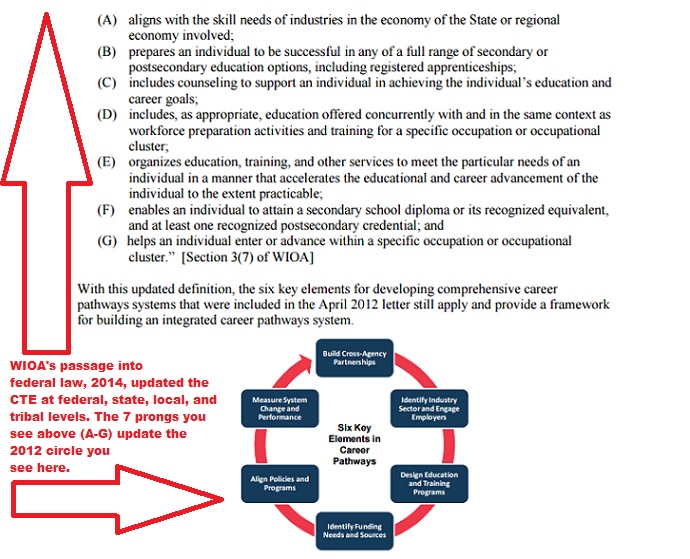 The Tool Kits:
Each of the 13 federal agencies will have 'CTE Tool Kits' of some form.
The U.S. Dept. of Labor's is 147 pages long and includes 6 elements for creating more CTE in your State. From the Preface of the document, "The primary audience for this Toolkit is staff who work at the state level representing one of the core partners required to develop a Workforce Innovation and Opportunity Act (WIOA) Unified Plan. The core partners include the State Workforce Agency, the State Adult Education Agency, and the State Vocational Rehabilitation Agency overseeing Title I, II, III and IV of WIOA." Other agencies and people will be added as plans grow. 
The U.S. Dept. of Education's is only 94 pages and was published in 2015. "Jobs for the Future" produced Ed's Tool Kit. JFF (Jobs for the Future) is tied to the Gates Foundation, the  Casey Foundation, the Kellogg Foundation, and others. JFF's Media Sources include a road map of federal funds your State can access for 'cradle to career'  CTE alignment. (Find out more)
The U.S. Health and Human Services offer all kings of Grants to promote CTE, such as TANF (Temporary Assistance for Needy Families). I've written about this before. What is new information is that HHS also offers HPOGs for CTE expansion in your State.(Health Profession Opportunity Grants) (*Note: in the highlighted link above, you will find a Congressional Bill introduced in 2016 specifically for expanding CTE in the health care professions for rural areas.)
Over at the U.S. Dept. of Transportation, their CTE Tool Kit (85 pages long) has expansion plans for the next 10 years, at least 30,000 new jobs, and a whole lot of data mining for everyone.
The Career Pathways Exchange  is a free CTE information hub. According to the CTE "Colleague" Letter, the Exchange is a trio (Ed/Labor/Energy) supported resource. However, if you go to the Exchange's website, you'll see who/what inspired the project.
Vice President Biden's jobs report (2014), Page 69 states "ED will launch the Career Pathways Exchange, an online information dissemination service that will give all states and interested stakeholders access to resources and guidance to develop, expand, and strengthen their career pathways systems. ED will work with 14 states to provide intensive, customized technical assistance, tools, and coaching to make their education and training systems easier to navigate." (*Notes: a) VP Biden was a huge supporter for CTE during his term of service. b) the former First Lady and the VP's wife also helped drum up lots of CTE support. Find that on Page 18 of Mr. Biden's Report. c) ICYMI: Biden's articles where I exposed his CTE work supported by some American Unions.)
You may find this helpful in your anti CCSS/Fed Ed War.
**A related Letter about CTE:  CTE "Dear Colleague" Letter is also from 2016, but deals with Title 9 and CTE.
So Where Are Those CTE Bills Now?
Earlier, an update was promised for you on HR 5587 (will increase CTE nationwide), the 'sister' Senate Bill, S3271; S 3190 (will increase CTE in health care); and the worst of the CTE Bills, S3174 (LADDER Act; will create a new executive branch protected and separate Council) for a National Workforce Plan.
**************************************
HR5587, passed the U.S. House of Representatives and was sent to the U.S. Senate in Sept. 2016. It remains to be acted further upon.

S3271, S3190, and, S3174 are all in the HELP Committee's (Health, Education, Labor, and Pensions Committee) hands. While I could not find any recent action on these 3, we must stay alert about these. Each will continue to codify illegally based federal overreach in education as well as increase the size of our government.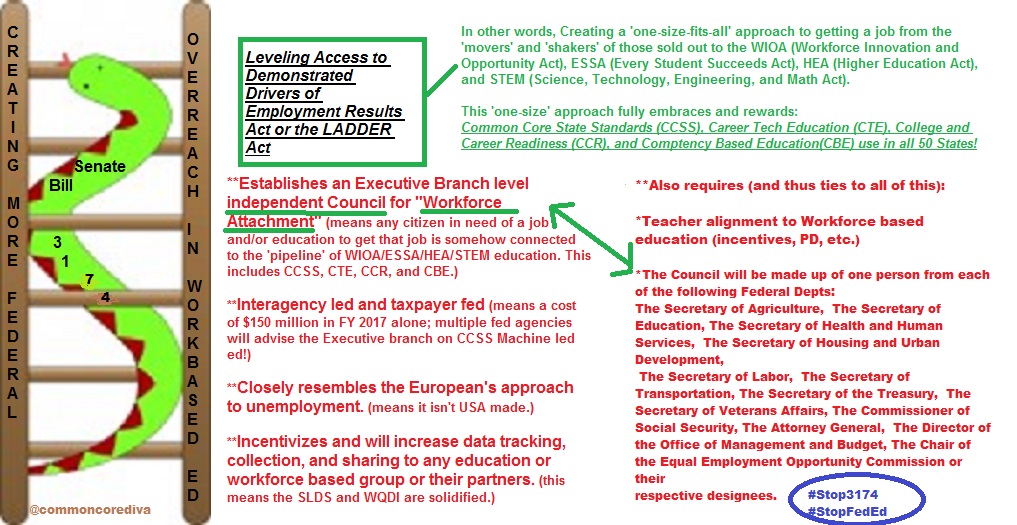 While these Bills appear to be dormant, remember several other Bills throughout history have also been dormant, only to be resurrected and sprung upon We the People. We must be watchful of these, especially considering the current Administration's push for creating jobs, school choice, and, a VP who is considered a CTE champion by his peers. (*Note: look for a special video message coming Monday about this.)