Anti Fed Ed Warriors, it's hard to believe, but school is officially in session, at least, in some States. It's the first part of August, Warriors. Kids should still be on vacation!
Teachers should be able to relish the last few days of personal time before heading back to the classrooms. Parents should be able to make some last of the summer memories which are rushed before the class bells ring.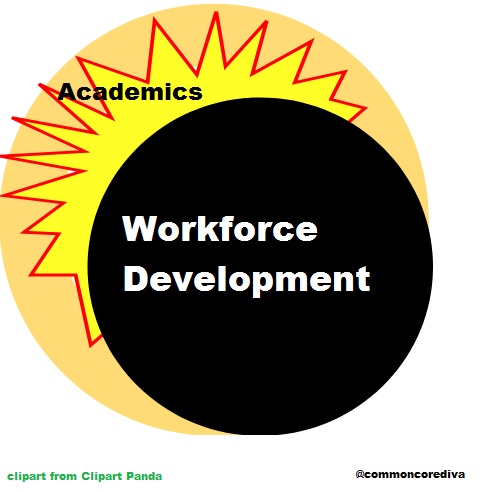 However, as the CCSS Machine grinds on, we find that schools are beginning earlier and earlier. Some States even had 'year 'round' schools. I know one former city I lived in, here in NC, had schools which operated 3 weeks on, 3 weeks off. That was for an entire year's calendar. I need to point out, this was BEFORE the (ESSA) Every Student Succeeds Act was passed. It was also the years just before Common Core State Standards (CCSS) were unleashed on our nation. 
What's the point in all this? It's simply another way for the 'birth to death' or 'cradle to grave' workforce education system to survive. By schools starting earlier and earlier, we've seeing children robbed of their childhood; parents beaten down that somehow (and at any cost) their child MUST get ahead and beat everyone else's to that job or career; and, we're seeing teachers undermined at every step to let 'kids just be kids'. What's at the bottom of this?!
The UN/UNESCO and CCSS  Machine's alignment to the OECD's 'lifelong learning' so you can 'learn to earn'. All of this has been openly embraced by the US, current Administration included.
(*Note: UN is the United Nations; UNESCO is the United Nations Educational, Scientific, and Cultural Organization; OECD is the Organization for Economic Co-operation and Development.)
In other words, Warriors, your child, and mine, are money makers, not for themselves, but for their masters. The horror is, this system is not only after our young age students, it's after our older age students, and, our adults. Quite plainly, the workforce shift in education will either train or re-train each and every one of us. A great way to achieve this, align secondary education to post-secondary education. (After all, page 17 of ESSA final law version. Page 33 of the ESSA Final Conference Report) plain stated that.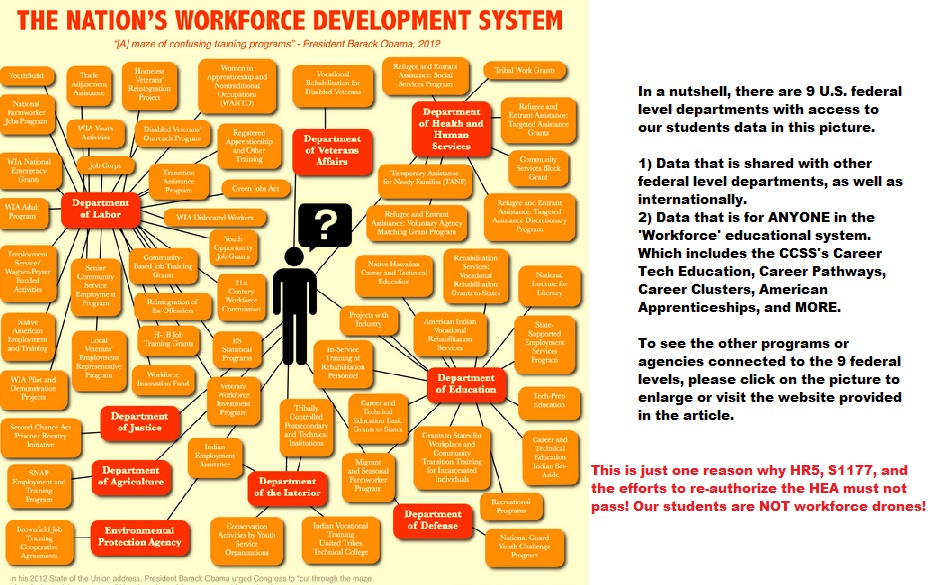 (*Note: this image, above, cited HR 5 and S 1177, both of these were combined into one bill and would be renamed Every Student Succeeds Act. The HEA, Higher Education Act, is in the process of being re-written to be re-authorized by 2020.)
A Local Push And Shove:
Warriors, to give you an idea of the alignment between secondary education and higher education, this made the local news.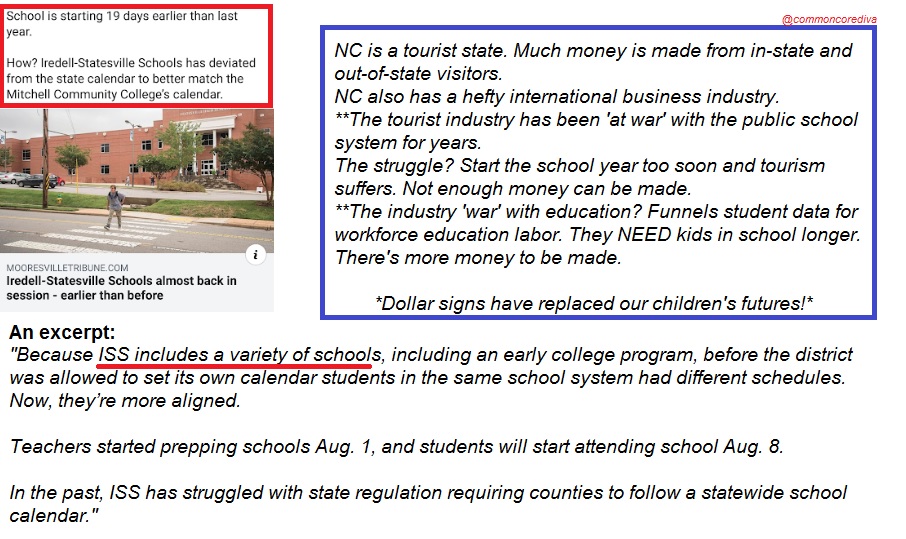 (article source)

Warriors, do you see the 'early college' above? That's also called 'dual enrollment' or DE. DE is accessible to not only public school students, but ALL education choices, including homeschooling. Dual enrollment also got the ESSA push/shove to blend workforce education in. Especially through community colleges. ALL community colleges in the US are part of the CCSS Machine. 
Now, since I showed you the Iredell-Statesville news, the Mooresville schools are in a separate system called the Mooresville Graded School District. However, MGSD is also served by the Mitchell Community College. There are 2 campuses for Mitchell, one in Mooresville (within walking distance of my home) and one in Statesville, about 15 miles away. So, all MSGD schools are also starting early. Tomorrow, Tuesday, August 6th, in fact. 
More Pushing/Shoving:
Is there a partnership between your State's Dept. of Public Instruction (aka: State Dept. of Education) and the Community Colleges? There is in NC. Here's a screen shot from a 2014 presentation for CCP (Career and College Promise) and the CTE (Career Tech Education) showing the push and shove for workforce education: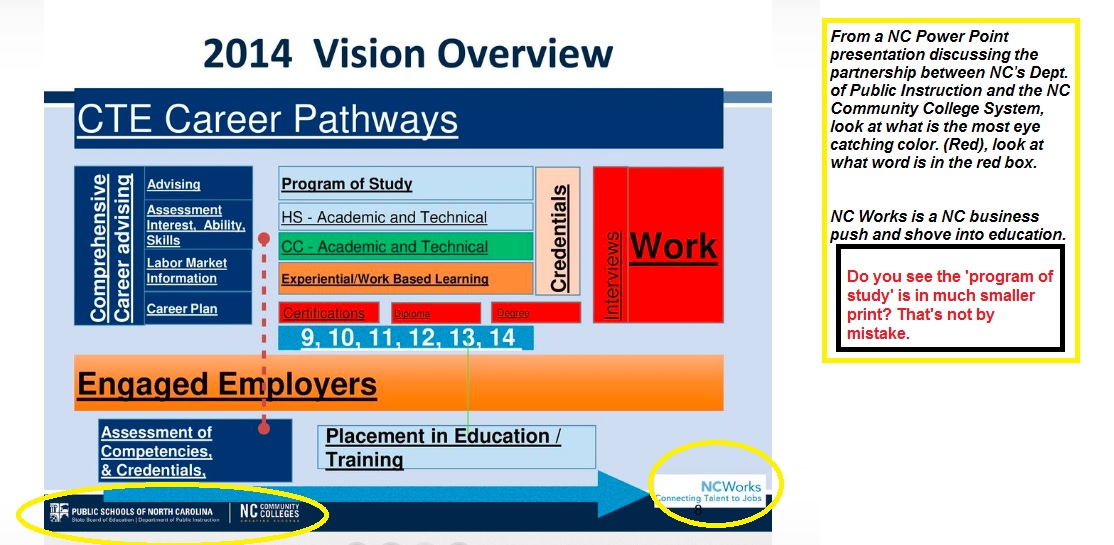 (*Note: College Promise is a federal program, not simply a NC one.)

Both CCP and CTE are available and being pushed and shoved on all education choices, especially homeschoolers.
Parents from all educational choices are flocking to these programs. Why? It must the be 'My child's got to get ahead of everyone else NOW!' or "It's an opportunity I never had." If it isn't either of those, the biggest CCSS Machine hype being fed to parents is,"It's FREE or low-cost!" As I've said before, who doesn't love a coupon to 'save money'?!
Warriors, what has happened to us? That we'd be so willing to seek a government directed 'security' and lose our freedoms in the process?! Are we truly seeing what the education/workforce shift is turning us into?! I pray eyes are opened soon!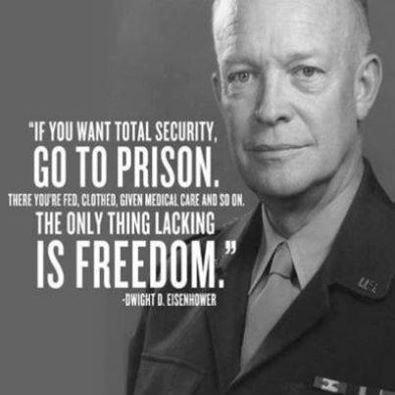 The one thing President Eisenhower didn't state, that we can add, is education! In fact, part of the CCSS Machine's rhetoric included in ESSA is for students who have been in jail or, are 'at-risk'!
How Is Your State Spinning the Push?
Below, is the supposed helpful results of a bond for NC's state-wide use. When the ConnectNC Bond was being trotted out as a great economic move for NC, as well as updating vital infrastructure, it was uncovered that the citizens of NC had been lied to.
Much of the money went to community colleges.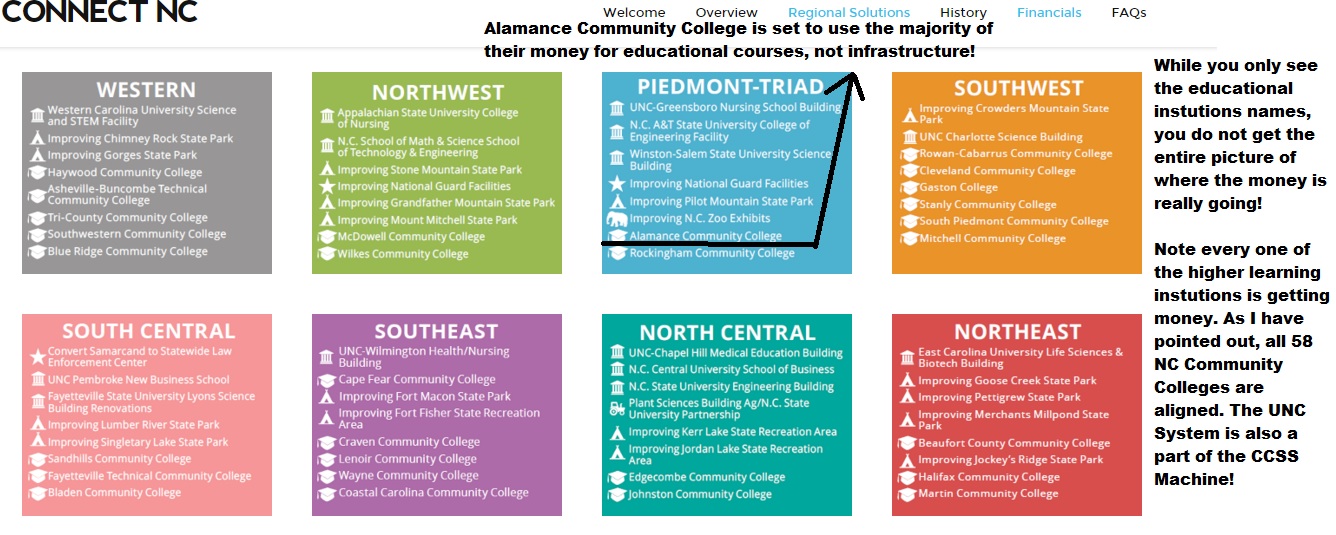 Why would NC be so willing to do all this? Sure, the almighty dollar is pushing our leaders, but the more underlying agenda is pointing us to what we're seeing in other States, education/workforce community alignment. Also, seen as a mandate in ESSA.
Another reason NC's shoving our students of all ages into the workforce? Economy and a better 'bottom line' for those who employ you. ESSA has it embedded in its 'regionalism' for educated workforce. Of course, 'regionalism' is another tie to the UN/UNESCO/OECD set-up for Americans. Shoving students into work too early, is also a danger. It's the age old, too much, too soon.
Part of the shift toward workforce education also impacts where we live. Just last week, I showed you how Mooresville is using an inclusionary zoning law to set up workforce housing within a mile of a post-secondary, for profit skill based educational institution. These zones and others like them absolutely embed UN led mandates (aka: directives) into our lives. 
Again, you may not live in NC, but use this information as an example to look in your State! What's happening in your town? Your county?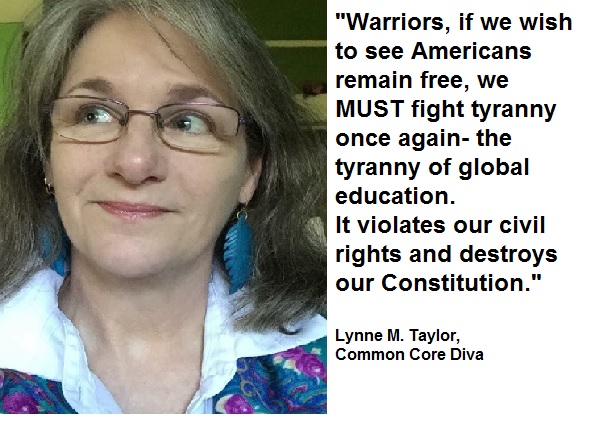 Closing:
Warriors, I hope you will think hard and long about the sheer proportions of freedoms we are losing. Sure, we don't want our students indoctrinated with political views we don't support. We don't wish to have our students over-sexualized before they can understand.
So WHY are we NOT stopping to pause and look at the workforce preparation or indentured servitude? The seamless transition from education to workforce is 100% in place. By starting school years early, we are seeing this play out in a 'new' way.
This, too, is indoctrination! I would also ask you to consider yourselves. How would you be re-trained to fit within the CCSS Machine's 'birth to death' workforce system? Would you go quietly into this type of conformity or would you fight kicking and screaming?
IF we're serious about being against Fed Led Education, then we must fight ALL its angles, resist ALL its tools, and, save our nation!