While I was doing some anti CCSS snooping on another subject, I stumbled across the "Workforce Development Institute" (part of the American Association of Community Colleges). Chock full of Common Core aligned Career Tech Education, Career Pathways, Early College, and more. Today's topic is so deep, I'll be breaking it to a "Part 1" and "Part 2".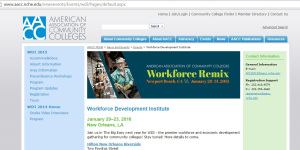 From 2015's Conference:

Held in CA, the 2015 video address below is one you'll want to view in its entirety. As I normally do when sharing a video, I'll provide the most noteworthy items. I encourage you to conduct your own research, as your interest into CC Adult Ed might be different from mine. The entire video is just over 1 hour and 20 minutes. It's the opening plenary session featuring the President of Snap-On Tools. However, there are others who speak before Mr. Snap-On.
To access the video, use this link, the clip is embedded under the caption "Video".
http://www.aacc.nche.edu/newsevents/Events/wdi/Pages/default.aspx
The Main Points:
1) Video opens with Jen Worth. (Interim Associate Vice President for Workforce and Economic Development) To see the rest of the American Association of Community Colleges staff members: http://www.aacc.nche.edu/About/Pages/staff.aspx
2) Of the 2 long time partners Ms. Worth mentions, Cengage is the CCSS tie for higher education. (I'll come back to Cengage in Part 2). When Cengage's representative is introduced, she will express a great admiration for the wonderful working relationship her company has with AACC. As she put it 'collaboration to change the industry we're in'.
3) There's a free giveaway for the latest technology. Watch how the devices are given away. You'll notice only the community colleges were 'winners'.
4) President of the American Association of Community Colleges, Dr. Walter Bumphus takes the podium's microphone about 6:20 into the video. Almost immediately he uses his phrase "Camelot Moment for Community Colleges". He then tells you where you can find his full address of all that makes 2015 a great time for these post-secondary schools. (I'll share more about this in Part 2). To summarize his words about Camelot, the attentive focus on community colleges is great because it means not only publicity, but accountability, in the classrooms and in the workforce, both in the USA and internationally.
5) About 11:15 into the video, Dr. Bumphus expresses his view of the U.S. President's proposal for free community college. He'll share also, how AACC is in full support of this.
6) Graduation retention rates and 'the on ramp to the middle class' comments begin about 12:20.
7) About 12:29, the partnering with the American Association of School Superintendents in support of college and career readiness is revealed (more about this in Part 2). A meeting between the 2 Associations is set for August 2015. In relation to all this: a reference to the Feb. 1-3  Developing & Re-engineering of Education Summit (featuring Gates Foundation funded grant for  Khan Academy to align to CCSS). (*Note: This Summit is mentioned again about 16:32 and runs until about 17:00)
8) Not to be left out of all this: professional development for teachers to keep the 'leadership pipeline' in full effect. School leaders should be more like business CEOs; they should be capable of designing and implementing those Career Pathways, stackable credentials. (listen from 14:35 to 15:49 for all this)
9) The Gates Foundation is named as an AACC partner at 16:07.
10) In between the President of AACC and the keynote, Ms. Worth shares that the Workforce Development Institute is more than likely the only professional development for community college leaders. She segways into a short video about a 3D car. (This clip begins about 19:00 and ends near 22:04) As Ms. Worth prepares to introduce Mr. Pinchuk from Snap-On, she stresses Snap-On's commitment to Career Tech Education and the Workforce training. (*Note: I'll be sharing more about Snap-On's CTE/CCSS ties in Part 2.) She also mentions how a rebranding of Career Pathways in education could be better for skilled workers. She'll also mention Skills USA, National CTE Association (all this ends about 25:30). I'll be sharing more about how Skills America and the National CTE Association are CSSS aligned in Part 2.
11) Mr. Pinchuk's remarks will begin near 27:45:
a) He leads off with 'income gap' and 'global competition for jobs'; b) our greatest weapon is technical education; 'upskilling our workers is THE seminal issue of our time.' (*Note: He repeats this point at least 3 times during his speech) and that NOTHING is more important than Career Technical Education; near the 49 minute mark, you'll hear the 'differentiation' and global economy reference again, only this time the urgent need to build up technical education comes with it; 'the MOST skilled workforce 'wins'; at 50:00, listen for his statement about CTE possibly being the ONLY thing which saves us from evil!
b) More comments: 50:38 "Community colleges need to realize curriculum needs to match what's required in the community"; how Community colleges need to embrace P3s (Public, private partnerships); at 51:00: "Schools and education AREN'T about getting a degree, they are about a career that will be rewarded and create pride and dignity"–those are outcome based measurements to use; Community colleges MUST market themselves to reflect all that's been mentioned thus far; at 57:00, there's a national calling for enlisting those to serve America via technical careers; at 1:02:16, all the above should be done/upskilling MUST occur BEFORE the corporate tax rate suffers; and about 1:04 into the speech, "American workers are the answer. I believe Career Tech Education and Community colleges are the way to unlock that power."
c) Before the speech ended about 1:03, Mr. Snap-On questioned those who were in attendance with "Do you believe?" "Can you support a political candidate who backs the upskilling of America vs a current social issue you feel strongly about? Until you can do this, you are not a believer!"
What Are Some Other Things to Listen For?:

Which groups or agencies Mr. Pinchuk believes are the key players in community colleges and career tech education; how he stresses urgency in the importance to align education and workforce; how patriotic he waxes, yet not once is the honor of the U.S. Constitution being upheld mentioned (remember CCSS and all its parts like CTE break the 10th Amendment and 3 federal laws); how the 'brillance of a few and the efforts of many will deliver us.' (as in the entire nation); listen for all the historical accounts or books he cites, especially Henry Ford (Ford Foundation is a huge CCSS/CTE supporter and profiteer); be sure to listen for Mr. Pinchuk's view of why the middle class is shrinking; while "Capital in the 21st Century" is a referenced book in his speech and a snicker or two is offered about how the concept in the book about only a few making a profit, that is exactly what is happening in CCSS! There are a few other key points, but I'll go into those in Part 2.
The Program:

If you'd like to access the 2015 AACC Workforce Development Institute program, here's the link:
http://www.aacc.nche.edu/newsevents/Events/wdi/Documents/WDI_2015_Program.pdf
To find out the things AACC is advocating in Washington D.C.:
http://www.aacc.nche.edu/Advocacy/AdvocacyNews/Pages/default.aspx
To see just one of the President of the AACC's op-eds for "Camelot":
http://www.the-dispatch.com/article/20150107/NEWS/301079981?p=2&tc=pg&tc=ar
Closing:
Remember, this Thursday's "Tech Thursday" will complete our look into "Upskilling America".