Anti CCSS Warriors, it is 'Tech Thursday', which means we take a look at the latest in Common Core beyond high school. If you have followed my blog long, you know I have connected the dots between the Common Core and Career Tech Education (CTE). If you are new to the blog, then know that, yes, there is an 'adult version' of Common Core aka College, Career Readiness.
CTE is embedded in the ESSA (Every Student Succeeds Act), the WIOA (Workforce Innovation and Opportunity Act of 2014), the STEM Act of 2015 (Science, Technology, Engineering, and Math), and the HEA of 2008 (Higher Education Act which will be re-authorized  in the near future). In December 2015, just a few days after ESSA was signed into law the HEA received an extension so that CTE funding could continue on until the HEA is re-authorized.
To learn about the ties between ESSA and the HEA (where you will find CTE and WIOA):
https://www.commoncorediva.com/2015/12/05/weekend-news-essas-untold-ties-to-hea/
To learn about the HEA Extension:
https://www.commoncorediva.com/2016/02/02/ftf-an-extension-for-higher-ed-act/
To learn about STEM and its connection to CTE:
https://www.commoncorediva.com/2015/11/12/tech-thursday-update-on-ccsscte-for-adults/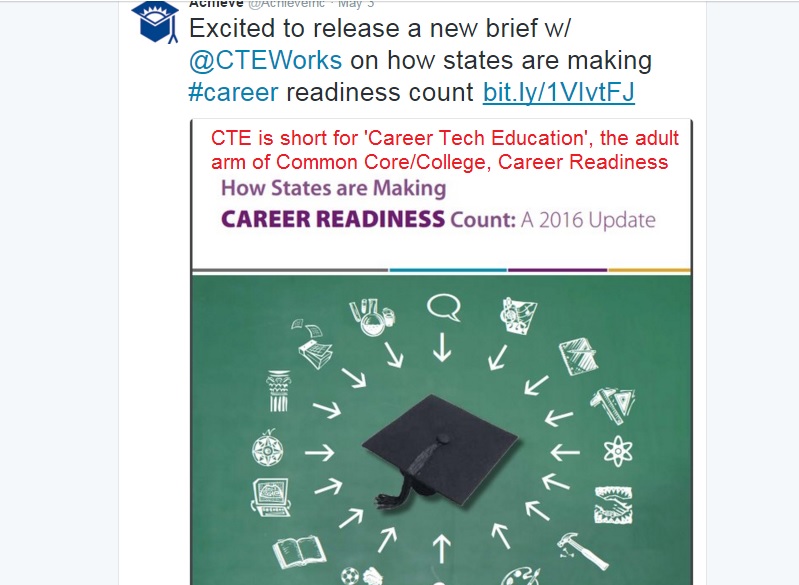 The Latest News:
In the screen shot above, you may not be able to see the date this Tweet was shared, but it was May 3rd. You can plainly see Achieve, Inc. is the group which sent this out. Achieve, Inc. is a huge member organization in the CCSS Machine (Common Core State Standards Machine). Much research has been conducted and shared about this fact. You can easily find the information, here on my blog, and elsewhere. For the remainder of this article, I will be focusing on what is the latest CTE news.
The website you will need: http://www.achieve.org/publications/how-states-are-making-career-readiness-count-2016-update
The partnership you should know about: Achieve, Inc. and Advance CTE. As with so many of the CCSS Machine organizations,they love to gather together and create these reports detailing their continued work in aligning education to workforce based learning, not academic prowess.  This one appears to be proud of this fact. Shameless, isn't it?
We know what Achieve, Inc. is, but what, or who, is Advance CTE? It is the new name for the previously known NASDCTEc (National ASsociation of State Directors of Career Tech Education Consortium). To learn more from their website:
https://www.careertech.org/who-we-are (*Note: if you would like to learn what my research has proven out about NASDCTEc, use this link for all the articles:
 https://www.commoncorediva.com/?s=NASDCTEc)
The recently released Achieve, Inc./Advance CTE Report: Twenty-eight pages long, accessible: http://www.achieve.org/files/CareerReadiness2016.pdf  OR download from here (before it mysteriously disappears, as much of the CCSS Machine documentation does):
CareerReadiness2016
The most need-to-know points of the Report:
1) Thanks to the ESSA, accountability requirements for the States must not only change, but include career readiness components. These components will be used as leverage by the federal government against the States. Here is an excerpt, "As states continue to evolve and implement their accountability and public reporting systems, they have an opportunity to select indicators that inform continuous improvement, guide decisions about resource allocation, inform policies, capture progress, and factor into accountability determinations. More specifically, through school-level public reporting on these indicators, states may make college- and career-ready (CCR) data more transparent, understandable, and useful to parents, educators, and policymakers. The indicators that states build into their accountability formulas may be used to differentiate and classify schools and districts for support and intervention and/or may be used as a way for schools and districts to earn bonus points or rewards for meeting specific benchmarks."
2) Thirty-four States have been championed as 'leaders' in this field. How? By providing career-readiness indicators. Of the 34, 32 have anywhere between 1-6 career-readiness measures. Of the 34, only 20 have a bonus point/reward system in place for career-readiness.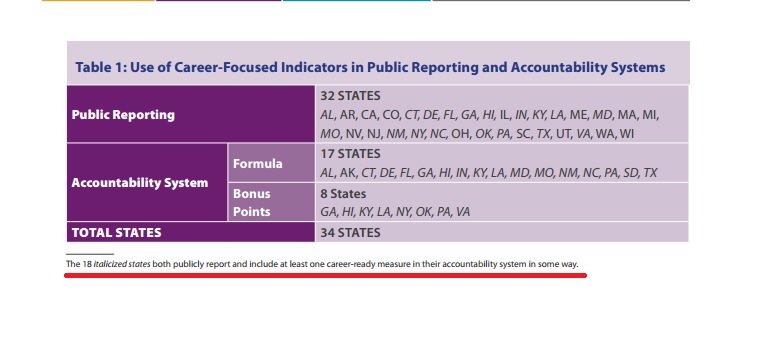 3) The school reporting and information sharing mentioned in Point #1, includes undisclosed third parties. From Page 4, this excerpt, "These public reporting levers, in addition to third-party reports with school-level data hosted on the state's website, are included in the counts below. States can strengthen reporting by disaggregating data further by student subgroups so as to shine a light on performance disparities that may be masked by "all students" reporting."
4) The most popular career-readiness indicators? a) dual enrollment (which includes homeschool students, AP course students and IB students); b) post-secondary enrollment (which includes any citizen seeking a higher education); c) CTE courses (includes apprenticeships or work-based learning); and d) students earning industry credentials (again, any citizen involved in this)
In the screen shot below, SC is displayed as a leader in this indication system. Note the P3 (public private partnership) between education and business; the involvement of the SC Chamber of Commerce, and the use of WorkKeys; note the unabashed use of gold/silver/platinum in reference to people's success.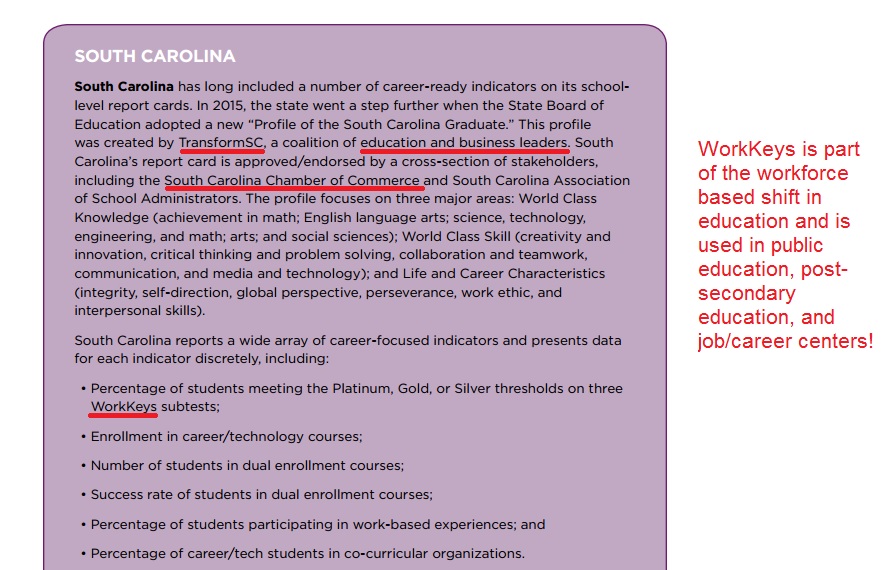 Why this should concern everyone, these levels of success are NATIONAL credentials and are designed with the mantra, 'no credential, no job'! See my article:
 https://www.commoncorediva.com/2015/09/03/tech-thursday-just-say-no-to-nocc/)
From an INTERNATIONAL credential standpoint, we should also note that there are 6 levels of success (colors are used). Since the agenda of the education reform where CCSS/CTE and career-readiness is geared for global citizens, education, economy, our anti CCSS Warrior radars should be in full use! See: https://www.commoncorediva.com/2015/01/27/ftf-tuesday-iassc-universal-certification/
To see the WorkKeys promotional video where the mantra I mentioned is used:
5) In the Achieve, Inc./Advance CTE Report, page 7 will tell you the meta-indicators States are using. These will only increase as the ESSA implementation process marches on. In the following pages, be sure to look for the values placed on these, the denominators to be used in calculating rewards/bonuses.
6) Beginning on Page 11, the public data reporting is detailed. Then use the Appendices to learn the programs used.
Closing:
Warriors, as you can see, the education reform is not set aside for any ONE group of people. It is not exclusive to one educational choice, at present. As the ESSA, the WIOA, and the HEA are continued to be mandated, updated, and implemented in their full fashion, we will see choices in education reduced. We will see national and international adherence for workforce increased. What can we do? Inform those who need to know! Share this alignment agenda with those at the local level in education AND job creation. More than likely they only have the PRO side of the CCSS/CTE message.