Recently, Warriors Against Fed Ed, I was looking through my State's Legislative website. I thought I'd seen enough of the proposed bills linking NC (where I live) to the ESSA's (Every Student Succeeds Act) overreach in state education. (*Note: if you missed that article )
However, there was one I missed. It's called the "BRIGHT Futures Act". It's from the NC Senate, and is also S56. My fellow anti CCSS Warrior, Andrea Dillon, shared news and video of this Bill on the "American Lens" Facebook page. In the video, our Lt. Governor is waxing joyously about how a "Last Mile" for NC is about to be reached. What is he referring to?
Digital Connectivity and how it will help Rural Education
"Digital Connectivity" ties rural education to the CCSS Machine through aligned workforce based education as laid out in ESSA, HEA (Higher Education Act), and WIOA (Workforce Innovation and Opportunity Act).
"Digital Connectivity" was also a huge portion of the U.S. House of Representative's HR5 (Student Success Act).
I laid all this out for you in my previous article titled "ESSA and Digital Overload". That article also helps us connect Rural Education to HR5 and "NC New Schools". (*Note: the NC New Schools will lead to you to other States with rural education populations.)
You may recall, HR5 was the House's version to re-authorize ESEA of 1965 (Elementary and Secondary Education Act). As a compromise, big parts of HR5 were taken and added to the U.S. Senate's version of ESEA's re-authorization, called "Every Child Achieves Act", or S1177.
As we now know, S1177 is the Bill which survived and changed its name to ESSA to reflect all that 'bi-partisan' work from Congress.
The digital mandates are now coming to fruition. Conveniently completed from a State level with Bills such as "Bright Futures".
Pausing For A Bit Of Reference:
Before we go on finding out how NC's S65 is helping ESSA 'set up shop' in  NC, let me say that I have no idea how many States have similar legislation. I have no clue how many NC State Leaders are pushing for all the 'digital connectivity' items they can get their hands on. However, I do know, that our State has a long history on jumping on the 'fed ed' bandwagon several times.
That NC has jumped on this bandwagon is no shocker. Why? NC was the first State to jump on board with Microsoft through their Microsoft IT Academy.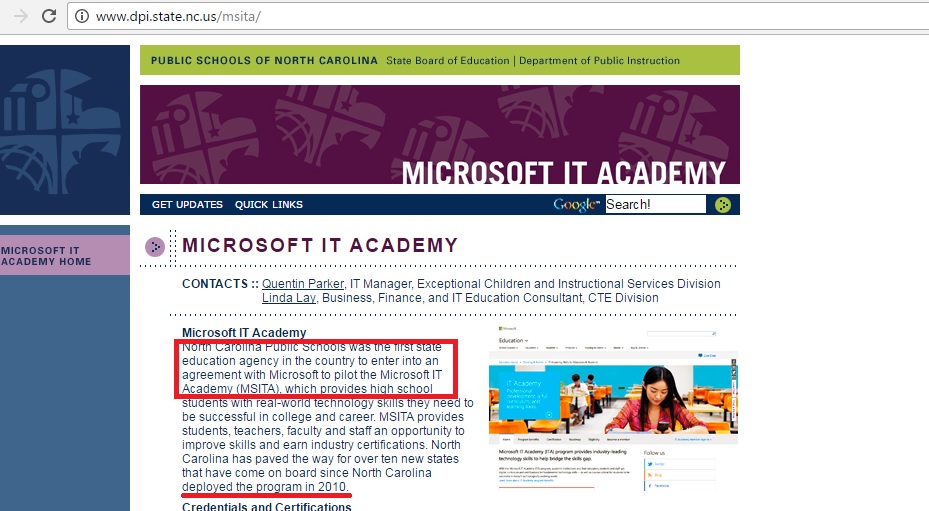 As we know, Microsoft is a huge digital, CCSS Machine organization. We know Bill Gates is Microsoft's 'guy'. We also know Gates is the one who signed an agreement with UNESCO for a one world curriculum, which grew into the CCSSI (Common Core State Standards Initiative). We see the CCSSI in the pages of ESSA, too. Literally.
*Note: In ESSA, we also see the name change from "CCSS" (Common Core State Standards) to its less 'vile' name, 'College and Career Readiness'. ESSA's writers like to use that phrase. Along with the even more innocent sounding "Challenging State Academic Standards". ESSA's writers also threw in the 'Career Technical Education (CTE)' phrase.
So, what have Microsoft and NC been up to more recently than 2010? This short You Tube video (2013) will introduce you to the "Imagine Academy".
https://youtu.be/JWO1urfOoAI
In 2016, NC and Microsoft made the news in connection with the National Science Foundation's (NSF) Big Data Regional Hubs. There are 4 of these Hubs across the USA. NC is in the Southern Hub. (*Note: NSF is also a huge CCSS Machine member organization.)
Back To The 'BRIGHT Futures':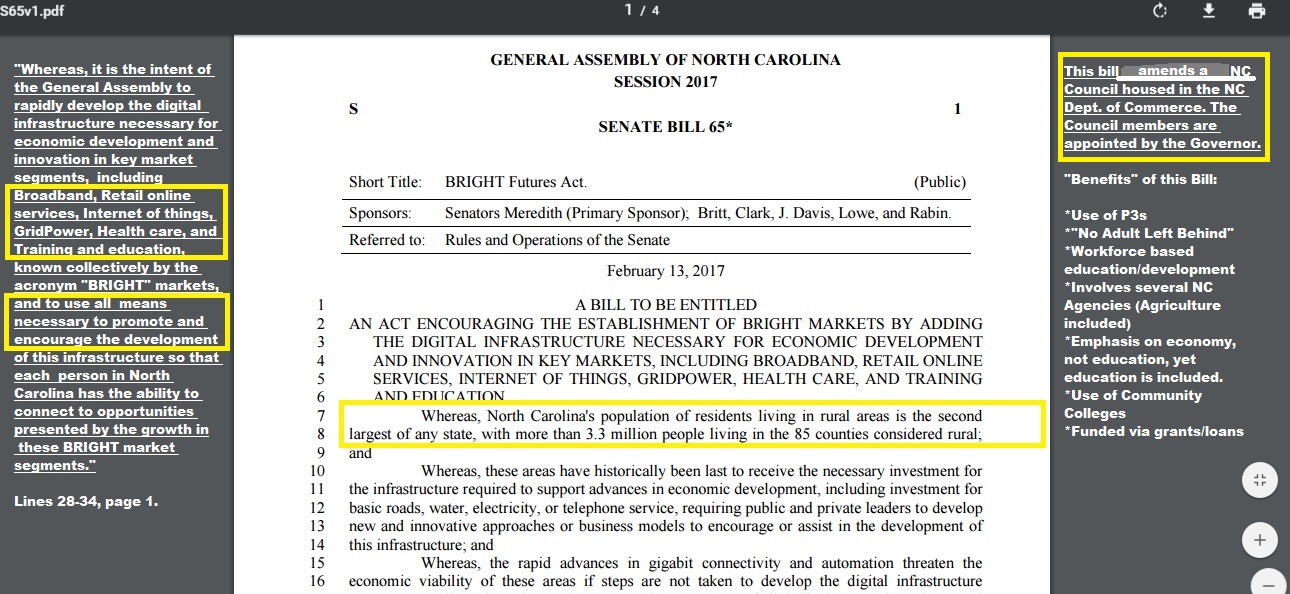 Above you see a screen shot of the 4 page S65 Bill (BRIGHT Futures Act)
*BRIGHT stands for "Broadband, Retail Services on-line, Internet of things, GridPower, Health care, and, Training and education".
You'll also see I added some emphasis to Page 1 of S65. These items are very important clues to those of us fighting federally led education in ALL age groups.
While the legislators promoting this Bill are calling this a great thing for NC, here are the parts they either left out by omission (assuming they have no idea how vast the CCSS Machine's grip on workforce education is) OR by design.
a) P3s (Public-Private Partnerships) in education have created a disgrace to the classical, academic basis our students need.
b) Workforce based education, especially in adult populations ties back to WIOA and HEA, espically through the one-stop-job-centers here in NC. Called "NCWorks" it is a direct product of WIOA state grant money awarded to NC. Why? WIOA grant money given to ANY State has an underlying purpose: using the job center data to 'marry' with the student data to create a seamless Career Tech/Career Pathway education! It is the 'perfect' setup. The student data, as we know, comes from the Dept. of Education; likewise, the job data comes from the Dept. of Labor. Both happen at the Federal level AND the State level!!
c) Making improvements in your State for better education/access to shouldn't come about as a by-product of your economy. Those improvements should never place the importance of money over our students. Using a phrase like 'all means necessary' is also a big warning.
d) Governor appointed positions spell bad news for the State citizens, regardless of what Council or Committee it is. Special interests are vastly protected with these appointments.
e) Near the bottom of Page 1 (Line 27), "School Connectivity Initiative and Digital Learning Plan" are inserted.  The SCI (School Connectivity Initiative) has been around a few years. Here's what is does, "The NC School Connectivity Initiative (SCI) compliments the E-rate program in North Carolina by providing state funding to cover the non-discounted portion of school connectivity-related charges. The SCI also provides a statewide network connecting all LEAs and most charter schools to the Internet, E-rate training and support, and network engineering services." Source: Page 18 of the NC Digital Learning Plan (*Note: E-Rates are those small charges on your phone bill. They, too, can be traced back to the CCSS Machine. E-Rates basically are funds used to data mine your students.) According to the NC Digital Plan, at the bottom of Page 18, it is revealed the E-rates used for NC are based on Free and Reduced Lunch Program.
The NC Digital Plan also is part of the CCSS Machine's plan for continued alignment in education. How do I know this?  CCSS Machine member, The Friday Institute, is the one which published the detailed Plan in 2015. Among the Plan's pages is the fact other States using Digital Learning Plans were used as models for NC. The roots for NC's Digital shift in education go back to 1999. The CCSS Machine entered the digital push about the time Race to the Top surfaced.
To see and read the entire NC Digital Plan: nc-digital-learning-detailed-plan-9-14-15
Interestingly enough, the NC DPI (Dept of Public Instruction) and the NC SBE (State Board of Education) help oversee this Digital Learning Plan. (Page 6). Our Lt. Governor serves on the SBE. (see below)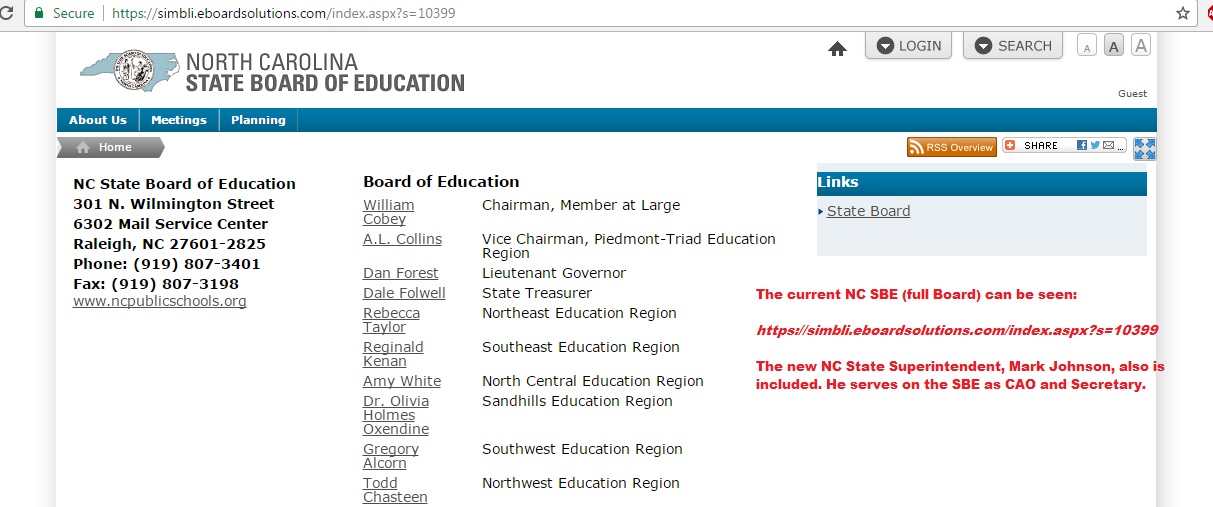 From the Lt. Governor's Education Policy page on his Official NC Website, his stance on digital education. (The rest of his policies reveal a clear conflict (school choice) for us Warriors.) See: http://ltgov.nc.gov/resources/lieutenant-governor-dan-forest-education-policy)
"Innovation in Education: Students need access to modern technology to prepare them for a 21st century economy. Every student should have one-to-one devices (computers, laptops, tablets, etc.) in their North Carolina classroom. As Chairman of the Governor's eLearning Commission and member of the State Board of Education's Special Committee on Digital Learning, Lieutenant Governor Dan Forest is actively working to provide Wi-Fi access to every K – 12 classroom in the state. Though North Carolina leads the way in our effort to extend broadband Internet access to every public school, the next step is to expand that infrastructure to reach every public school classroom and put one-to-one devices in the hands of the students."
I would urge any of you with proven research as to how digital devices are so dangerous in the hands of our youngest learners or how too much screen time is dangerous for any age student, to please contact the Lt. Governor and every one of the S65 Sponsoring Legislators.
If you missed why 'school choice' is an anti Fed Ed Warrior's conflict: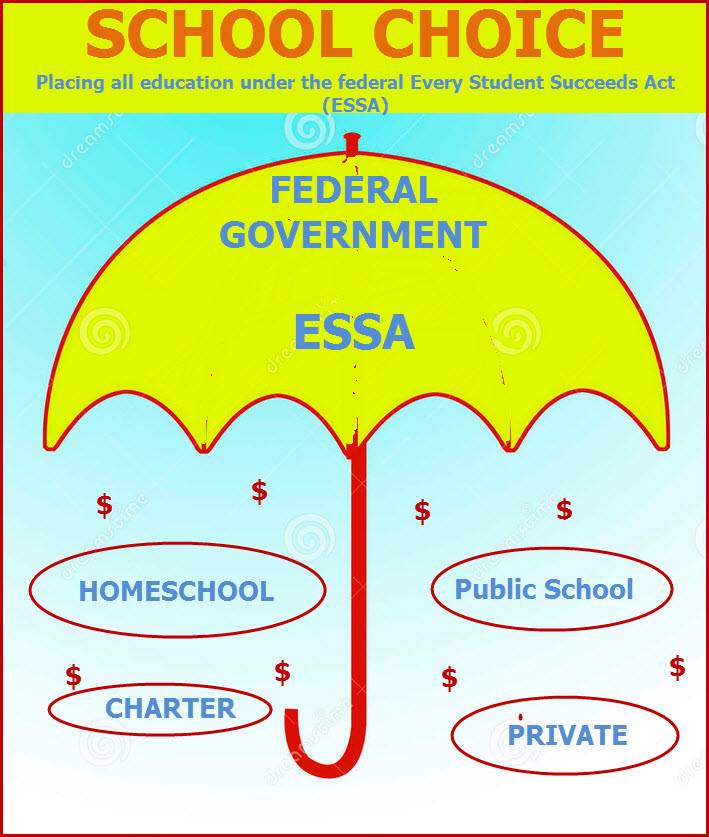 As far as top-down digital legislation or programs containing digital learning and related to ESSA, or now codified within, America has:
Digital Promise
Digital Promise Neighborhoods
i3 Initiative
ConnectED
Digital Innovation Upgrades or Creations (at least $849 million in funding is ear-marked)
REAP (Rural Education Achievement Program) (Will impact Title One funding, use $1.6 billion in tax payer funds for 'rigorous' education including all technology, ramp up the STEM Master Corps, and more.)
Community Schools (can also include 21st Century Community Learning Centers)
Closing:
So, pardon me, if I'm not seeing such a BRIGHT NC Future. What I do see is a NC committeed more to the federal government than to its citizens. I urge all of you who live in rural counties and states, use this article as an example of what is going on right under our noses to align everyone in education to the same thing!