Warriors, what price do you think the CCSS Machine has put on our nation? It has to be an astronomical amount. I mean to continue to bend over backwards to ensure ESSA (Every Student Succeeds Act) carries on the mission of the CCSS Machine, no expense is too little. No lie is too small. The agenda is globally encompassing.
Last evening, the US PIE (United States Parents Involved in Education), joined anti CCSS Warrior forces with PJNET (Patriot Journalists Network) and spread (via Twitter) the clear, concise, and TRUTHFUL messages about ESSA, specifically about the current Proposed Regulations and the vast amount of power Sec. Dr. King will use…at our expense.
Was the social media protest from last night successful? Yes! Volunteers from all over created special images depicting our dissent, distrust, and anger over ESSA, Sec. Dr. King, and the Proposed Regulations. The evening was SO successful that Warriors are STILL re-tweeting these truths! Why? Because each one of the protest tweets goes directly to the U.S. Dept. of Education! What is the cost of this success? Hours upon hours were poured into the Rally. That's the great thing about grass-roots groups, their passions are deep, their dedication to truth is priceless. For all the big bucks the CCSS Machine is spending, it can't match our Warrior spirits!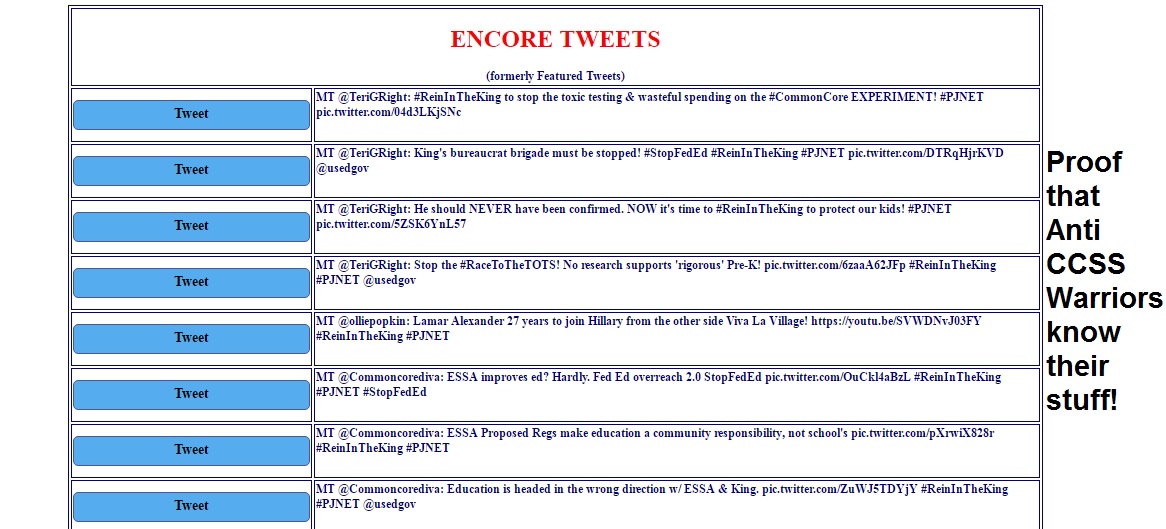 For number crunchers, just over 5, 700 tweets of protest were delivered to the U.S. Dept. of Ed on Monday evening. Today, there are about 940 protest tweets being sent.
We can do more! We need to flood the U.S. Dept. of Ed with truth!
We have from now until 8/1/16 to publicly dissent. The Twitter Action page put together by PJNET is still up and running. So use it, if you can. You can also create your own messages to send to the US Dept. of Ed. The tweets and images PJNET is using are the ones the volunteers in (or associated) with US PIE created just for this event.
Link: http://patriotjournalist.com/ReinInTheKingAction.php?v=0&src=Schedule
IF you don't use Twitter, use other social media to help spread a message of public outcry over these Regulations. The U.S. Dept. of Ed also has a link to the Federal Registry for public outcries to be sent to. The Federal Registry is a great body of evidence and testimony we should use (it is free) for our cause of ending the reign of educational abuse at the hands of the Feds in America!
When you visit the Federal Registry, note some of the other comments submitted. Especially the 'canned ones' by some of the pro ESSA/CCSS groups (especially the NEA).
To access the Comment Page: https://www.regulations.gov/comment?D=ED-2016-OESE-0032-0001
To read the comments: https://www.regulations.gov/docket?D=ED-2016-OESE-0032
I would suggest you skip the U.S. Dept. of Ed's view of the Proposed Regulations. You know they will wax eloquent (and confusing) about just what these implementation rules for ESSA do. The Regulations span 192 pages.
If you haven't seen the Talking Points Against the ESSA Proposed Regulations, US PIE has put together: http://nebula.wsimg.com/c3dbda7825b179bb2ad5358ef3acc6a4?AccessKeyId=13C8A0E7EBB1F1E5E658&disposition=0&alloworigin=1
It will cost you little to read these AND then make your comments public in the ways you think will be the MOST effective. (As for myself, I am using any social media I have access to and the Federal Registry.)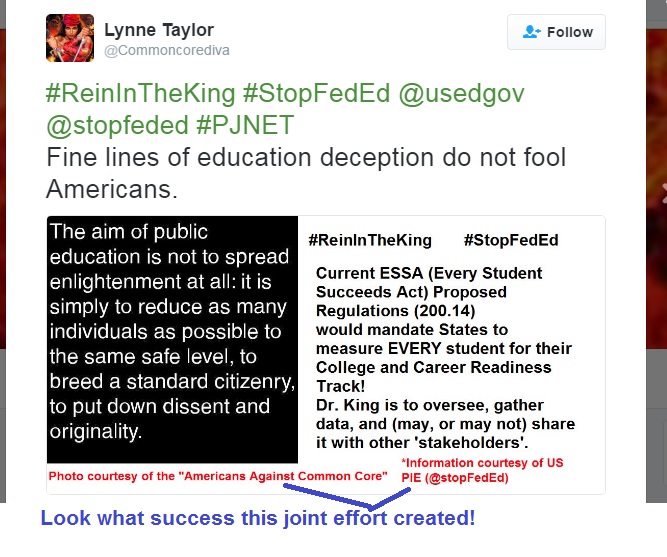 It is important to note that Congress is on recess. As such, contacting them with your comments (which we should do) may not receive much feedback. However, what we need to point out is something Dr. Sandra Stotsky and I have in common. We have discussed it in a private email exchange.
Who (or what group) wrote the Proposed Regulations? Why does it matter? If the U.S. Dept. of Ed DIDN'T write them, they cannot and should not be used. They are illegal!
This, my Warriors, IS a matter your Congress members should address. To be the most effective with this, I truly believe we need to wait until Congress is back in session. An inquiry, at the very least, should be conducted. Does that mean we shouldn't have conversations about this matter between now and then? Absolutely not! We should be prudent in our planning, if this is an avenue we Warriors need to take.
To see Dr. Stotsky's article about the authorship mystery:
http://newbostonpost.com/blogs/can-parents-combat-the-medias-tolerance-of-institutional-manipulation/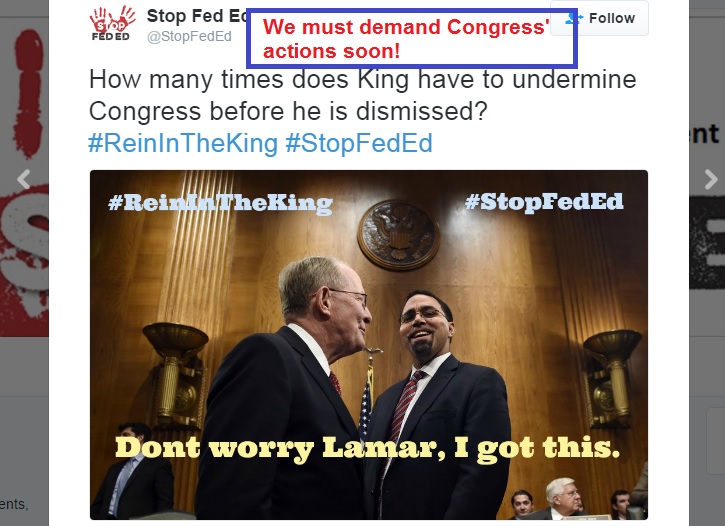 Success does include financial costs. If you would like to give a small (or large) donation to either the U.S. PIE group or the PJNET for their hard work, as a 'thank you' for the Rally, please do. Both grass-roots organizations receive no funds which are tied to the CCSS Machine. As such, every bit helps our anti CCSS cause tremendously.  
PJNET's funding link: http://patriotjournalist.com/RallyFunding.php
US PIE's funding link: http://www.uspie.org/home.html (look for the 'donate' button on the top right corner to be linked to PayPal)
Closing:
As for myself, no cost is too much when it comes to fighting for this nation, its freedom, our citizens, and most especially, our children. Thank you for being of a like mind, anti CCSS Warriors. Together, we are unstoppable!