Warriors, back on February 19, 2017, I wrote an article detailing a UNESCO education event being celebrated in the US (and other nations). Our U.S. Congress passed a Resolution to honor the International Mother Language Day (IMLD). 
 As a companion article to "Mother", we'll be using 'Father' today.
From 2002, A UN Inspired United States of America Tool Kit:
The Tool Kit is actually a 142 page document. The version I've embedded has highlighted sections from my fellow Warrior, Karen B. You will find her notes valuable. I'm including mine below. The Tool Kit's full title: "Education for Sustainable Development Tool Kit".
The Tool Kit is from the University of Tennesse's Waste Management Research and Education Institute. From what I could find about the Institute, back in the 1990s, it was allowed to select K-12 curriculum resources for recycling and related activities. The Institute's involvement in K-12th grades was provided for in TN's State Code 68 (Health, Safety, and Environmental Protection)
(*Note: In 2006, the Waste Management Reserach and Education Institute was absorbed, along with 2 other University of TN entities, to form the ISSE (Institute for a Secure and Sustainable Environment.)
I'm sure you are asking yourselves how all this ties to the UN, by now.  
Making Sense Of It All:
To answer your questions about how this is all tied together, you should know this:
***Sustainable Development (as laid out by the UN) is being used as the 'change agent' to shift curriculum, education, jobs, and even our communities here in America. By exposing this Tool Kit, you can see the ground work which has been going on for years to accomplish the shifts. The UN's thinking is, change must happen, but it must not feel like it's coming from anywhere else, but within your local area.***
In my  previous articles , and my fellow Warrior, Alex Newman's (The New American Magazine) we have exposed of the UN/UNESCO takeover of American education. (*Note: many other Warriors have gone before Alex and I to expose the UN's grasp on America. It is an honor to be among them.)
The Tool Kit, Karen B. supplied fills in quite a few missing puzzle pieces.
******************************************************************
My notes:
1) The author of the Tool Kit from Univ. of TN states in the beginning pages that she created the document after attending several UN meetings. Her name? Dr. Rosalyn McKeown. (*Note: Her first Tool Kit was published in 2000.)
2) What inspired Dr. McKeown the MOST? A 1998 UN Commision on Sustainable Development Report. The Commission annually reviews several chapters of the Agenda 21 , especially Chapter 36. What's in Chapter 36? Promoting education/public awareness/training for SD (Sustainable Development).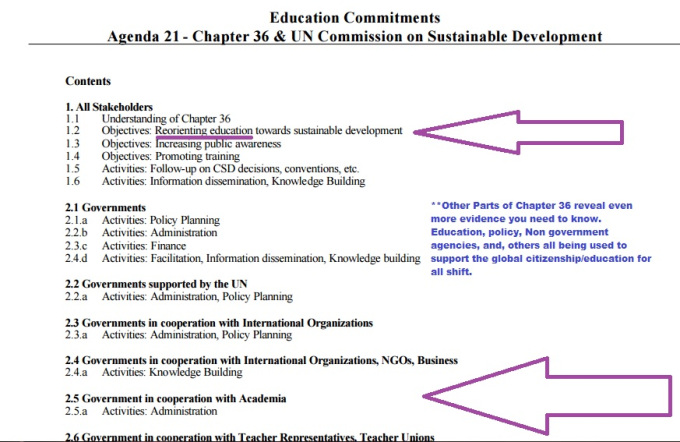 3) McKweon's idea in creating a Sustainable Development Tool Kit? When communities and education work together well, schools can adjust curriculum and resources used! (This is in Chapter 4 of the Kit.)     
a) McKweon takes the UN's global agenda and put the 'make it local' twist to it in her Tool Kit.
b) From Chapter 2, the definition of SD (Sustainable Development) is broken into 2 connecting sections. The education of SD is theory based (examples:discussion/critical thinking). The education for SD is using the theories in action (examples:project based learning/community initiatives)."All education serves a purpose or society would not invest in it."
You will find SD woven throughout these educational laws: ESSA (Every Student Succeeds Act), the STEM Act of 2015, the HEA (Higher Education Act), and the WIOA (Workforce Innovation and Opportunity Act).  (*Note: because SD is not education based, we will find the agenda woven in almost every bit of legislation we have, present day.)
If you are interested in the Social Emotional Learning, look to Pages 12, 13, 14, and 17. Page 18 gives a chart for SEL.
If you are interested in workforce based education, Page 20 gives you the skills needed for CBE (Competency Based Education which oddly enough sound very close to the SCANS Report CBE skills). I've compared them for you.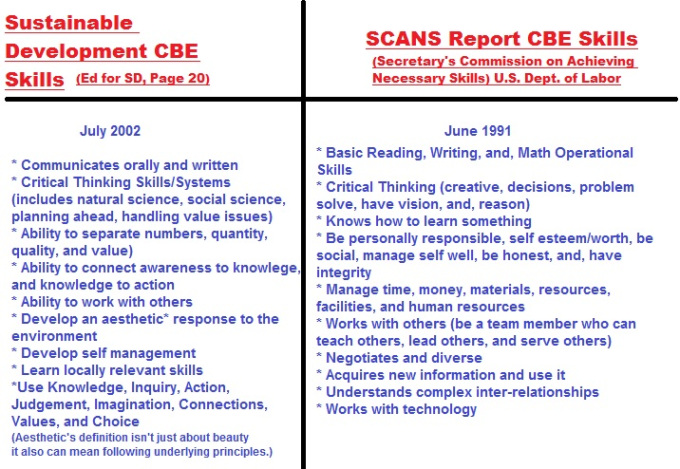 c) On Page 8 of the Kit, we are told SD is hard to define, yet because SD is so all encompassing and interconnected, SD must become a priority.
Page 8 also reveals SD is generally broken into 3 areas: economy, environment, and, society.
The last important thing Page 8 (and again on Page 10) we can learn is the SD (backed up by the UN) is non-educator created. (Warriors, where have we seen this in recent events?) Warriors, do you see that 'education' is NOT mentioned in the 3 areas of importance? (*Note: Pages 8 and 9 lay out the 18 principles of SD in connection to the 3 areas.)
d) Between the Chapters of 3, 5, 8, and 9, you'll see the intent of the Kit is to lay out how communities and education will be shifted from a top/down, bottom up impact (government). The shifts to SD (some are already firmly in place in your community, while others are being secured) will be so subtle, they will feel like your community decided to join in because 'it's a good thing to do.' (*Note: Page 27 reveals how using the media will play a part in the shift in thinking, values, and attitudes toward SD. Page 35 will show you how the education funding stream will also be shifted, especially in teacher training!)

e) The Tool Kit also gives us the 7 Steps of establishing CBE (Competency Based Education).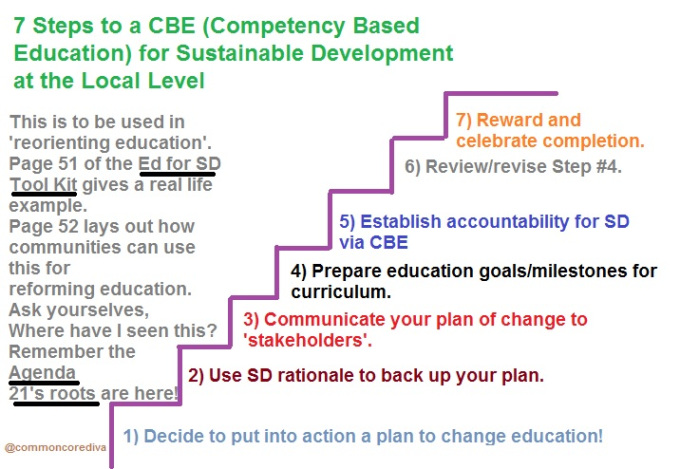 f) Page 42 details the change in education for SD alignment: you must have the 3 Ps (Program, Policy, and Practice) in place. WHY? (Page 43) Intervening in educational systems shifts education's success.
Page 44, shows us the alignement will 'breed' more programs for 'success'. When you have the 3 Ps in place, permanent change is the result. (Page 47). Look back to Page 38's Case Study of Toronto Cananda. You'll need to look for the 21st Century Learner Phases.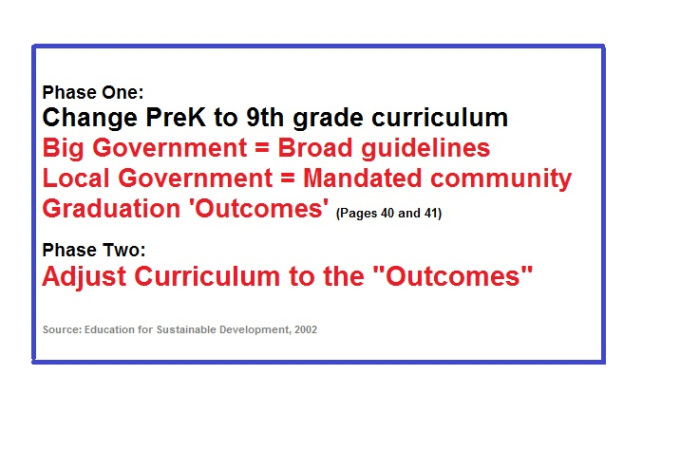 g) Warriors, be sure to access the Exercises in Chapters 11-16. It will be very easy to spot the plot unfolding before us.
4) Other  Sustainable Development/UNESCO resources:
These are essential in understanding the underlying goals of the UN/UNESCO: shifting values, attitudes, beliefs, and, actions.
a)  The Cloud Institute has this short video explaining the 'change agent shift' as "change your education to change your way of thinking in order to change the way you believe and operate in daily life". Featured in the video is Jamie Cloud (considered a champ in the US for Sustainable Development's role in changing education).
Ms. Cloud is also connected directly to the Green School Movement, as well as the SoL Ed (Society for Organizational Learning Education Partnership.)
[youtube https://www.youtube.com/watch?v=uXUHogIzjvA&w=560&h=315]

From the Cloud Institute's website, this excerpt, "We believe that K-12 education can substantially influence beliefs, attitudes, values, and behaviors related to sustainability. This is the most fertile ground for helping to shape a society committed to sustainable development. We develop in young people and their teachers the new knowledge and ways of thinking needed to achieve economic prosperity and responsible citizenship while restoring the health of the living systems upon which our lives depend."  (*Note: 'leverage',  monitoring and transforming school resources is also involved.) See the Cloud's Mission Statement.
b) The UNESCO Beyond 2015 Document (access it: unesco2015beyond )
This short (13 pages) Document is almost chilling in its revealing overhaul of education as we now know it. Mandatory Pre K; Nine to 10 years of basic education; and, lifelong skill based learning beyond that! (Sound familiar, Warriors?)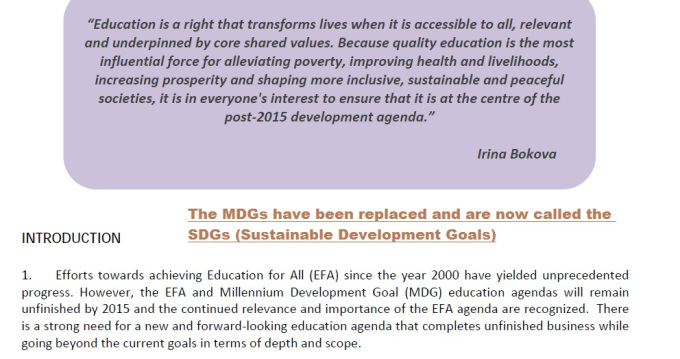 c) The UNESCO 2014-2021 Medium-Term Strategy Plan: unesco-agenda
(below is a screen shot from the Plan)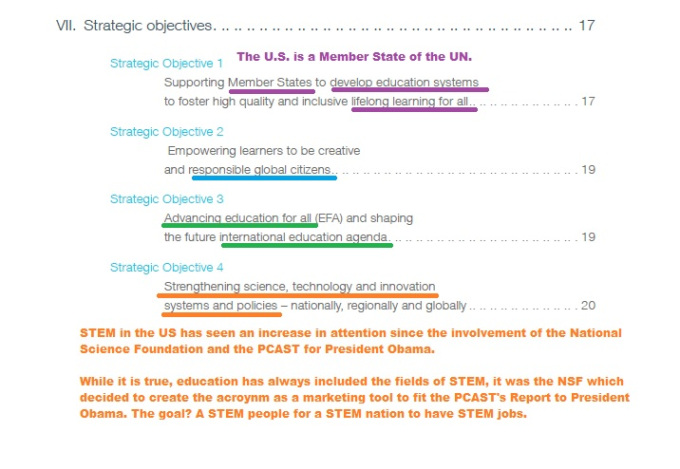 Closing:
Warriors, I hope you've seen how "Mother" and "Father" are connected. The UN seeks to do nothing good for us, yet their claim is, 'it is good'. Just remember this, SD has been inserted in the CCSS Machine's education reform ON PURPOSE. SD is woven into our hybrid learning, our internet, our TVs, and everywhere in between. Jacques Delors (Chair of the ICE 21) recommended 'all education reform must be done in the spirit of SD.'