Anti Fed Ed Warriors, I was recently asked about researching health care pushes coming from the CCSS Machine. Among the health care pushes are in-home visits, vaccine requirements, sexuality treatments, and, mental health overreaches.
These pushes are in place via ESSA, Every Student Succeeds Act. In that 2015 federal law, the U.S. Dept. of Health and Human Services was given a huge increase in power. Why? Overreaching into education and increasing health care funding to schools.
These health care pushes are also in place due to our relationship with the UN (United Nations), WHO (World Health Organization), and all their partners. As we know, Warriors, the UN is part of the CCSS Machine.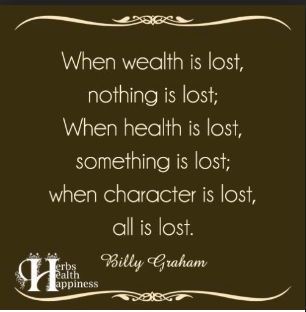 Warriors, there are health care pushes coming at us from on-line (examples are tele-health or E-healthy schools) and in person (schools, doctor's offices).
What's the real goal behind the pushes? Controlled citizens.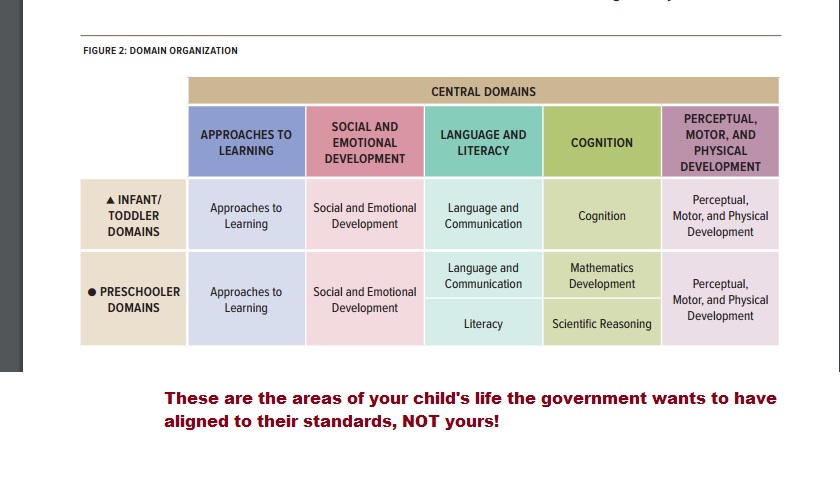 Our freedoms and rights to choose, or not to choose how we care for ourselves or our children, are being stripped away. 
In Jan. 2019, I showed you how 'school choice' was actually eroding parental rights. Point #7, in this article showed you the in-home visit overreach bill from IL. Also in January, I showed you how the E-health is a directive from the UN's SDGs (Sustainable Development Goals). The sales pitch? Save time and money. Lastly from January 2019, the Early Head Start, Head Start, and, PreK Development Grants used to push in-home visits and health care.
Then, in February 2019, I showed you how all the States are facing in-home visits (ESSA mandated them for 'student success' and 'family engagement'). MN, KS, GA, and CT were featured in that article.
Back in 2017, I showed you the SEL (Social Emotional Learning) overreaches found in STEM (Science, Technology, Engineering, and, Math) as well as the huge data raping that goes on with student based health care. Also from 2017, CATCH grants (Community Access to Children's Health), rural health care (E-Health Schools), and all which ties them together.
New Items To Share:
We've recently seen NY strike out against families over vaccines. Do you know what your State requires? If you don't I've found a website where you can access all the legislative moves being made across America. NVIC (National Vaccine Information Center) has a specific page where you'll see all the States with current proposed or passed vaccine bills. Some States are not on the current list, but some of the States (like IA, AZ, and, CT) have many. Look under "Bills to Watch".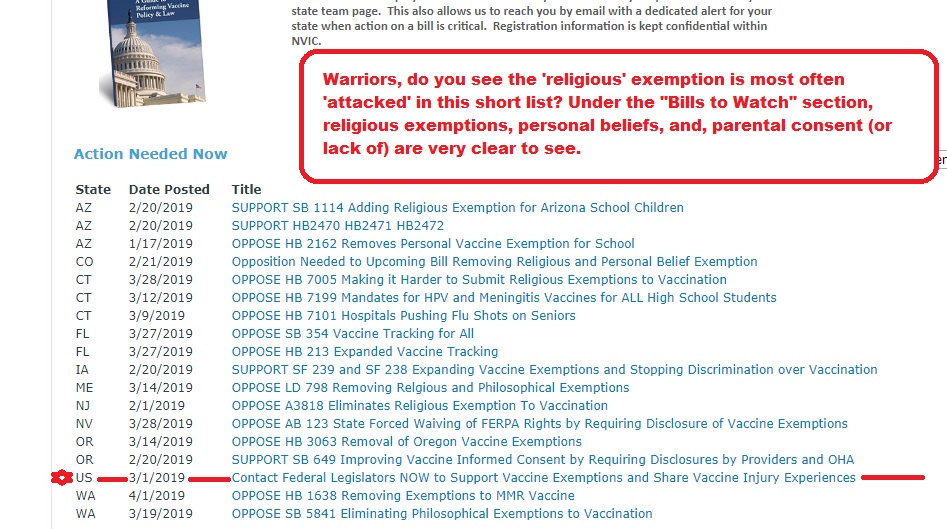 Below, is a screen shot from NC (where I live)'s Dept. of Health/Human Services. Here, we can choose personal, non-religious exemptions and religious exemptions to refuse vaccines. However, how long will it be before our choice to refuse lasts?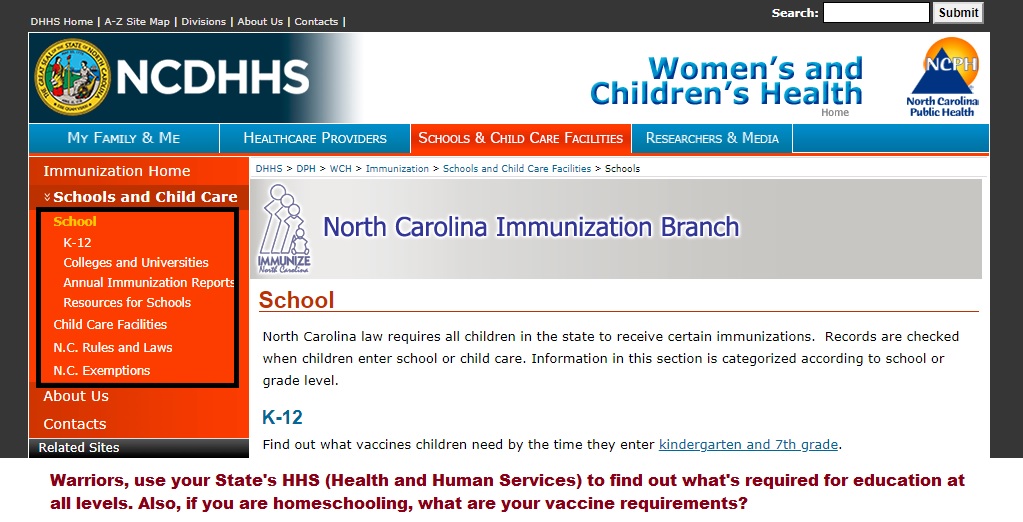 Why would I ask that question about 'how long'? Warriors, below is HR Resolution 179, a Congressional nod to vaccinate just like the UN/WHO and others are pushing:

Warriors, there are also other federal legislative moves for more vaccines. HR 1371 and S 570 are sister bills. Titled "Flu Vaccine Act". They would further research (comprehensive) for a universal flu vaccine. Taxpayer cost? $200 billion each fiscal year between 2020 and 2024. Then, there's HR 1973 which will amend the IRS tax code for vaccines (will add more which can be taxed). HR 1371 is currently in the House's Energy and Commerce Committee; S 570 is in the Senate's HELP Committee; and, HR 1973 is in the House's Ways and Means Committee.
If you'd like to see who advises Americans about vaccines, the ACIP (Advisory Committee on Immunization Practices) is part of the CDC (Centers for Disease Control). As we've seen, the CDC not only massively data rape our health care in education, it manipulates the SEL portions, too. Notice which people have the power.
Warriors, here's a website called SaneVax (Safe, Affordable, Necessary, and Effective Vaccines). While it doesn't support the HPV vaccine, it does base all its support on scientific research. SaneVax is tied to the UN and WHO. Be sure to watch the short video when you visit the website.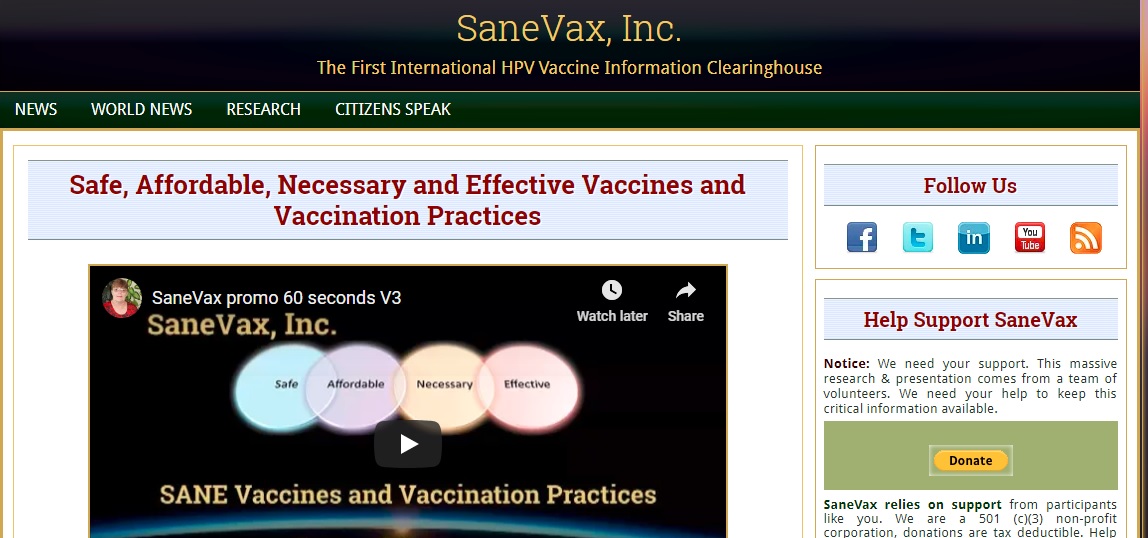 Here's the UN/WHO evidence, also note that Big Pharma is listed. SaneVax does offer vaccine injury support, as well.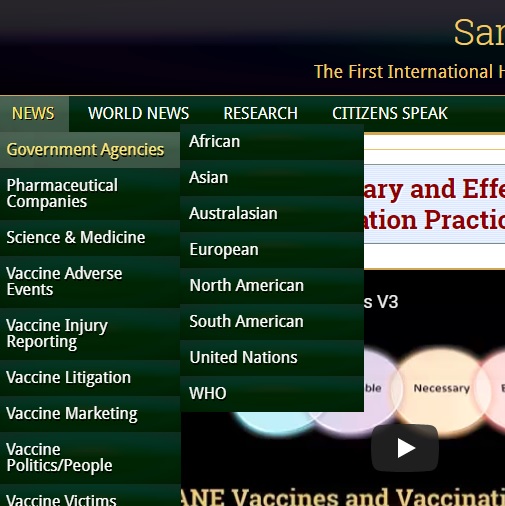 It was from this website, I found that the UN's EWEC (Every Woman Every Child) campaign is using vaccines to push for global health.
Below, is a screen shot of proof showing the WHO and UN are partnering with other global groups.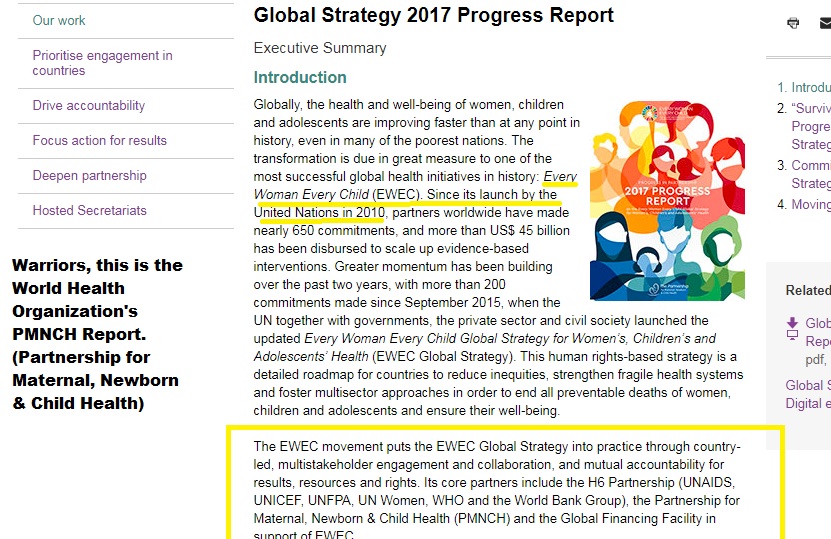 This Partnership's main goal is to implement the Agenda 2030's SDGs. If you wish to see the 700 vaccine links on the PMNCH website, go here.
The EWEC 2016 Report can be read here.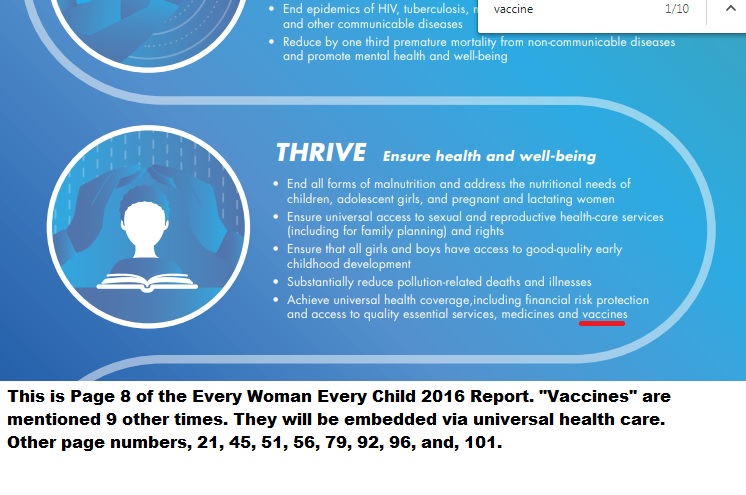 CHOP's Gender/Sexuality Development Center:
Warriors, 'CHOP' is short for Children's Hospital of Philadelphia (PA). In 2017, their "Gender Clinic Annual Report" shared this,"Education and Training As we look back on three amazing years of collaborating with and listening to families and community leaders, we have identified two critical areas for our education and training efforts: supporting pediatricians and school staff. To date, over 300 medical providers have been trained in providing competent care throughout the CHOP network. The Hospital is developing new policies that will govern care for transgender patients, families, and guests – among the first in the nation for a pediatric hospital. Further, our clinic educator has provided school trainings to over 1500 educators. And, thanks to a generous donation from a local family foundation, trainings will double to include more schools in NJ, DE and Western PA." 
In 2018, CHOP was named a leader in LGBTQ health care by the Human Rights Campaign Foundation. HRC is linked to the UN and has backed the CCSS Machine in education, as well. Notice that the article embedded shared this was the 4th year the honor had been given.
How do the UN and their SDGs handle gender and sexuality? In March 2019, I laid it all out for you.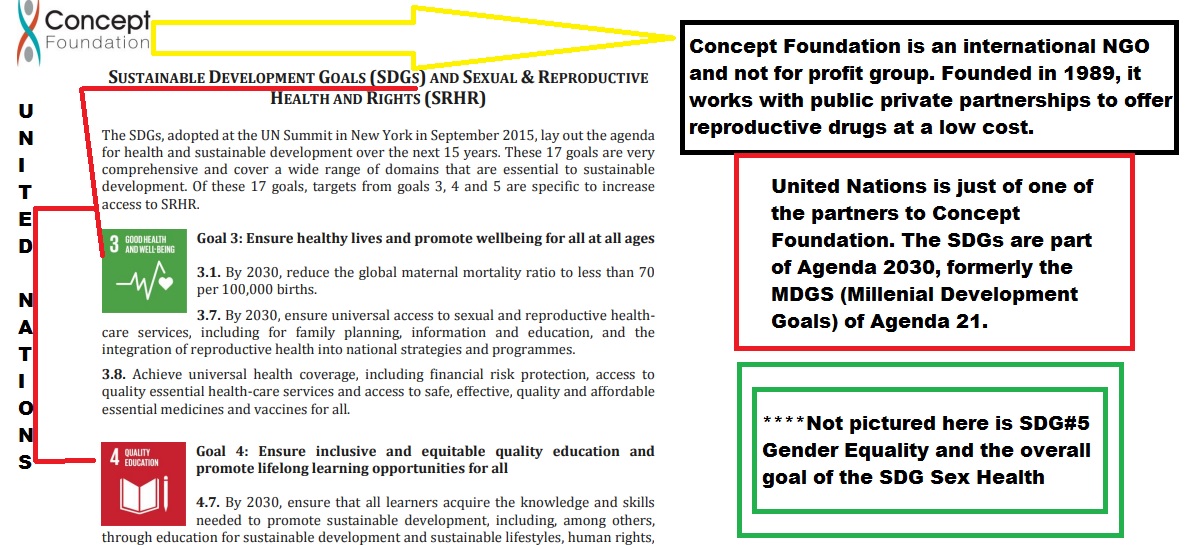 Warriors, did you know CHOP receives federal funds (aka: taxpayer dollars)?
Did you know CHOP is working with the University of Pennsylvania's Social Policy and Practice? The work is for LGBTQ in schools. Financial support for Penn Futures Project is coming from Robert Woods Johnson Foundation (a huge CCSS Machine member).
CHOP does have its own "Safe Schools Curriculum" for LGBTQ  (evidence of that can be found Page 4 of the 2017 Annual Report). After reaching out to CHOP and receiving no response, I scoured the internet for the curriculum. I wasn't successful there, either. You can see more about the 'professional development' in this area, here.
The co-leader of the CHOP Gender and Sexuality Development Center is Dr. Linda Hawkins. Her resume is full of all kinds of LGBTQ research. To learn more about WPATH, go here.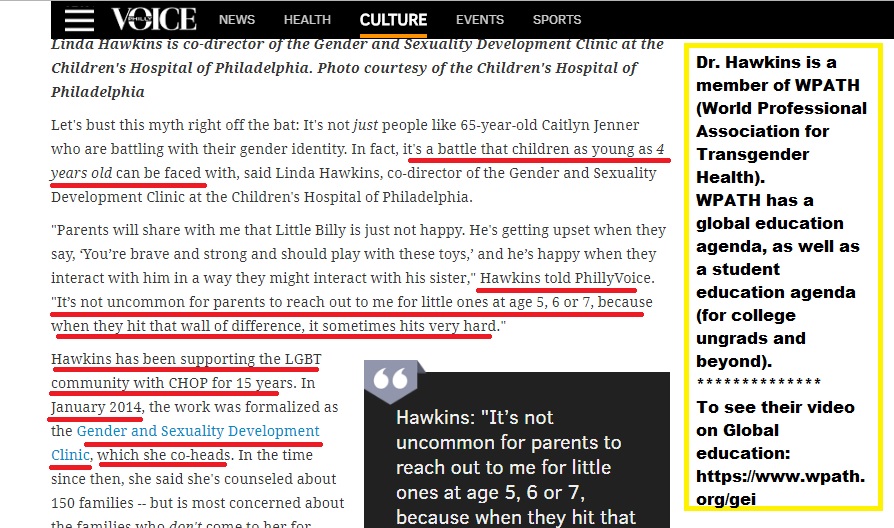 (Original Source)
Did you also know that GLSEN is in Philadelphia Public Schools? Their goal is to open up access to Gay, Lesbian, Straight Education Network chapters for K-8th grades, not just high schools. I wrote about GLSEN and their support for CCSS in 2018. Here's their statement on ESSA (Every Student Succeeds Act).
Below is a screen shot of the Philadelphia Schools Policy for LGBTQ: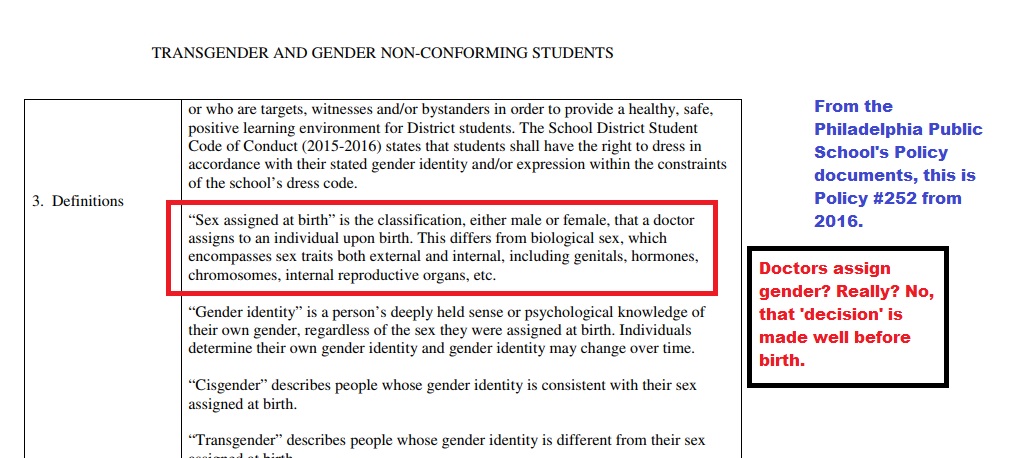 Warriors, use the above information to see what's in your State.
Human Rights Campaign's "Welcoming Schools":
For teachers and school leaders for PD (professional development), go here.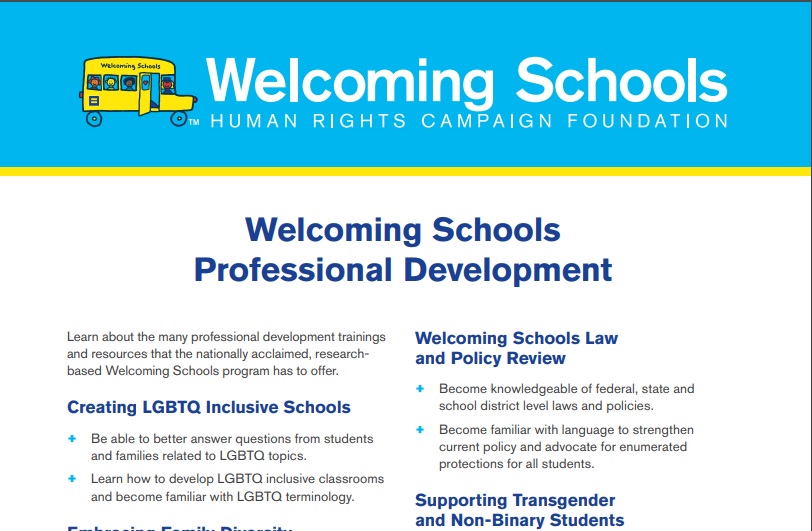 Where will teachers and other school leaders insert LGBTQ items? Language Arts, Math, Science, Social Studies, Music, Art, PE, the library, and SEL (Social Emotional Learning).
However, schools will not be the only places these activities will show up. Because so much of the ESSA (Every Student Succeeds Act) language involves aligning the entire community, you'll see more and more pop up all across town.
The Safe Schools Project from CA can be found here. From what you can find there, the main focus is middle school and high school.
Another "project", Gender Spectrum (ties to Joe Biden's family) has recently released a brand new puberty guide for teachers to use in LGBTQ and non-binary sexuality. (Will be included in health education.)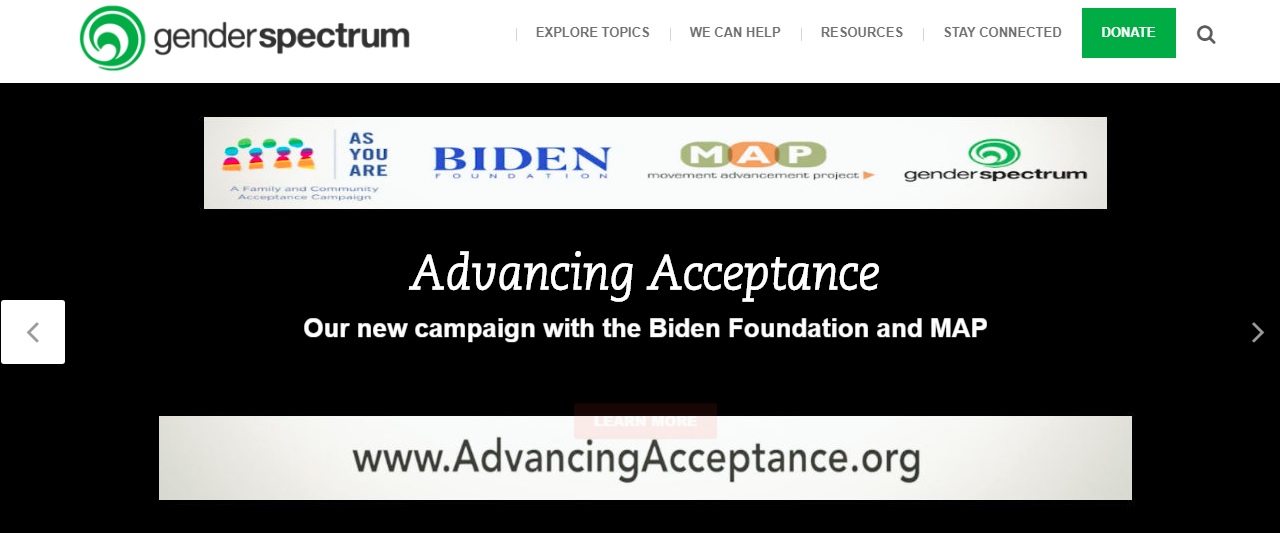 From the State of GA, Pride School was a failed attempt for private education for LGBTQ.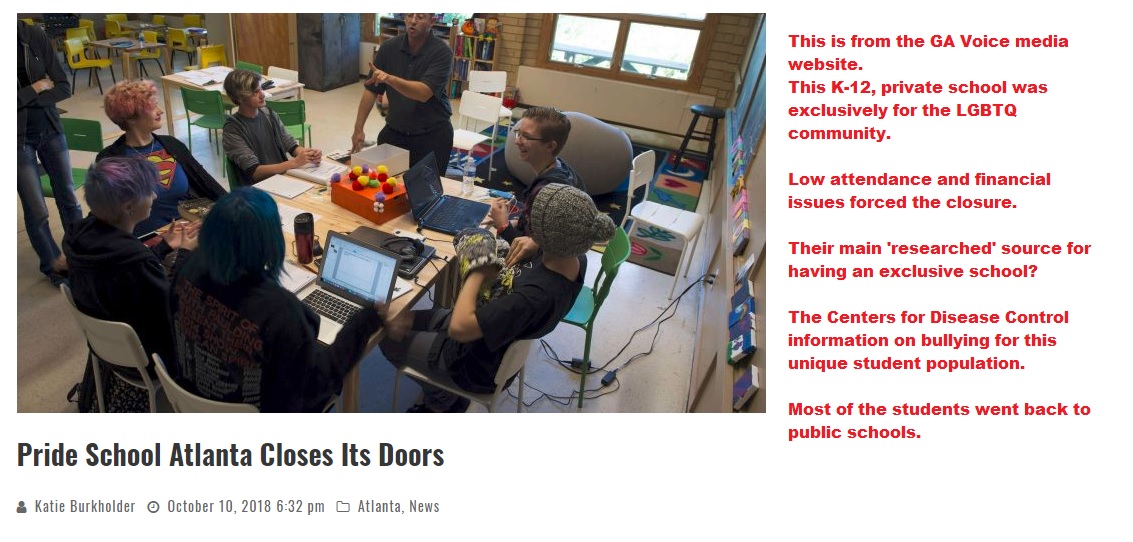 (Original Source)
The National Gay and Lesbian Chamber of Commerce has a long list of Common Core Machine corporations. To access the Report mentioned below, go here.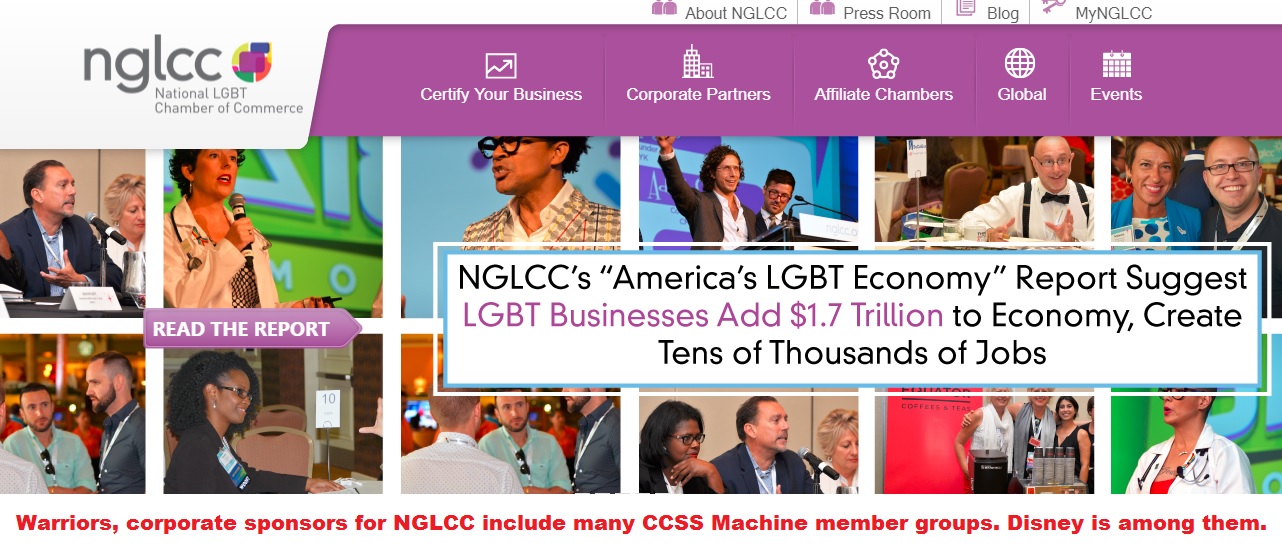 Closing:
There you have it, Warriors, the special requested information. Use what you've learned here to know what to look for in your community. This will be, as I said above, not only in schools, but everywhere in our towns.