Anti Fed Ed Warriors, how would you like to have 'peace clubs' and 'job hubs' spread across the nation? Sounds great, right?! I mean who doesn't want a little more tranquility in their lives or access to better jobs?
I'll tell you who doesn't want these: US. Why? They are 2 of the latest efforts from our federal government to control us, as American citizens. They are also 2 of the latest efforts to conform America to the SDGs (Sustainable Development Goals) of the UN/UNESCO.
One Gigantic 'Peace Club':
Below is a screen shot from a 2017 article I published with the (then) latest on Peacemaking in the US via HR 1111.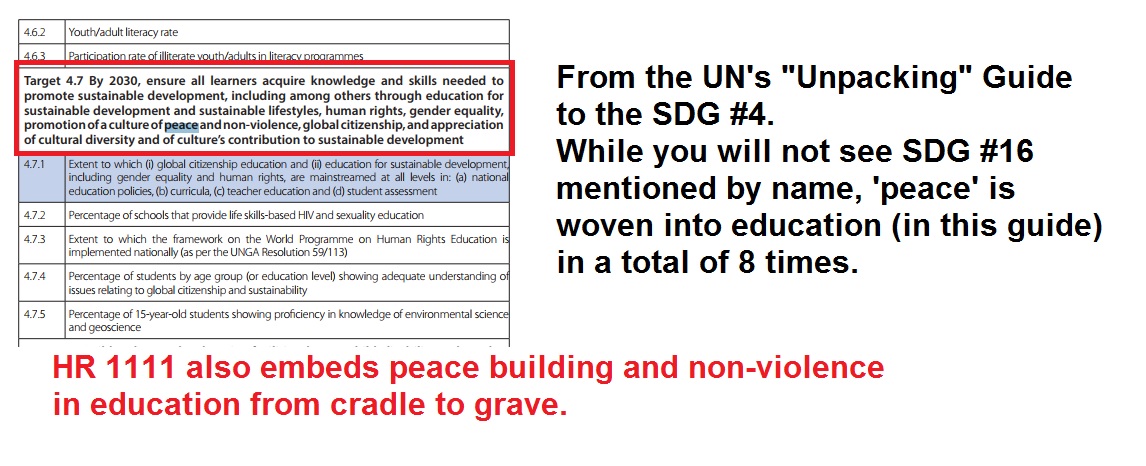 In 2019, Warriors, we have the SAME Chamber of Congress using the SAME Bill number  (HR 1111) for a newer version to create a Peacemaking Department in the Executive Branch of our government!
What's the title of this new department to be?
Federal Interagency Committee on Peace (FICP) and it would work in tandem with the U.S. State Dept. and the U.S. Dept. of Defense. The FICP would also establish "Peace Days" across the nation.
Why should we, as Anti Fed Ed/Common Core Warriors, care about HR 1111? The 2019 version has almost as many plans for education related indoctrination as its former version. (2017's embedded 'peacemaking' over 40 times in education; 2019's is 34.)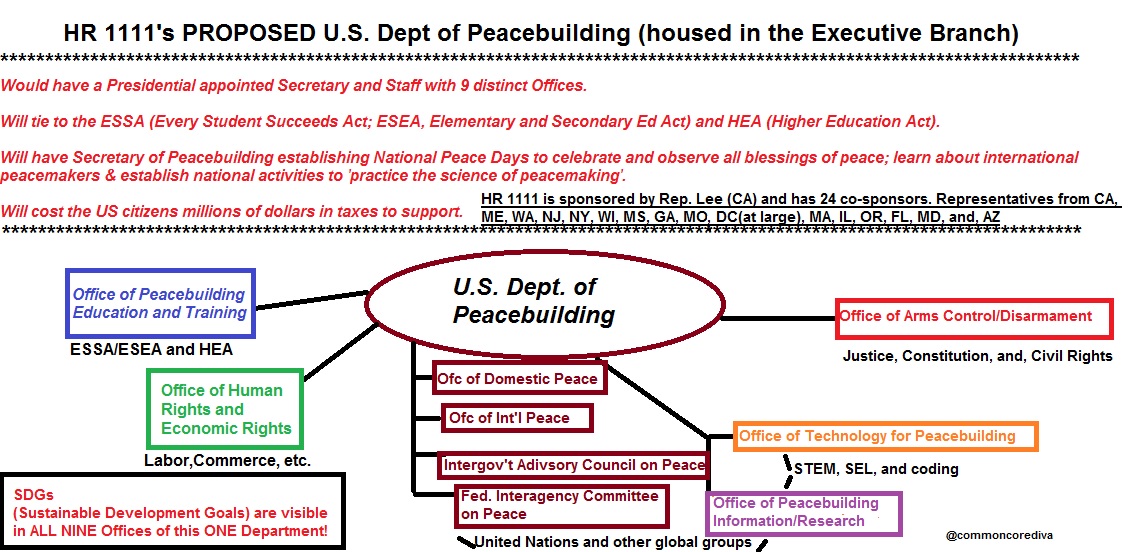 Among the 2019's HR 1111 embedding pieces in schools: is a peacebuilding and tolerance curriculum created by a joint effort of the US Dept. of Peacebuilding and the United States Institute of Peace (USIP). (*Note: if you'd like to see USIP's stance on several issues, go here. Be sure to look at the 'experts', too.)
States will be incentivized to use the developed curriculum in early childhood education and throughout all levels of education. The curriculum will embed peace and tolerance into ALL subjects, including PE (physical education). The Depts. of HHS (Health and Human Services), Homeland Security, and, Education will also help develop the curriculum.
If it's not in the schools, entire communities and ALL cultural events and programs will use the peace and tolerance curriculum.
Warriors, as we've seen with the CCSS Machine, this type of move is to support the all encompassing "Every Student" as in regardless of where you go to school.
Also established with HR 1111 is a higher education academy called the Peace Academy. Students will study 4 years of peacebuilding and upon graduation, serve in public service to promote domestic and international peace. What's so bad about this? It's to be modeled after existing military schools!
New Community Peace Building Grants will be made available to go along with existing neighborhood grants. Then, there are to be Culture Diplomacy Grants: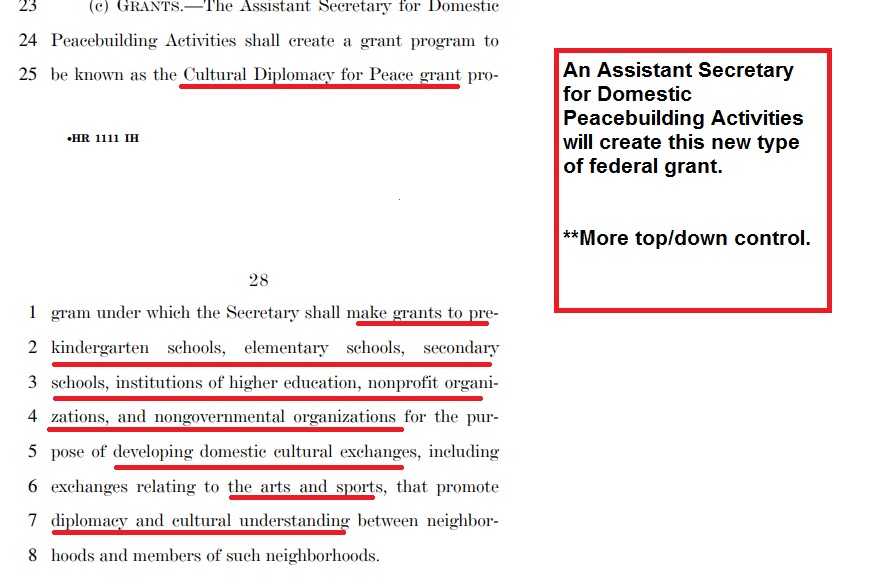 Warriors, what you see above is from the Office of Domestic Peacebuilding. The Office for International Peacebuilding will also offer a new type of grant. International Cultural Diplomacy for Peace grants to all the locations the Domestic Office will offer them.
Other scary portions of the 2019 version of HR 1111 include embedding the UN's Declaration of Human Rights into American law and national activities. You'll want to see how the Peacebuilding Technology Office will impact how we communicate and farm. You'll also want to read the Congressional Findings to see how much Congress is relying on UN (United Nations) information. Of course, disarming efforts are worth looking at, too. The Second Amendment may be in danger, yet again. You'll also want to read Page 41, where the Peace Days are described as well as the legislative power the appointed Secretary for Peacebuilding will have to create or amend laws. (*Note: to see the 24 co-sponsors for HR 1111, go here.)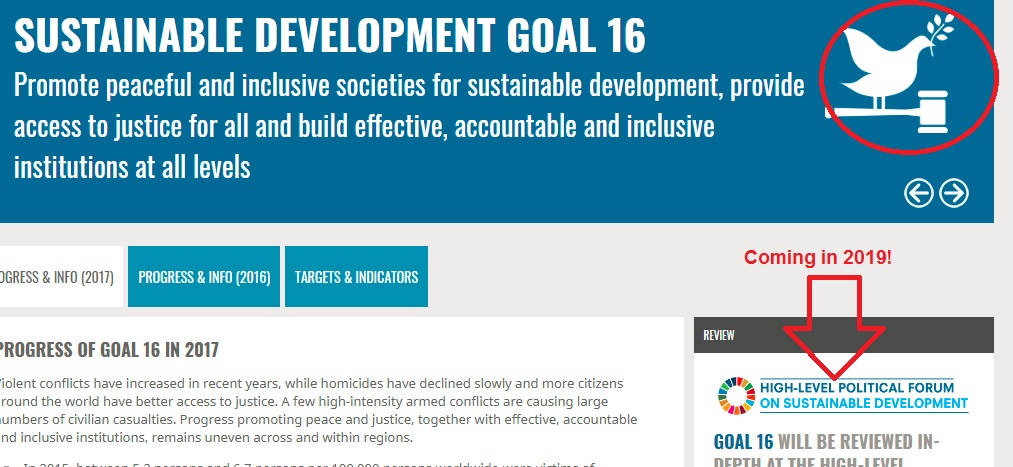 Lots of Regional Hubs:
Okay, Warriors, we're 'switching gears', so to speak. Now that you've learned about the gigantic peace club Congress wants to turn our nation into, let's look at the hubs they want to embed among our regions. (By the way, regionalism is also a UN tool. It's also embedded as an educational mandate in ESSA.)
HR 1995 and S 951 are 'identical sister bills' which would create 'Apprenticeship Hubs'. In fact, the title for both bills is the Apprenticeship Hubs Across America Act (AHAA).
The Senate version is in a Committee and has 4 co-sponsors. (Young, IN; Moran, KS; Brown, OH; and, Jones, AL.) The House version is also in a Committee and has 3 co-sponsors (McKinley, WV; Fitzpatrick, PA; and, Harder, CA.)
Sponsoring the bills are Senator Coons (DE) and Representative Norcross (NJ).
Below are just 7 items both HR 1995 and S 951 would do in education: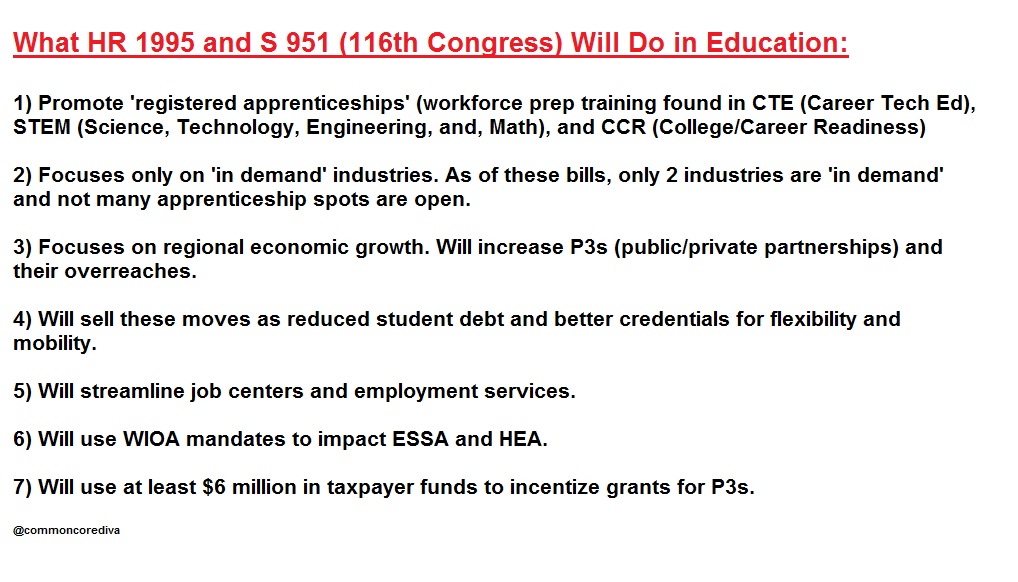 Warriors, also written into this type of regional workforce hub idea is how these apprenticeships are marketed to parents and students by school counselors, job recruiters, and those one-stop-career-centers.
If you've followed my blog for a while, you may remember when I first shared how school counselors were being targeted by the CCSS Machine to sell families and students are career tracks.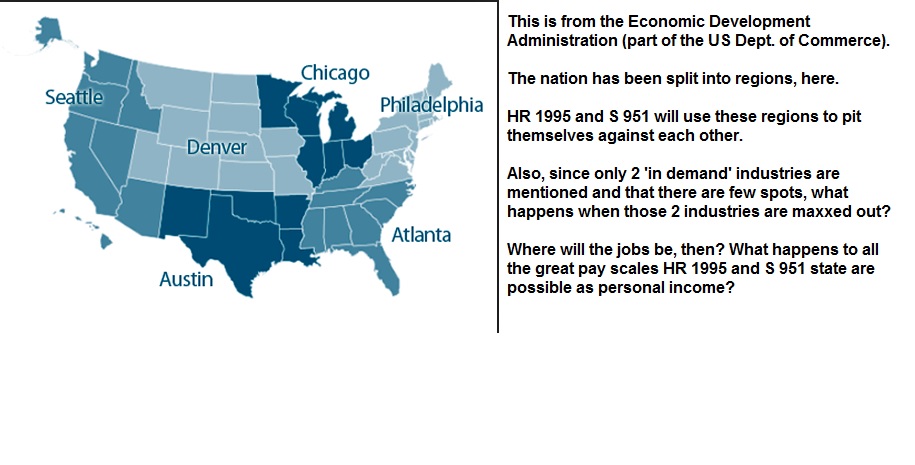 (EDA's website)
Warriors, if you're not sure how toxic the UN regionalism is for America, this 2010 document will help you understand. As you can guess, the alignment has only gotten worse since this publication. To illustrate how bad, consider that tourism is being geared toward the SDGs.
Regionalism will also play right into climate action. Climate action is already deeply embedded in education. If you've not heard of the R20, the US is a member. R20 is the Regions of Climate Action. Former CA Gov. Schwarzenegger helped create this global group. The US Government is a partner to R20.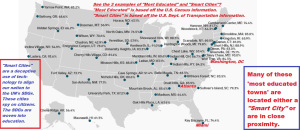 HR 2636 and S 1398, Smart Cities and Communities Act:
Warriors, these two 'sister' bills are almost exact copies of each other. HR 2636 is sponsored by Rep. DelBene (WA) and has one co-sponsor (Lujan, NM). S 1398 is sponsored by Sen. Cantwell (WA) and has no co-sponsors. HR's version of Smart Cities and Communities Act has embedded 'education' a total of 18 times. The Senate version has 'education' embedded 17 times.
What will the "Smart Cities and Communities" do for education?
1) increase technology which means not only more STEM education, but more screen time for our students.
2)  Puts the federal government in more power over communities across the nation.
3)  Will combine several inter-government joint projects/efforts, as well as P3s and industry overreaches.
4) Will increase the workforce based education, skill based training and award grants to entities participating, at ALL levels of education.
5) Will increase apprenticeship 'opportunities'.
Closing:
Warriors, between the clubs and hubs, our education system is pretty well up a stream without a paddle. It is absolutely mind boggling that Congress is not only willing to do this to our nation, but has no shame in doing so.
What can we do to fight back? Our votes are one way. Look at those supporting all the Bills I've featured here. Look at the connections to the CCSS Machine. There are other ways we can fight back. I believe that ANY Congress member participating shamelessly in all this needs a huge dose of humble pie. What do you think, as a Warrior?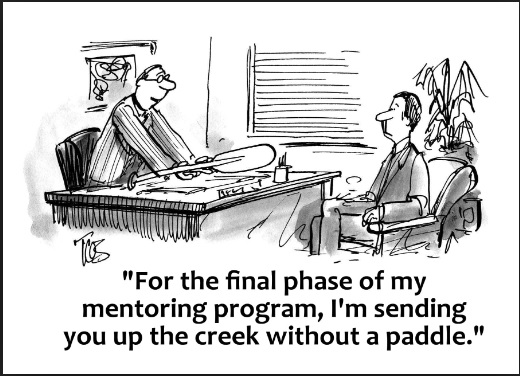 (Google has this as a "New Boss" cartoon image)