In this special edition for my Tech Thursday posts, I wanted to focus on how the CCSS laced HR5 Bill is being touted by not only the U.S. Education and Workforce Committee, but by the Business Round Table group as well. Even if this particular Bill dies, another one like it isn't too far down the pike.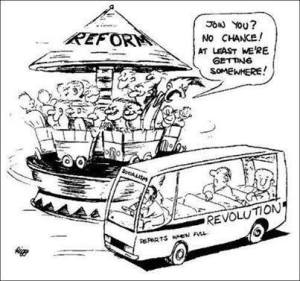 The Evidence:
You've got to love social media when fighting CCSS. It keeps you so up to date on news you might miss. My case in point for today's article is the tweets I saw cross my Twitter in the past couple of days. As Washington has heated up about HR5, those who support it from the Workforce side, are taking every opportunity to promote, shout, and tout how superb HR5 is for America.
Here are just some of the quotes: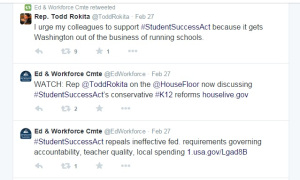 Here are a few more: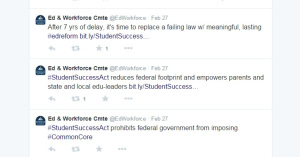 The Whopper:
Perhaps the biggest support for HR5 came from the Congress itself via this infograph.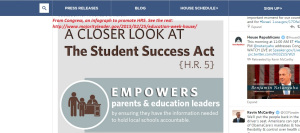 To see the Majority Leader's infograph in full, visit, 
http://www.majorityleader.gov/2015/02/25/education-week-house/
Meanwhile, the BRT is Cranking Out the Rhetoric:
Not to be left out, the BRT (Business Round Table's been harping on not only the need for better economy (meaning more 'talent supply'), but how HR5 can help out. Here's a screen shot featuring CCSS.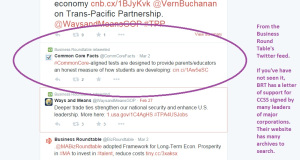 According to the BRT Twitter feed more jobs for America means more international trade.  I guess our US companies will do anything to be 'global', including selling out our education.
If you noticed the TPA tweet above the CCSS one, great. The TPA is more Trade Promotion Authority legislation. I guess given that America's most recently past trade legislative pieces have worked so well, we're being pushed for more. In the vein of CCSS, more jobs, more alignment. So 'win-win',  I suppose. Backing this effort? The U. S. Chamber of Commerce. Remember them? Paid millions by the Gates Foundation to promote CCSS.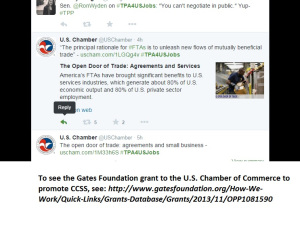 So, Let's Review, Just HOW will HR5 impact Workforce Ed?:
In my January 2015 post titled, "RMT: Will You Help?"(See: https://www.commoncorediva.com/2015/01/18/rmt-will-you-help/) I laid out what was in store for all students, regardless of educational choice OR age, IF the legislation passes. Here, again are some of the biggest nuggets.
Page 113 addresses how CTE (Career Tech Education) will totally replace "VoTech". If you're not sure how CTE is CCSS aligned, I urge you to check out my Tech Thursday archives. (See: https://www.commoncorediva.com/page/7/?s=career+tech+education; there are 7 pages worth of articles. All filled with links, documents, etc. for your own researching or files)
Buried in the legislation and tied to the Perkins Funding/IDEA funding, CTE will be locked in. Even if HR5 dies, don't think those in favor of an aligned working population will stop. Legislation supportive of all kinds of CCSS alignment is ripe in D.C…and in our state's backyards, too.
Page 280 via the "Rural Education" plans will also cement a CCSS aligned CTE working force.
Related Resources:
In the event you've not seen the BRT 'fully supportive of CC" letter, here's the link: http://businessroundtable.org/sites/default/files/BRT%20Ed%20Priority%20Common%20Core%20Oct28.pdf
If you'd like to see the U.S. Chamber of Commerce's support for an aligned American Workforce, see: http://www.uschamberfoundation.org/center-education-and-workforce
To see how the current TPAs would impact Americans, see the BRT explanation first, http://brt.org/2015-agenda/trade-expansion  
Then, read the White House's plan for Work Ready, trade ready America: ready_to_work_factsheet
To see how your state is becoming trade ready via Career Pathways, Career Tech Education, search for something along the lines of 'trade expansion workforce career path'. When I did, I got results from all over the U.S.A.