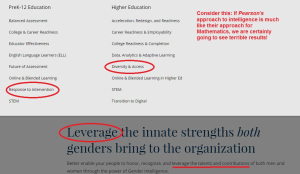 Starting off our week and continuing the 'War Against the Core', we will look into 'Gender Intelligence' and Pearson Publishing. Is it connected to the CCSS Machine? Most definitely! This is an in-depth look, as there are many twists, turns, and other CCSS Machine members to reveal!
Pearson's Grab at Our Minds, Part One:
According to the Pearson GI website, there are 5 main components to GI (Gender Intelligence):
1) Defining GI;  2) GI in the working environment; 3) Women in leadership roles at work; 4) GI and Directive Thinking; and 5) GI can give a company a better bottom line. Below are the break downs of each of these 5.
1) Definition of GI (Gender Intelligence)
From Pearson's own website, "Gender Intelligence goes beyond biological differences and cultural influences to include variations in brain structure and chemistry that influence our thoughts and actions. Gender Intelligence is the awareness that gender differences are first informed by nature, and then influenced by family, education, culture, and environment."
**I feel  it is important to note that while Pearson is calling this 'Gender Intelligence' and based on what evidence presented, it looks more like the classic study of TEMPERAMENTS. Could there be some purposed confusion? Could it be that temperaments has gotten a re-branding, too? As crazy as it sounds, it does seem to fit/better aid the agenda behind Pearson's quest to align everything in education.
2) Work Environment
From the teaser page for GI, you get this idea "It's not about fixing the men or changing the women—it's about collectively changing the work environment." However, when you click on the learn more option, it suddenly becomes all about the women. Read further down and you can learn the goal of Pearson is to transform your mindset concerning misunderstandings and related topics! (*Personal note: I am going on the record to say that I, in no way, am discounting the fact that better understanding in the workplace is a worthy goal, but I DO know Pearson Publishing's interventions will be global, collective, and aligned to everything related to Common Core. As evidence, look up at the screen shot again. See the STEM, College/Career Readiness, Response to Intervention, etc.)
3) Women in Leadership
Here, Pearson cites a global study for their stance concerning more women in leadership. The excerpt, "In a corporate performance survey by McKinsey (2009), 800 business leaders were asked what leadership styles would be most effective when addressing global challenges post-crisis. Of the nine key leadership styles listed, women were rated higher than men—meaning that they applied the listed leadership style more—in five of the categories, and rated as equal to men in two others." (Again, no problem from me concerning women leaders, but I smell a rat.)
**Is there more to this worthy goal of leadership equality? Is there, indeed a rat?!
YES!!  McKinsey and Company are partners with the CCSSO(Council of Chief State School Officers)!
The SAME CCSSO which works with Pearson; is supporting the ESSA (Every Student Succeeds Act) 1,000% and helping lead a host of organizations in rapidly implementing the mandates embedded in the law; owns half the copyright to the Common Core State Standards/College and Career Readiness Standards!
To see the McKinsey study:
http://www.mckinsey.com/global-themes/leadership/leadership-through-the-crisis-and-after-mckinsey-global-survey-results
To see the CCSS Flowchart of supporters (Includes McKinsey and Company): http://www.truth-out.org/news/item/18442-flow-chart-exposes-common-cores-myriad-corporate-connections
4) Directive Thinking
For this ominous sounding part of GI, you are directed to an almost 2 minute long video about the differences between relational people and action-oriented people. The video's speaker(Barbara Annis of the Gender Intelligence Group) is saying women tend to be more relation and men tend to be more action oriented. To see her short video, use the link below. Then note the screen shot.
https://genderintelligence.intrepidagile.com/share/pearsontalent/barbara-discusses-directive-thinking
To see how connected to the CCSS Machine Ms. Annis is, look below: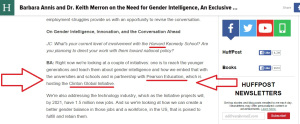 5) More Financial Gain for Companies
Yep, no hidden agenda here, is there? How many times have we heard the rhetoric supporting the CCSS contain sentences for 'national economic good', 'global economic greatness', etc. This aspect of GI is one which needs to be watched closely, in my researched opinion. Evidence used to come up with the reason Pearson is including this comes from Fortune 500 Company studies. How objective these studies are and which companies are CCSS Members? You can access the referenced studies in the footnotes from Pearson's page for this aspect of GI:
https://genderintelligence.intrepidagile.com/share/pearsontalent/advantage-5-superior-financial-performance
If you want to see how accurate the Fortune Magazine portrays CCSS:
http://fortune.com/common-core-standards/
Pearson's Grab at Our Minds, Part Two, RTI (Response to Intervention) for K-12 and Professionals:
In Part One, I circled the 'Response to Intervention' under the K-12 column and the 'Diversity and Access' in the other column. When I clicked on the embedded links for this website, I received error messages. However, after doing a general search for Pearson's RTI (Response to Intervention) I found the following:
 http://www.pearsonschool.com/index.cfm?locator=PS2a2y&acornRdt=1&DCSext.w_psvaniturl=http%3A%2F%2Fwww%2Epearsonschool%2Ecom%2Fresponse-to-intervention
There are non-academic RTIs, programs, monitoring tools, and more! Cogmed and Review 360 are used in K-12th grades.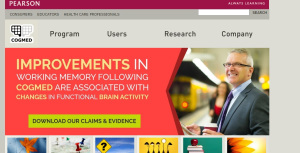 The screen shot above is Cogmed. Access the site: http://www.cogmed.com/

Cogmed Need to Know Items:

Cogmed is used by health care professionals world-wide and with adult learners, too. Be sure to read the 'Success Stories' from actual participants: http://www.cogmed.com/user-stories
In schools, Cogmed is being promoted by Pearson as a great learning tool, keeping kids on task, performing memory challenges better, and more! How? By improving a student's 'working memory'! How does the Pearson medical researcher define a 'working memory'?
"Working memory (WM) involves the ability to focus on a task, keep information in mind and to do mental processing of that information. It is a fundamental brain  function that underlies most of our conscious mental work. WM is required in order to understand the content while reading and it is the brain's work space when solving a math problem. It's used when following instructions, reading a map or simply carrying on a conversation. It is limited in its capacity and sensitive to distractions."
Your school can contact Pearson for Qualified Educators to become Cogmed Providers!
You can find Cogmed in your area, mine is below: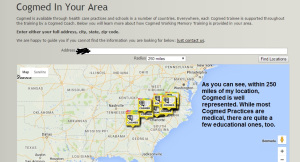 Get the Claims and Research Evidence Pearson has created for Cogmed so you can see how dangerous it is to have an agenda-driven CCSS Machine Member like Pearson in charge of a program to shape our WMs:
ClaimsEvidenceV.3_ExtendedVersion
While Cogmed trains your brain, Review 360 trains your behavior.  See below: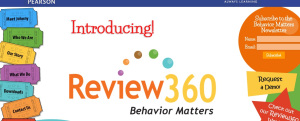 Access the Review360 website: http://meetreview360.com/
What you need to know about Review360:
It replaces/updates 'aimsweb', another type of assessment for behavior interventions. Pearson has at least 2 different websites for these. The first one is on the Review360 website. (http://meetreview360.com/aimsweb/)
The second one can be found by following this link. However, notice the CCSS and ELLs (English Language Learners): http://www.aimsweb.com/whats-new
Are there other aimsweb providers? Yes, Here is a Teachers Guide to Aimsweb Benchmarking and Progress Measuring from 2009. aimsweb-binder-for-teachers (look at how often the teachers were to assess the students and in what ways)
Pearson began taking over the aimsweb in 2014, according to some of the FAQ responses. Also included in the answer was how Pearson would ensure all alignment to current standards/procedures would continue.
Pearson's aimsweb uses Universal Screener Analysis
There are some downloads you need to get, like this one for the 5 step Implementation Path for Review360's RTI.  Look at the picture above and find the Downloads Ticket on the left hand side of the screen. See: http://meetreview360.com/images/implementation%20path_final.pdf
The research for Review360? Oh, you will 'love' how it begins.."According to the U.S. Dept. of Education….." Access the report: Research Basis of Review360
Is there RTI for the professionals in the workplace?
Yes! According to Pearson, the 'diversity matters' in the workplace is also very skewed to meet the CCR (College and Career Readiness) part of the CCSS! One of the main articles about why being so open/diverse/accessible is written by the head of Pearson's CCR Division! See:
 http://www.pearsoned.com/education-blog/diversity-matters-in-business-policy-people-and-the-power-to-innovate/
As far as Pearson's assessments/intervention for employees? One such business tool is called Knowledge Capture. See: http://www.pearsoned.com/professional/products-and-services/knowledge-capture/
You can find Talent Assessments, Clinical Assessments, and more:
http://www.pearsoned.com/professional/products-and-services/assessment/
Closing:

I wonder if these RTIs/Assessments will become Gender Specific so the Gender Intelligence can be even more researched and aligned to all things Pearson?! My last question: is there no one who will stop Pearson's grasp for world domination in 'education'?