Greetings for a Wonderful 2017, Anti Fed Ed Warriors! I truly hope your family times together were great; mine were. However, we've got work to do!
The War Vs the Core pauses for no one. While it's very well known (by now) that the U.S. Senate will begin hearings on confirming Betsy DeVos as the next U.S. Secretary of Ed, we need to see WHAT else is happening that's NOT so well known surrounding the CCSS Machine's continued takeover of American education.
Okay, 2017's Here:
Warriors, with the new calendar year, we need to look for ANY change in dates related to ESSA (Every Student Succeeds Act), especially any tied to funding. Why? The Fiscal Year 2017 has already begun, so all those dollars and cents earmarked for anything in ESSA or those laws related to it, has already been set in motion.
The change of any dates, however, will be of concern for us, as legislation is updated OR created to align each State to the funded mandates in ESSA. Look below to see the North Carolina ESSA Timeline, as an example of what to look for in your State: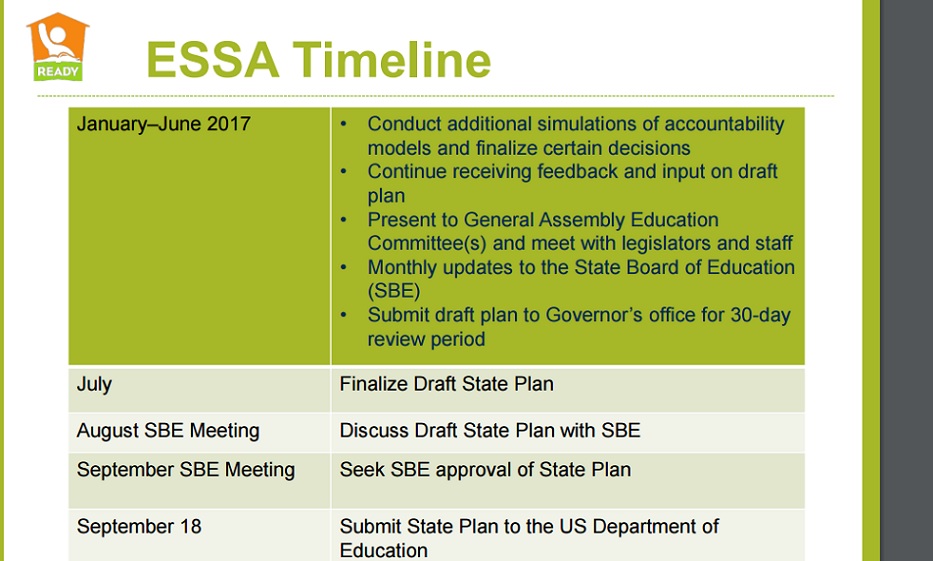 Obviously, the 6 month span between January and June will have lots of activities. Supposedly, all types of 'stakeholder' input is to embedded in the ESSA NC State Plan. But, is it really?! From what I've been able to research, stakeholder input will be neutered, while 'accountability' is expanded to overreach into more assessments, more proficiency measures, and so much more.
The crux? As long as it's tied to federal funds, education will NOT be a State Sovereign recognized entity.
But, Warriors, that's not all we need to look out for….
So, Now What?!
From the NC ESSA 2017 document I was able to access, you will also be able to find other 'red flags'.
Such as all State Accountability regulations (as laid out by the U.S. Dept. of Ed) were received in 11/16. All State Assessments regulations (as laid out by the U.S. Dept. of Ed) were received in 12/16, almost exactly on the 1 year anniversary of ESSA's becoming a law.
Yet, if we are to believe the screen shot above, we, as part of the 'stakeholders' still can provide feedback on HOW our States implement any education plans.
HOW CAN THIS BE POSSIBLE WHEN  THE U.S. DEPT. of  ED HAS ALREADY DONE THIS FOR THE STATES?!
HOW CAN ANY STATE'S EDUCATION BE STATE-LED or STATE-CREATED WHEN THE U.S. DEPT OF ED HAS ALREADY DELIVERED ITS SYSTEM OF COMPLIANCE?!
To access the NC ESSA 2017 document:
https://simbli.eboardsolutions.com/Meetings/Attachment.aspx?S=10399&AID=79612&MID=2933
Is There Anything Else?!
Since NC has 'spilled' the beans on some key ESSA 'evidence' we can all use, I can point you to some more areas.
1) The digital competency based education mandates are huge in ESSA. NC's been working hard (just like all the other States) to make sure every child has no excuse as to why they are not digitally connected in the name of education's sake. (*Note: I'm including the general search tab for my blog on every article where I've exposed these. We MUST review this type of information in order to properly combat the CCSS Machine. See: https://www.commoncorediva.com/?s=ESSA+digital )
For example, here in NC, there's a "School Connectivity Initiative". Our State Board of Education has been leading this effort to help lead the State to not only digital overload, but MORE competency based education which aligns to not only Common Core, but it's 'new' name:
College and Career Readiness.  Below is a screen shot of the meeting notes on the School Connectivity Initiative. The added emphasis is mine: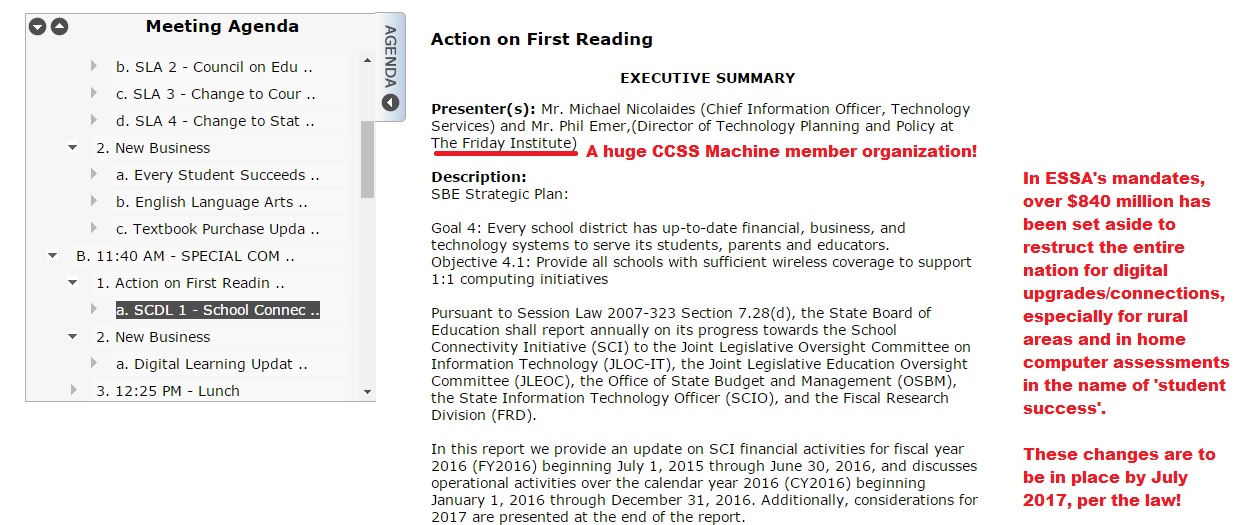 If you wish to see the School Connectivity Report and learn from NC how your State will be impacted by E-rate legislation (which unites WIOA, Workforce Innovation and Opportunity Act), HEA (Higher Education Act), and ESSA via the digital data mining and data sharing, for example), see: https://simbli.eboardsolutions.com/Meetings/Attachment.aspx?S=10399&AID=79491&MID=2933
Thanks to a 2016 Resolution State Board of Education members, they pledged NC to MORE Career Tech Education (which is another name for "Common Core"). This played right into the then, Gov. McCrory's plan to have a more educated workforce streamline. The Resolution also upheld the digital conversion across the State as well.
I've not heard from our new Governor (Gov. Cooper) yet about such an agenda, but I'm also certain, NC is in for a Common Core/Career Tech Ed/College and Career Readiness 2.0.
2) Dept. of Health and Human Services overreaches in ESSA are also a big concern for us in 2017. While I've shown you the federal level mandates, what about what lurks in your State level departments?
For example, here in NC, I found the words 'a school operated by the Department of Health and Human Services'  in NC Senate Bill 873 (a bill to reduce tuition costs). Dig a bit deeper, and you'll find that in 2016, NC spent quite a chunk of taxpayer money when it came to education and/or related activities. (See: http://www.northcarolinahealthnews.org/2016-health-human-services-budgets-compared/)
2a) The TANF (Temporary Assistance for Needy Families) can be tied back to the CCSS Machine on both the State and federal levels. (To see the entire Bill:
http://www.ncleg.net/Sessions/2015/Bills/Senate/PDF/S873v4.pdf; page 4, near the bottom is where you'll find what I did.)
2b) NC FAST (North Carolina Families Accessing Services through Technology) is a Dept. of Health/Human Services State level program full of areas of concern in the data tracking and mining of children. (Home page: http://ncchildcare.nc.gov/general/mb_aboutus.asp; look to the left hand menu to find NC FAST and other programs.)
Why should we be concerned? While one fact sheet states children will not be 'coded' for Smart Start programs (also tied to the CCSS Machine at the federal level), the combination of federal-to-state-level funding is a big red flag. See: http://ncchildcare.nc.gov/PDF_forms/NCFAST_P3_Fact_Sheet_Issue11.pdf
*Note: NC FAST works with the NC State level Department of Information Technology.
3) Does the NC Dept. of IT tie back to the CCSS Machine and/or its grasp on education reform?
I  believe it has to. Why? You cannot have data tracking or data mining without IT. You cannot have, or meet the ESSA digital infrastructure mandates without IT. Here in NC, the State Chief Information Officer is APPOINTED by the Governor. When you have a Governor sold out to the CCSS Machine, it's easy to make the connections. Remember, the CCSS Machine's goal in education reform is a streamlined, workforce society.
Look below and see how NC has set itself up for a total data mining makeover!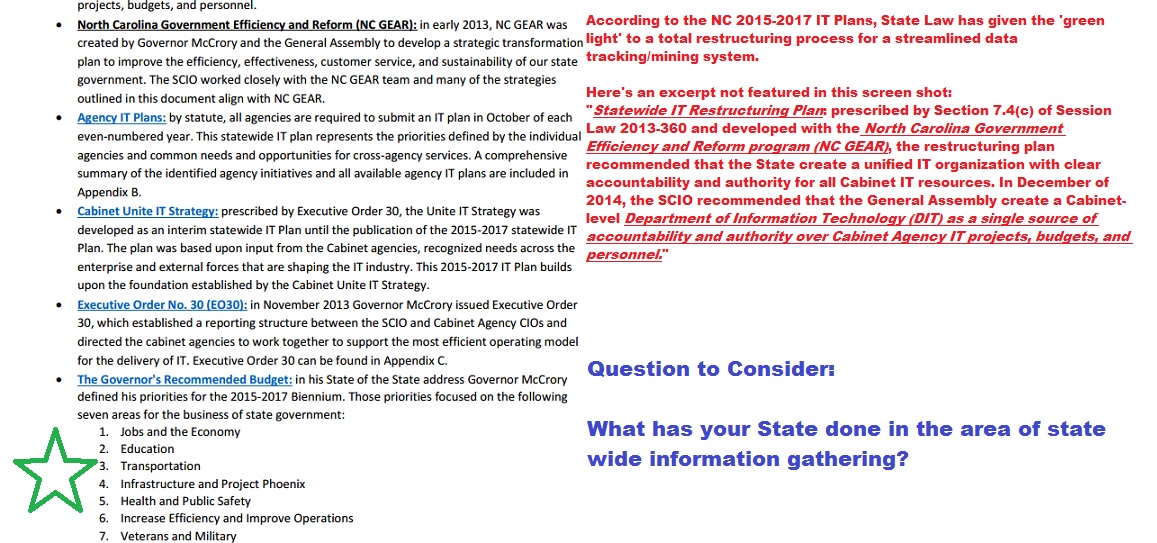 (*Note: In 2015, I revealed to you how NC was coding and tracking each and every student for the CCSS Machine's Workforce based education system. ESSA will only increase this activity, not reduce it! https://www.commoncorediva.com/2015/08/27/ccss-follow-up-system-more-than-money-will-follow-your-students/ )
To access the NC 2015-2017 Statewide IT Plan: state-it-plan-2015-17
Closing:
Warriors, we've got much more to look out for in the scope of the CCSS Machine's grasp on our nation. Remember, while all the media is poised on Capitol Hill, what happens in our own backyards is bearing out the truth behind all this reform: It's coming from all angles and isn't slowing down. While the media swears we've ended Common Core, we can see it's as alive and poisonous as ever.You may not live in NC, but, as you know, all our States are being set up for a tremendous fall. Let's work together to use this type of evidence to expose where it is where you live.