Welcome back, Anti Fed Ed Warriors! I hope your Thanksgiving break was just what you needed. 
**************************************
Built into ESSA (Every Student Succeeds Act) was the mandate to force 'low performing' schools into all kinds of straitjacket type solutions.
One, by far and away, the worst, was turning them over to privately run charter companies.
Look below and see how NC's been creating laws and 'new' names to comply.
Your State's doing this as well, Warriors!


(Source)
Warriors, don't forget, from May 2018, I showed you the NC's 'new' solution for more 'school choice' which also feeds into the ESSA mandates that all education be aligned to the same thing. In that article, you'll see how other States are also kowtowing to 'Lab Schools'.
****************************************************
Given the fact NC legislators have re-branded and created so much which fits right into the CCSS Machine's plans, how could they possibly create/re-brand more?!

Their solution? Take the 'low performing' schools and 'renew' them. What does it look like? How does it work?
***************************************************
Meet NC's House Bill 986 (now State Law 2018-32)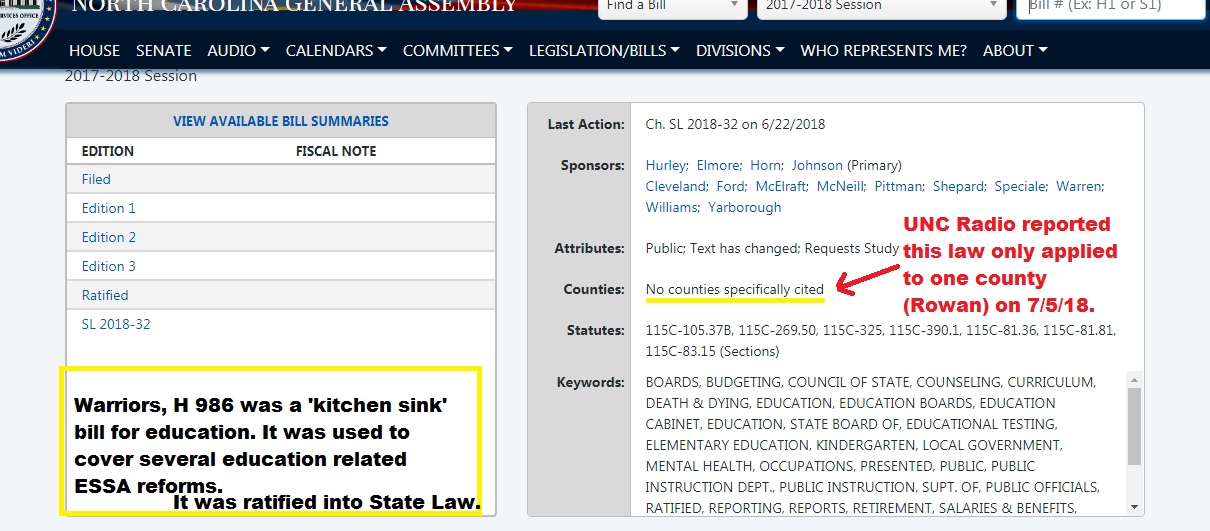 (Bill/Law in its entire form)
(Link to WUNC's article)
Warriors, The 'renewal' parameters are not the first item in this 'kitchen sink' type of Bill (now State Law). If you want to skip to that section, you can go to the next section.
First, you'll see the need for cursive and multiplication reports on a yearly basis.  This is followed by expanding the advanced math for grades 3 and up. There's even an option for parents to say no to advanced math for Johnny and Suzy, if they so choose.
This is followed by Educator Preparation Report Cards. Then a State Superintendent Testing Study. The point of the study? Reducing testing (as long as its not State or federally required) for K-12th grades. (*Note: Superintendent Johnson has already shoved out a 'reduced testing' fallacy, which I exposed in August 2018. You'll also see that other States are doing the same type of thing.)
Next, is the Health and Suicide Protocol Training. That will see the NC's Superintendent partner with the State's HHS (Health and Human Services) to develop content and a model for mental health training which must include suicide, sex, and, substances.

Renew Your School?

It's on Page 3 you'll find the NC Renewal School District parameters begin. The 2018-32 Law is 8 pages in all, so all the nuts and bolts for 'renewal' have been laid out. In the screen shot below, I've summarized some of the biggest items: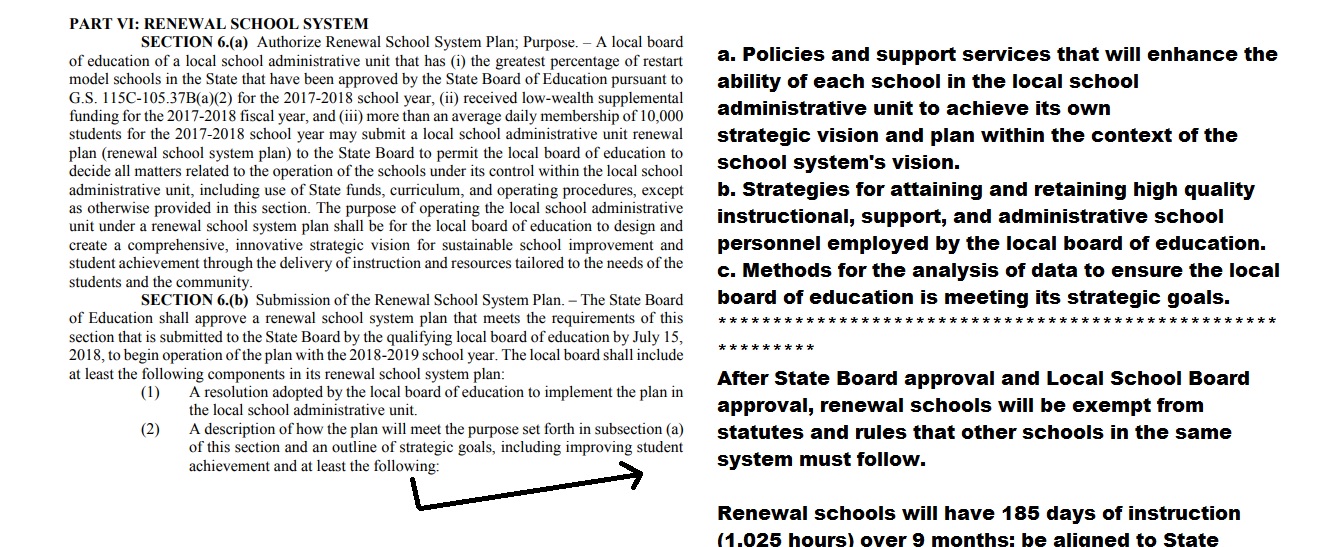 Also built into the 'renewal schools' are anti bullying, school provided transportation for students, compliance with the State's Uniform Education Reporting System (all data mining based), offering driver's education, and, have at least 50% of the teachers licensed to teach. Of those who teach math, science, social studies, and language arts, they must be college graduates.
Renewal schools can contract with non-licensed citizens to be employed, they cannot teach, however.
On page 6 you'll see that the funding for renewal schools will be a bit different than those schools not being renewed. The Law is clear in stating whatever State or federal funds are used for, State and federal mandates must be carried out.
Warriors, the most disturbing part about this renewal school district law is that the renewal system is locked into place until the 2022-23 academic year UNLESS the renewal school fails.
However, the State Superintendent is the only one who can make the recommendation to close a renewal school..not the local school board! NC's State Superintendent already has too much power, this built in mandate gives him more.

Look in your State, Warriors, what powers are increasing in your State Board of Education and/or Superintendent?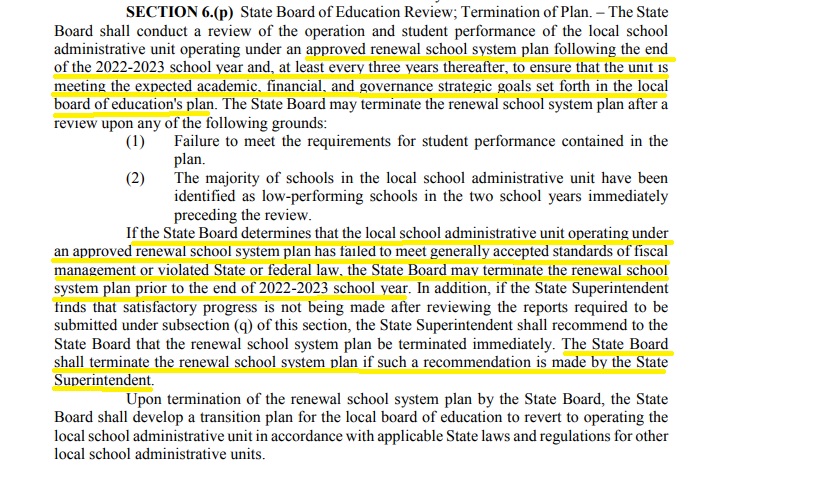 It does appear that IF a renewal school fails, it's folded back into the public system, but then what?
It's been passed off as 'low performing', then, maybe turned into a charter, to then be identified as 'low performing' again, to then go to 'renewal'. The amount of waste in time, energy, money, and, most of all, messing with our teachers and students in this newest experiment is off the charts, Warriors!
The 'renewal' system is still steeped in massive student data rape, constant assessing for 'student performance'.
How many 'new ways' are being foisted on the legislators to come up with the same reform in fresh forms?
Have we forgotten that those accreditation organizations (like AdvancED) micromanage our school districts to no end already? What about their involvement in 'renewal schools'? Why use one district (Rowan County) as the experiment school? 


(Source)
Is there a bigger piece of the 'why Rowan County' puzzle being chosen as the 'renewal school district'? I believe there is, indeed.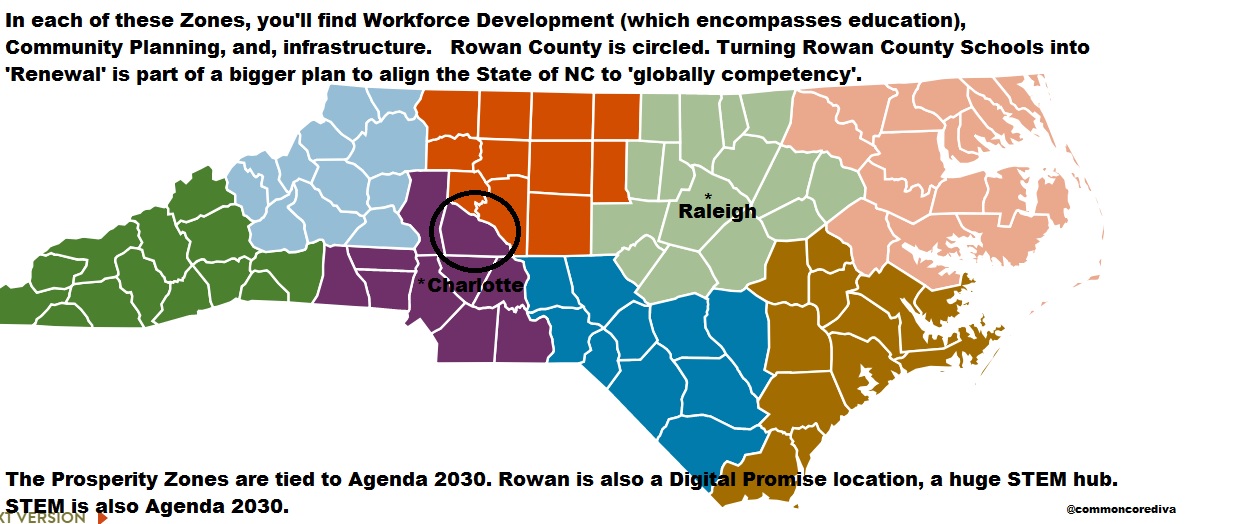 The State of Indiana is using the Rowan County NC STEM (Science, Technology, Engineering, and Math) Community Guide 'success' to embed more UN/ESSA mandates, including after school programs.
Warriors, look in your States for similar activity.
If you look at the IN's program and those funding it, you'll see the Gates Foundation is chief among them.
Prosperity Zones are created by the NC Dept. of Commerce. Here's their spin. Here's my truth about them.
Closing:
Warriors, since the passage of ESSA (Every Student Succeeds Act), new laws with ESSA mandates (since forgotten or maybe never realized) are hitting us hard and fast.
We've got to do more to raise awareness. Those newly elected leaders. Did they run on an 'anti Common Core' campaign? If so, ask them how can they oppose CCSS, but embrace the ESSA's fallacy filed mandates? For example, expanding school choice or using education savings accounts, expanding early childhood education (beginning at birth) or career tracking..these are all CCSS aligned! The federal funding flowing to every one of the 50 States is not being broken. Will these new leaders do so?
No matter if it's 'renewal', 'lab', 'innovation' or some other 'new choice', it's a lie!
Work with the leaders (new or not) to show them where those fallacies are! You know them well, my Warriors! You have the research! Share it!