Anti Fed Ed Warriors, as "National School Choice" Week is about to begin, look out for massive amounts of cow chips to be flying. We've seen how the U.S. Secretary of Education has spun 'school choice' recently. Also, we can more than likely expect another Presidential Proclamation in support of "National School Choice" Week as well.
Watch for your local and State leaders to jump on the fallacy-filled bandwagon, too.
Warriors, we know the problems of the federal government overreaching into the classrooms of ALL choices via ESSA (Every Student Succeeds Act). We also are fully aware of the massive amounts of P3s (public-private partnerships) overreaching in the classrooms of ALL choices via the CCSS Machine.
So, what do you imagine could possibly go wrong when the CCSS Machine-driven agenda for workforce based education (aka: CBE/OBE, competency/outcome based education; CCR, College and Career Readiness; CTE, Career Tech Education; and, STEM/STEAM: Science, Technology, Engineering, and, Math/Science, Technology, Engineering, the Arts, and, Math) meets a state and local government level?
Warriors, read on….
The Evidence Is In The Email?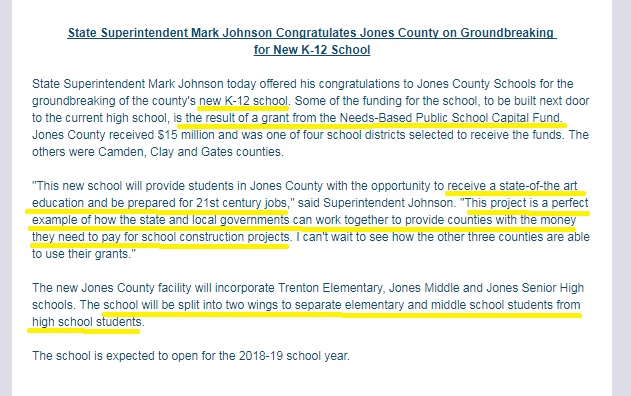 Yes, Warriors, your eyes saw what mine did, a '21-st Century take' on the one-room school house has turned into the "one-school-agenda-driven-jobs-institution".
The Other Evidence Is In the State Constitution:
From a March 2017 presentation to the NC House of Representatives' Appropriations Committee, comes this: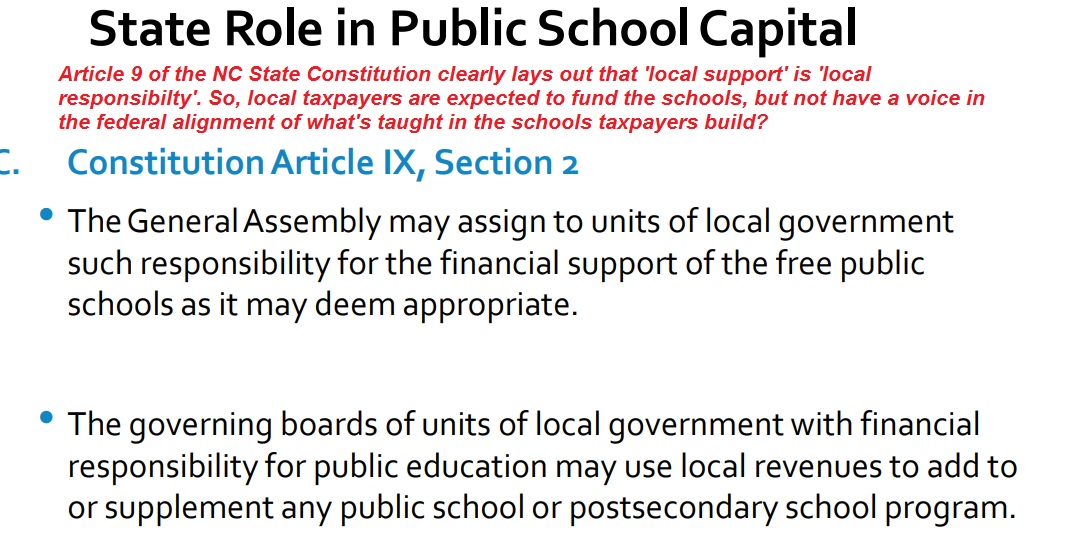 To access NC's Constitution, Article 9, go here.
 Warriors, don't simply read Section 2, look at all of Article 9.
Other Evidence From the NC General Assembly: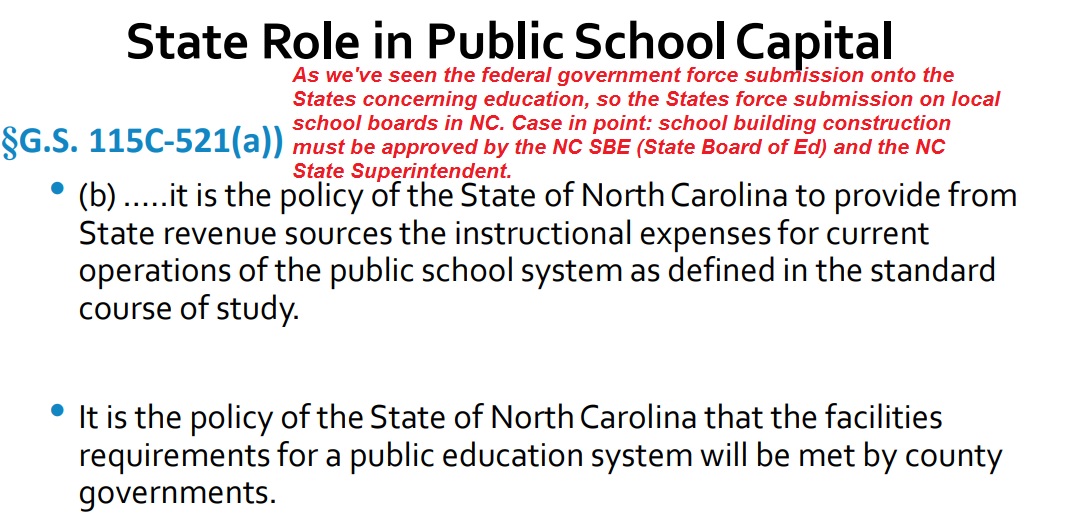 Warriors, if you'd like to read the General Statute 115-521, find that here. Again, notice the pecking order when it comes to what type of school is to be built, not necessarily what goes on IN those schools. In the closing pages of the NC House Appropriations presentation (embedded above), note that part of the plan appears to be to expand the NC State Constitution's use of public schools. Use for what? By whom? Has anyone noticed and questioned or protested (if applicable)?!
How can the State be so blind as to take so much care of how a school is built and not what type of federal/P3 overreach happens on a daily basis? Why are the local citizens so happy to embrace new construction funds without seeing the CCSS Machine agenda in the way the buildings are being built?
Warriors, according to the NC House Appropriations Committee presentation, the General Assembly's plan for offering a "Needs Based Public School Capital Fund" relies on 3 items.
a) A Statewide Bond (oh, boy, ballooning debt by the time the Bond expires); b) Lottery Allocations (The current Needs Based Public School Capital Fund is from existing Lottery money. However, a quick look at how NC's Lottery has been questioned before now, should leave us questioning how is the Capital Fund different); and, c) Local Option Sales Tax (that's right, coming from a State with one of the highest taxes, NC citizens will have to give even more. Careful NC legislators, over taxing the people while muting their voices is called 'taxation without representation'.

Some Questions/Pondering Thoughts:

Warriors, I know there have been several everyday parents, grandparents, and guardians who have shared on social media their shock at the way the new schools are being built. Some have referred to them as 'prison like', some have seen the schools from the inside and gasped at the cluster-desk groupings, the open classes where no books are in sight, and more.
Here's an architecture company's take on why schools are looking more and more like anything BUT a traditional school for academics. Also consider the past evidence I've shared with you about 'open classrooms' and how they are a brain child of the UN (United Nations). The evidence from the UN was found in Brazil in 2009 and 2011. Note that the tone of the 2011 document is all about IT (Information Technology). In the document, IT drives not only what is taught, but the types of tests (assessments) AND the buildings constructed to reflect all this 21st Century 'improvements'. The kingpin for all this is SEL, Social and Emotional Learning.  Here's the article I featured all this in.
The tone for the 2009 document is open classrooms bring peace to everyone in the room.
It's more SEL, Warriors. What's more is the article, I featured the UN Report in, shows you a NY State modern classroom which employs the 21st Century open classroom.
Closing:
Warriors, as always, look at what is going on like this in your State. Chances are, thanks to the CCSS Machine, that activities cloaked in goodness for local education, may just turn out to be an illusion. Just like ESSA's treatment of 'school choice'.