Anti Fed Ed Warriors, how well do you think our digital connection across the globe is? Is it big enough? According to Congress, it's not big enough. In fact, we MUST have US legislation fix the international problem!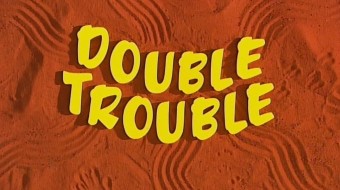 Meet HR 600, Digital GAP Act:
Okay, Warriors, we know the GAP stands for something. So what IS 'GAP'? "Global Access Policy". HR 600's full name is: Global Digital Access Policy Act.
This bill was sponsored by Rep. Royce (CA). This was January 2017. It's passed the entire US House and is currently in the US Senate's Foreign Relations Committee. Before I get too much further, Warriors, let me point out this bill (HR 600) was introduced on Jan. 23rd of 2017. It passed the entire House on Jan. 24th of 2017.
The stated purpose for Digital GAP is to increase opportunities for everyone across the world to have better internet access. It will grow jobs, boost economics, improve education, and, so on. It would also help the US taxpayer funds being used in global internet governance to get the 'best bang for the buck'.
Also in the Bill, is the 'sense of Congress' that a standardized, P3 (Public Private Partnership) approach be made universal so that everyone suffering from a digital divide can now find themselves in much better conditions. The Bill's language is very slick in including global groups the US is a member of; or, works with, to close this gap.

Grants and loans will be used to expand information gathered and shared, too.
By expanding information, expect expanded government, too.
All this connectivity will find education involved, because, after all digital distance learning boosts economics, increases jobs, and so on.  (Warriors, don't you just hear the noise of the CCSS Machine's digital alignment companies humming along?)
Below is Page 8. Look at the connections between the CCSS Machine and the US Government in this one Bill which was pushed through so quickly. It's not a law, yet. But it could become one.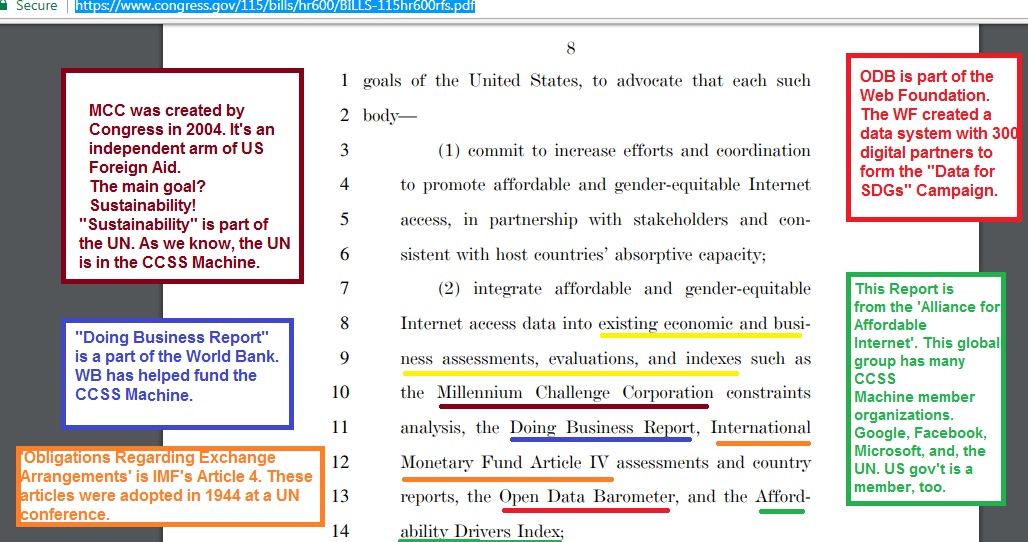 Find the MCC and it's information.
The World Bank resources are here. (*Note: my articles on the World Bank's CCSS involvement.)
The IMF's Article
The Open Data Barometer (*Note: here's the link for the Data for the SDGs)
The Alliance for Affordable Internet
Enter the State:

Warriors, also in HR 600 is the 'sense of Congress' as to having the U.S. State Department become involved. I've already proven to you how this Dept. is a member of the CCSS Machine. What will the State Department do? Use a power shift to create a new government employee position for cyberspace. That position will be a big one, too. They'll also update all civil service and foreign service training policies. Among them? More people with IT skills.
USAID's In On It, Too:
The United States Agency for International Development was included in HR 600's language. Their part of closing the digital gap? Adjust the education portion (among others) to include CBE (competency based education) in digital literacy. If you'd like to see their global innovation platform, find that here.
Send In The Corps:
Warriors, Congress's 'sense' extended to the Peace Corps in HR 600. The US Peace Corps have teamed up the UN several times throughout history. In 2011, it was to fight hunger.
It's no secret that CCSS Machine member groups (like the Gates Foundation) fund US Peace Corps. While the website for the US government run Corps wouldn't name their partners, you can do a general search. (*Note: in 2017 the UN Peace Corps began seeking volunteers.)

However, in 2017, the House of Representatives decided to have the Corps participate in the CCSS Machine outright. Look below at Page 12's proof: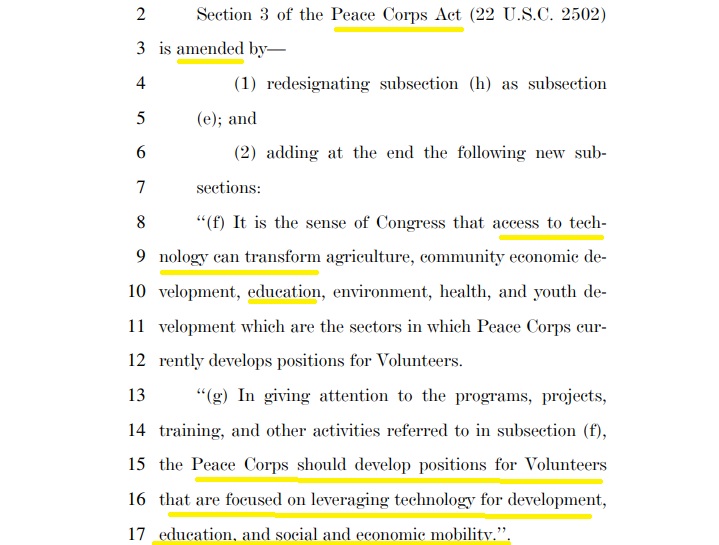 As if education hasn't been leveraged enough by the CCSS Machine, ESSA, WIOA, the HEA, STEM, STEAM, Next Generation Science, Next Generation Social Studies, Career Tech Education, College and Career Readiness, Global Readiness, Future Readiness, Choice Ready, and whatever else your State has re-branded Common Core by!
Lastly, funding for HR 600 will be one giant P3 the US Government establishes, too.
Closing:
Warriors, how sensible is Congress? Will HR 600 truly bridge a gap? In my research it appears it's a plank that we are being forcibly ushered down. Leading us is our government. Notice how this one US bill does so much for other countries. Did no one consider America's own students? Are they once again, an unintended consequence at the sake of money and internet access?