Hello, Anti Fed Ed Warriors! 
While we've all had a bit of rest from all that is going on and impacted education negatively, it's time we get back to work.
Major attention is needed to combat the massive data mining bills from Congress, D.C.'s got a slew of CTE (Career Tech Education), Workforce based education, and STEM (Science, Technology, Engineering, and Math) bills we've not been paying attention to.
Congress is using (mis-using) all the data to create more legislation to align work/jobs to education!
Every one of these bills absolutely continues the data sharing. They will continue to re-create our schools into workforce skills factories, not hallowed places of learning.
Imagine it this way, Warriors, our schools (of all choices) are in the middle of a grid.
The CCSS Machine has surrounded your child's school on EVERY corner.
Your child's education is secondary to their worth as an investment by the CCSS Machine.
That's why terms like "human capital", 'talent pipeline', and, others are SO degrading.
Below is my simple grid from previous articles.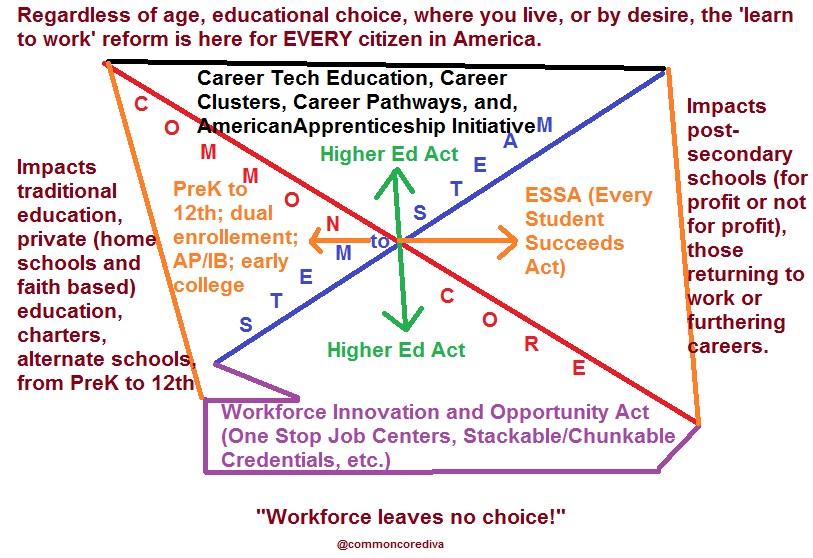 The agenda hasn't changed since I made this image; the bill numbers have.
From Current Congressional Work:
1) S 1875 is the "Flexible Grid Infrastructure Act of 2017".  (Warriors, note, 'education' isn't in the title, but it's in the fine print.)
Sponsor is Sen. Ron Wyden from OR. He's a big CCSS Machine backer.
He was responsible for helping create CTE legislation on a national level in the 114th Session of Congress. (*Note: the Bill in the Press Release embedded in the highlighted link is for CTE in middle schools and is called "Middle STEP Act".)

S 1875 is currently in the Senate's Energy and Natural Resources Committee. (*Note: The Chair for this Committee is a huge CCSS Machine member, Sen. Murkowski of AK.)
The supposed benefit of S 1875 is a more efficient energy system for America.
Woven into this Bill will be more independence and security while staying globally competitive as a nation.
Warriors, in this Bill, 'energy' is the broad category for not only electricity, but digital, technology, ANY kind of service or product using 'energy', as well as those providers of services/products.
"Education" is woven in 9 times in this "Grid". Page 16 reveals a national communication program with customer-based education; Page 36 will involve our higher education buildings; Page 44 shows 'model grids for power distribution' in our homes, schools, etc.; Page 47, however, reveals the federal agencies and their authority when it comes to energy and all the training involved to work in energy. (See below):
If all this sounds brand new, it's not. Back in July 2015, I published a two-part article on the US Smart Grid legislation and many others. Go back and look at the U.S. Dept. of Energy's angle, THEN, for education, and compare it to NOW. (The document you are looking for is just above the White House paragraph.)
One more note for S 1875, it refers to a law from 1980, which has since been amended. It is this law which is driving Congress's decisions on technology, data, innovation, and more.
*******************************************************
2) HR 2933, is the LEARNS Act. "LEARNS" stands for 'Leveraging Effective Apprenticeships to Rebuild the National Skills' Act. This massive agenda-driven bill would also expand the federal government's role in education by creating a new office in the U.S. Dept. of Labor expressly for apprenticeships alignment to education.
Twenty-one Representatives have been involved in its introduction. It's sitting in the House's Education and Workforce Committee. As you know, Warriors, Rep. Foxx of NC is the chair of that Committee. Her love for CTE is no secret.
Below, is a screen shot from Page 2 of the HR 2933's forty-nine pages: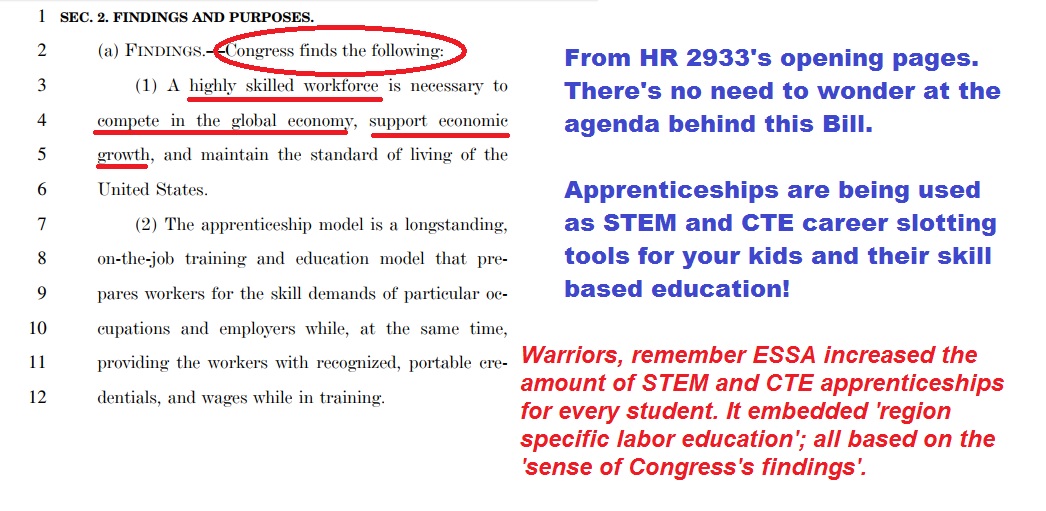 Congress's 'findings' include the Georgetown Center on Education and the Workforce's Report that by 2020,  a shortage of workers without post-secondary credentials will a national plight. Warriors, I believe it is this 2013 Georgetown Report used. Congress also cites the Annie B. Casey Foundation and the Mathematica Policy Research as sources. (*Note: Mathematica is a Gates Foundation grant recipient.)
Warriors, the Georgetown Center is a non-profit group which has received funds from the Gates Foundation! That grant from Gates is as recent as 2016 and was over $3.3 million dollars. The purpose of the grant was to 'support' the research and policy agenda behind skilled workforce education in America!
Below is a screen shot from the Center. It is from a Report published July 11, 2017.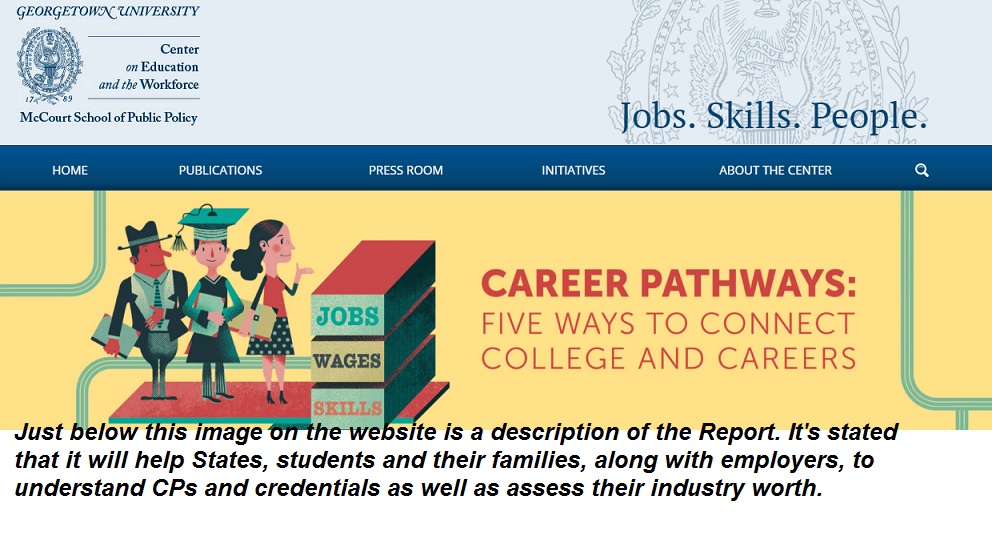 The House introduced HR 2933 in June of 2017.
The Career Pathways Report totally backs up the Congressional push for more CTE (which includes Career Pathways). According to the Press Release for this Report, curriculum alignment with workforce needs is a requirement.
ESSA (Every Student Succeeds Act) is where you'll find the mandate which cements having such a requirement.
On Page 5 of HR 2933, you'll see the purpose of aligning apprenticeships to education is to carry out the mandates of both WIOA (Workforce Innovation and Opportunity Act) and ESSA's.
That mandate? All education MUST be aligned to post-secondary readiness standards. Those post-secondary readiness standards have been branded "college and career readiness", future-ready, choice-ready, 'challenging state academic standards', and more. All of these are re-brands for the same thing: Common Core!
Warriors, ICYMI, I revealed to you some time ago how Harvard University and Pearson helped get "Career Pathways" into the CCSS Machine's reform via their "Pathways to Prosperity" Research Study. (*Note: Harvard's also heavy into student data mining.)
Congress has relied on Harvard as well as Georgetown for 'evidence' and policy.

*************************************************************
3 and 4) The last two current proposed bills related to numbers 1 and 2 are a set of 'sister bills'. The House's version is HR 2865; the Senate's is S 1193. The names are the same.
They are the "Better Education and Skills Training for America's Workforce Act".
The House's version is in the Education and Workforce Committee; the Senate's is in the Committee on Finance.
Both of these Bills are designed to give an update to the IRS tax codes so businesses can pay for education for employees. While that sounds great for businesses, what does this mean for the students of all ages and educational backgrounds? Below is a screen shot you may find interesting: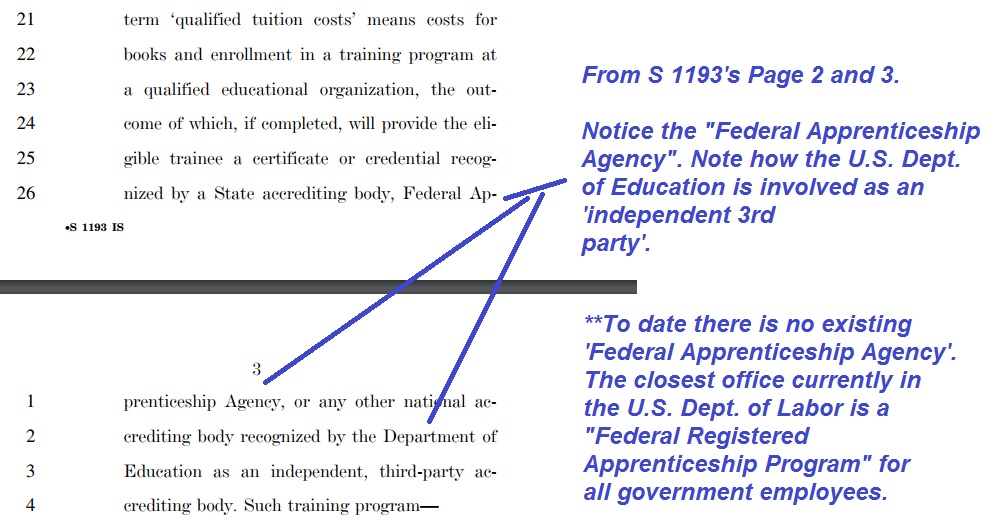 Warriors, ask yourselves this: With the current shift in education encompassing job training, does the current 'federal apprenticeship registered program' get expanded to include non government employees under the language of S 1193? I believe it will, based on all the research and evidence.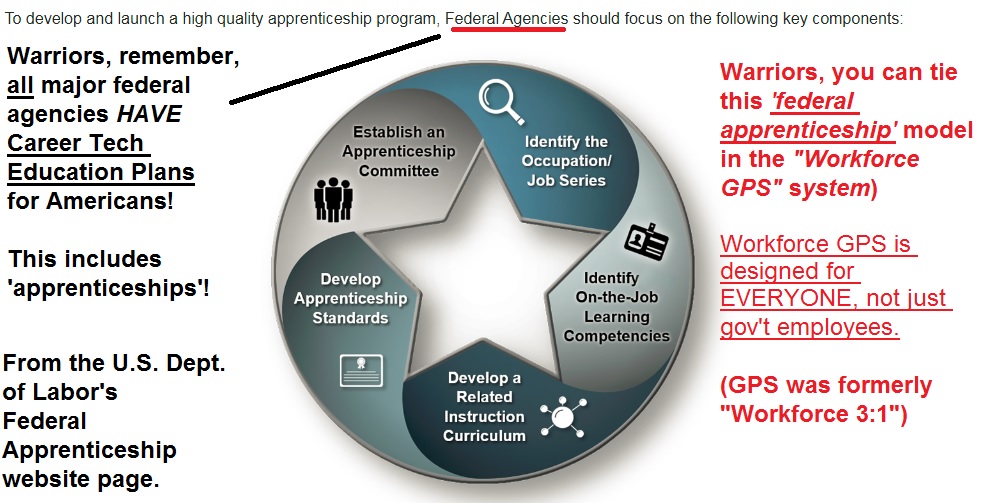 (* Note: ICYMI: When Workforce 3:1 was re-branded and how it ties to K-12 education.)
On Page 10 of S 1193, you'll see the U.S. Dept. of Labor will get another expansion as far as offices/agencies for "qualified job training partnerships" (Public/Private Partnerships, P3s, which ESSA mandated had to be increased in education for 'student success').
This new office will get $1 billion dollars to use as tax credits for those participating. Page 11 is specific to point out the how all this will 'allow non-traditional learners' to be involved in workforce based learning for jobs.
Is there anything different is HR 2865? As far as agenda, not that I could see. I did see, however, that since these bills involve tax credits, that means the U.S. Treasury Dept. will have to be involved. This means MORE data mining/sharing.
There's also some confusing language for businesses which invest in employee's education as to 'is it a tax credit for me' or 'is it a grant to them'? Warriors, this is taxpayer funding, ultimately. How will this impact every American when it comes to our national debt?
****************************************************

Warriors, in HR 2933, the National Skills Act was mentioned. In 2015, I shared with you much about the "Skills Act". ICYMI, look how Rep. Virginia Foxx was involved, look at the data mining, the purposed shift in education to meet jobs, not learning. Also look at the number of government agencies involved.
Closely tied to the National Skills Act is the National Skills Coalition. It's a huge CCSS Machine organization in 100% support of CTE, STEM, and job apprenticeships replacing real education. Check out their 2017 State by State Report where data mining is going full grid to ensnare your citizens/students. This will prove a State level legislative shift which is feeding off the federal legislative shift. Why would the States do this to us? Fed-to-state funding streams.
Warriors, this is all the more reason we need to fight HR 7174, S 2046 (will set up a national data base on everyone in the name of education). The House and Senate versions of the College Transparency Act (HR 2434 and S 1211) will also create a massive data snooping base on everyone in the name of education.
Warriors, we do NOT have much time before Congress heads home for all the major holidays. From what I could tell, Dec. 15th, will be the last day of business in D.C. for Congress.
While D.C. thinks 'skills' can build America's economy; D.C. is forgetting it's 'killing' academics in the meantime! ALL these bills are creating a gridlock on us. We must fight back!