Breaking News Anti Fed Ed Warriors, released earlier today was the President's Budget for FY 2020.
You can access the entire 150 page document, here.
The title of the Budget "A Budget for a Better America, Promises Kept, Taxpayers First".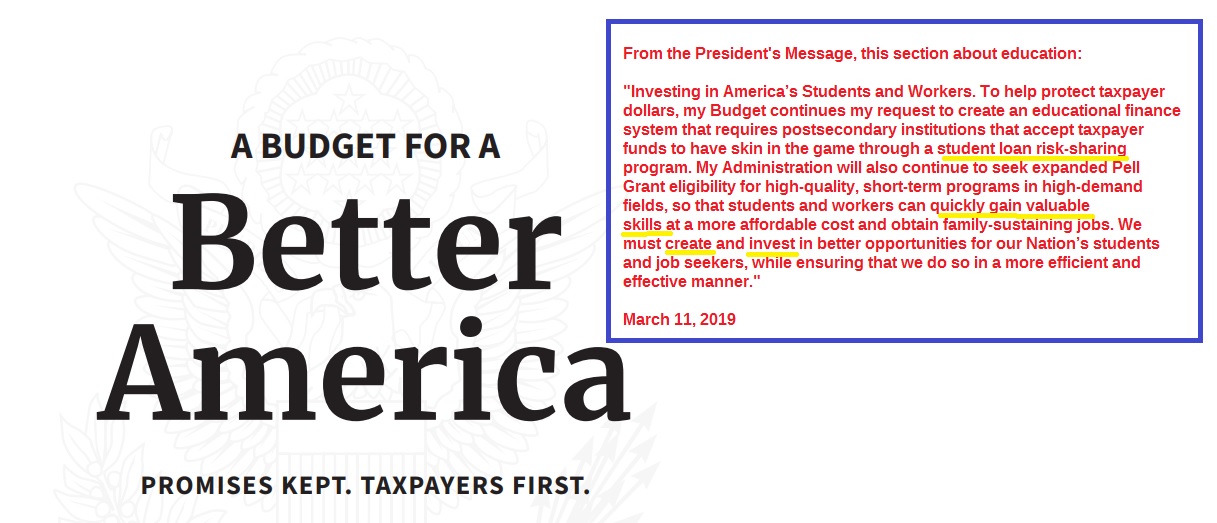 Warriors, 'education' is embedded in the Budget, 89 times. The U.S. Dept. of Education section begins on Page 29 and seeks a mere $62 billion dollars in taxpayers funds. The section is quick to point out this is actually a reduction from FY 2019, but it's still a huge price tag for something that is 100% unconstitutional!
Contrary to most citizen's view, education funding via federal budgets is not only within the U.S. Dept. of Education's section. I found it in several other federal agencies as well. Many of which are just as unconstitutional as Education.
Budget Priorities:
From the President's Management Agenda, push 3 focus areas, technology, data, and, the workforce. (Page 7)
Page 8 shows a new federal arm of the U.S. Dept. of Commerce, called the U.S. Federal Data Service. Also, FEPA (Foundation of Evidence-based Policy-making Act) implementation will begin in FY 2020. (More on how this will happen is on Page 11.)
Also from Page 8: "The Federal workforce represents a critical part of realizing change.
Failure to address fundamental workforce needs will render other modernization work ineffective. This goal reflects a transformational shift in strategic human capital management based on three pillars: 1. Actively Managing the Workforce: Improving employee performance management and employee engagement;
2. Developing Agile Operations: Reskilling and redeploying human capital resources; and 3. Acquiring Top Talent: Enabling simple and strategic hiring practices."
Page 9, data driven formulas to use on grant funding from the federal government.
SNAP funding (under the U. S. Dept. of Agriculture) is used in education. (Page 16) You'll also find rural investments (internet connectivity). Many of the education overreaches in rural investments will be found here.
Page 19, the U.S. Dept. of Commerce's 2020 Census. This new and 'improved' Census will data mine more than ever before. The data is used in education grant funding formulas.
Page 23, the U.S. Dept. of Defense's portion begins. You'll find every branch of the Armed Services aligned to CCSS, CCR, and, STEM.
From the U. S. Dept. of Education's section: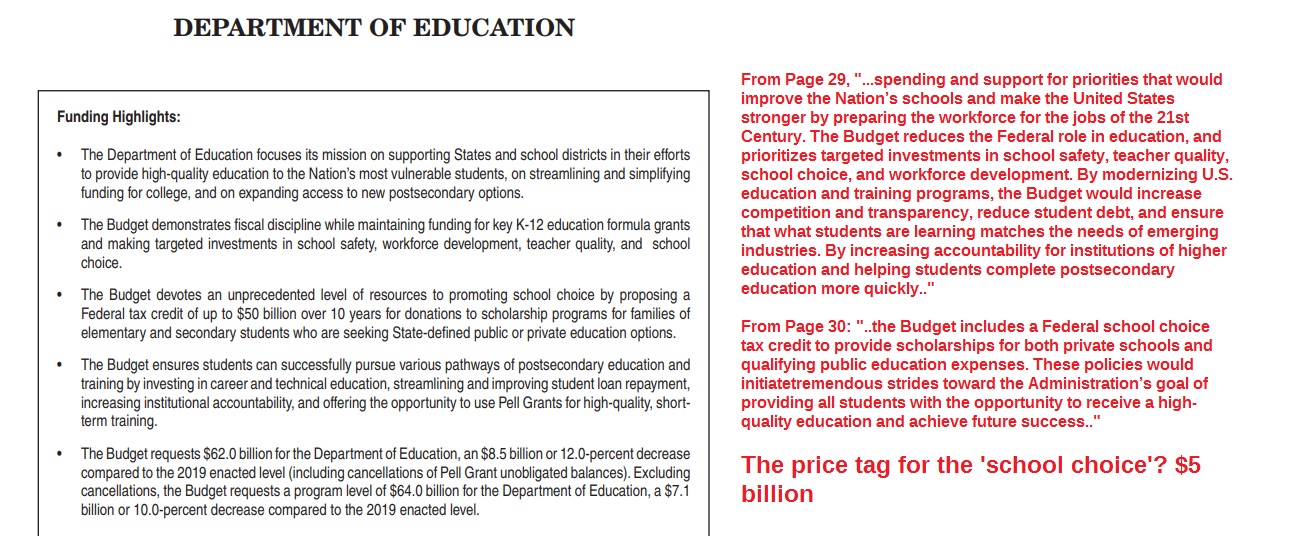 Page 35, the U. S. Dept. of Energy, will not specifically mentioned, STEM (Science, Technology, Engineering, and, Math) will be a huge part of the US DoE. You'll also find that much of the energy will be funneled through the United Nations (UN) Sustainable Development Goals (SDGs).
Page 39, U. S. Dept. of Health and Human Services section begins. HHS received a huge increase in power over education via ESSA (Every Student Succeeds Act). Much was for mental health wrap around services carried out via SEL (social emotional learning). Much of this will encompass Medicaid funding, too (See Pages 44 and 45).
Page 40, the expansion of behavior health workforce will cost $221 million dollars. For Mental Health Community Block Grants (which will apply to schools) is $723 million.
For Certified Community Behavioral Health Centers, $150 million. For Children's Mental Health Services (includes young adults), $125 million and another $133 million for school violence prevention.
Page 42, the Tax Cuts and Jobs Act is referred to for its impact upon health care. The Tax Cuts and Jobs Act can be tied back to education as well.
Page 47, for those concerned about vaccines (as yes, these impact education, too), you'll want to read here. Lots of money for the global health agenda.
Page 48, TANF (Temporary Assistance for Needy Families) funds also are used in education formulas for the States. Also on Page 48, funding for Head Start and Child Care and Development Block Grants (found in ESSA) are maintained. "The Budget also proposes a $1 billion one-time mandatory investment for States to build the supply of care and stimulate employer investment in child care."
Page 49, U.S. Dept. of Homeland Security begins. This Dept. handles a tremendous amount of student data, as well as data on every citizen. Cybersecurity is part of STEM, so education will be impacted here. (On Page 52, you'll see the U. S. Secret Service will become enlarged.)
Page 53, begins the U.S. Dept. of Housing and Urban Development. This impacts education, too. You'll also find lots of UN SDGs and other overreaches are funneled through this agency. The 2020 Presidential Budget actually wants to eliminate the Community Development Block Grants (which are in ESSA). We'll have to watch this particular nugget to see if Congress allows this.
Page 54, those receiving HUD funds who are not elderly or disabled must either work (training counts) or participate in some educational activity, at least 20 hours a week.
There's also $75 million for Family Self-Sufficiency Funds and $15 million for Jobs-Plus. These will tie back to WIOA (Workforce Innovation and Opportunity Act), as well as ESSA and the HEA (Higher Education Act).
Page 55, centralized holistic community hubs for wrap-around services for families and creating "Opportunity Zones". These will connect to 21st Century Community Learning Centers (in ESSA), more than likely. (On Page 33, these are set to be eliminated, but as we saw with previous Pres. Trump budgets, Congress kept the funding open. This will need to be watched.)
Page 57, U. S. Dept. of the Interior begins. DoI has an arm called BIE (Bureau of Indian Education). BIE is directly impacted by the educratic takeover.
Page 61, U. S. Dept. of Justice section. Justice also overreaches into education via data tracking, drugs, and oversees our national security. Parts of our National Security Plan are centered on the United Nations declarations, not the U.S. Constitution. The amount of $754 million is earmarked for CTE (Career Tech Education) and re-skilling inmates. On Page 63, Project Safe Neighborhood will impact education and our 2nd Amendment. STOP School Violence will receive $100 million (also Page 63).
Page 65 will take you to the U.S. Dept. of Labor. As we well know this definitely overreaches into education. When ESSA was made into a federal law, this Dept. received an increase in power, as well. Expanding apprenticeships ($160 million) will boost the 'earn as you learn' platform of 'closing the skills gap'. Page 66 expands the CTE in K-12th funding as well. America's workforce centers and programs will be streamlined (no doubt through the U.S. National Council for the American Worker) Veterans and Job Corps will also be included in the re-skilling efforts and 'earn/learn'. (On Page 85 under the U. S. Veteran Affairs, you'll find educational assistance.)
Page 71, The State Dept. and other international programs. State Dept. involves education via USAID and is tied to the UN. There is quite a bit of information here, if you are concerned with international financing and global health agendas.
Page 77, U. S. Dept. of Transportation begins. Here's another agency which will tie to the UN and the SDGs, education, and STEM.
Page 81, The U. S. Treasury. This will directly tie to education via student loans (Pages 83 and 84). Lots of international finances and investments will be funneled through this agency. Streamlined IT (Internet Technology) to collect more data is in the works, especially via the IRS.
Page 97, NASA begins. NASA is a huge CCSS and STEM aligned agency. The President has requested $21 billion. You'll find an increase in P3s in this section. (public private partnerships). STEM funding will also be shifted from 'low priority' to "high priority".
Other pages and how they connect:
Page 21, under the U. S. Dept. of Commerce, some NOAA education programs are set to be eliminated. NOAA will tie to CCSS and STEM.
Pages 30-33, under the U. S. Dept. of Education, school choice tax credits (for individuals and corporations) and scholarships, State-authorized nonprofit education scholarship-granting organizations (SGOs) to operate, especially for CTE, dual enrollment, and other educational related activities. Expanding school choice ($650 million), expanding public charter schools ($500 million) and $150 million for public magnet schools. This "Budget invests $50 million in funding for districts participating in the Title I student-centered funding pilot. The pilot program would help districts transition to more transparent funding systems that enable Federal, State, and local funding to follow the student to the public school of his or her choice." Title One will receive $15. 9 billion dollars in funding. IDEA funds will be $13.2 million. A whopping $226 million for education related development. For School Safety National Activities, $200 million. For Education Innovation and Research, $300 million. HEA (Higher Education Act) modernization efforts geared for its re-authorization are not given a figure, but types of efforts are included. Streamlining data flow between Ed and the IRS. For CTE expansion at State levels, the President's Budget asks for $1.3 billion. Federal work study programs will be refocused on workforce development.
Page 94, The Environmental Protection Agency will tie to the UN's SDGs, STEM, and school health.
Page 102, under the Small Business Administration, (a big CCSS Machine arm for the government) Entrepreneurial Development and Education ($101 million). This includes counseling and mentoring for all ages.
Closing:
There you have it, Warriors. The next step for this Budget is Congress. See something here which concerns you or troubles you, contact your Senator or Representative. Show them HOW each of the items you are vexed by ties to the CCSS Machine and/or globalism. As far as 'bettering America' I didn't see it. Taxpayers first? No, missed that, too.