Anti Fed Ed Warriors, don't you just 'love' it when the U.S. Dept. of Education dreams up more ways in which to abuse our tax payer dollars?
Would you believe Sec. DeVos has announced new rounds of competitive grants (those are your taxpayer dollars, by the way) for supposedly making schools safer?!
Warriors, I'm not saying we shouldn't have 'safe' schools, but you have to consider that what we think when we hear 'safe' is NOT what the CCSS Machine means when it uses that word.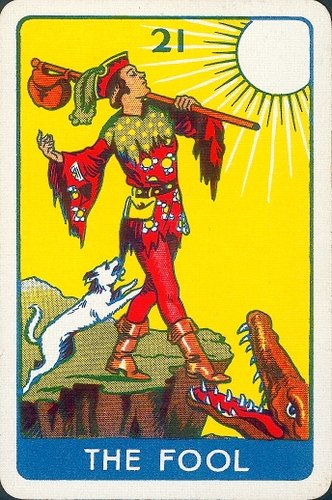 The Latest Round of Grants:
You can find the press release here. Look below, Warriors, and see the screen shot. For a mere $65 million dollars, our students and school staff will be aligned to the Every Student Succeeds Act, ESSA mandates (as laid out by the CCSS Machine) for 'school safety'. Look at the fast approaching deadlines, too. So much for a summer break, huh?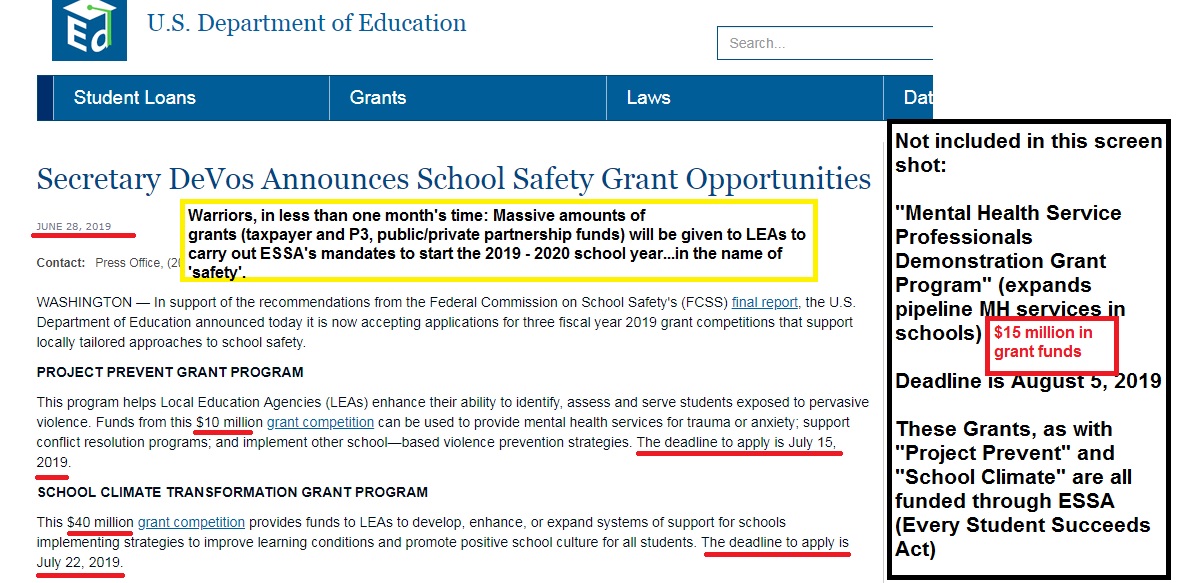 Warriors, let's consider that since all this 'school safety' business is part of ESSA's mandates, that our LEAs (local education agencies) have had school safety plans all along. They HAD to, in order to have all ESSA State Plans approved in the first place!
If you read the ESSA law (or Final Conference Report version), you saw States HAD to comply with national/federal provisions or at least show evidence of compliance!
In other words, Warriors, the set-up for mental health (aka "safe schools" measures) is going exactly as planned. These grants may be new, but the agenda behind them is NOT. The deck has been stacked against We the People since the CCSS Machine rolled into our lives. What's the worst, is our children and school staff members are being used as the bait and switch.
If you missed the Presidential (Trump) appointed Federal Commission on School Safety, here's their website. Sec. DeVos was placed as the lead member.
Project Prevent is based off the final 2018 Report the Federal Commission on School Safety (as presented to President Trump), the biggest takeaways are geo-tracking and school shootings (2nd Amendment has long been a back door agenda item from the CCSS Machine.) If you'd like to see what the 'fine print' of Project Prevent entail, the Federal Registry has that information.
School Climate Grants will increase the MTS (Multi Tier Supports) used in mental health services in our schools. As you know, Warriors, we've been warned MANY times as to the harm poorly trained and/or non medically certified leaders will force upon our students. Here's what the Federal Registry has in the 'fine print department' on these Grants.
The Mental Health Professional Grants will increase the presence of P3s in our schools, in the name of safety AND mental health well-being. These Grants will use medically trained and licensed health care professionals. However, P3s are unconstitutional! You can find the Federal Registry's details, here. (*Note: P3s are short for Public Private Partnerships. These are unconstitutional in the fact they are a fascist based tool which uses public money without public consent for private agenda.)
Warriors, remember this: Sec. DeVos is THE one who decides which LEAs get these grants! Remember: zero educational, mental health, or, emergency preparedness credentials, degrees, or, diplomas are held by Sec. DeVos.

Related Resources:
1) From the 115th Congress session, the mental health and school safety overreaches were gearing up in big ways. Now that we're in the 116th Session, what's survived? What's increasing? Read this and see if you can notice the connections to DeVos's latest announcement.
2) What can we expect in the Trump/Pence 2020 Campaign on mental health and school safety? Plenty. Note in this article how EVERYTHING Sec. DeVos has done 'for' education is being counted as a great American move. What do the other candidates have in store for us as far as education and/or mental health? My 5 part "Prudence Files" series lays it all out. 
3) School safety and mental health services will DEMAND massive amounts of data collection, sharing, and tracking. Are you sure the US federal government is concerned about your privacy?
4) From May 2019, my latest on the overreaches of Congress into multi-tier supports in mental health. These overreaches match ESSA and these new Grants.
5) From March 2019, the constant data tracking in the name of safety and mental health. Remember, these services are for all education choices, not simply public schools. Data tracking will also involve SIBs (social impact bonds), as well as 'gender bonds' and more.
These overlap into 'safety' and 'health'.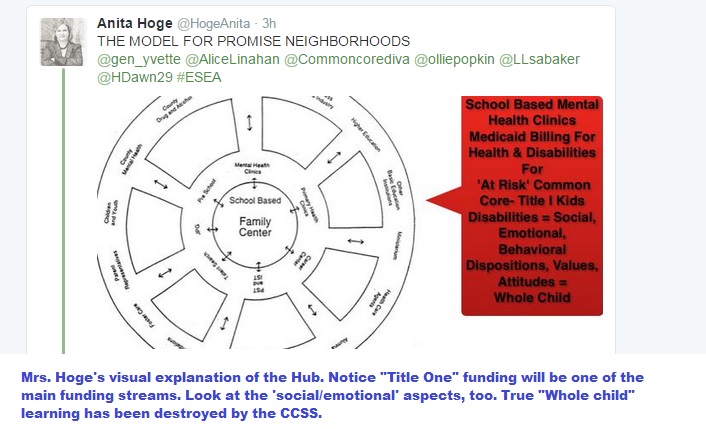 6) How does RtI (Response to Intervention) play into the mental health overreaches? RtI is a global tool backed by not only the UN, but Marc Tucker's educratic plans the CCSS Machine's been using for years.
7) The Mental Health push is in America, and going at break neck speed due to our involvement with the OECD (Organization for Economic Cooperation and Development), the UN (United Nations), and the World Bank. Mental health, in their 'eyes' is called SEL or Social Emotional Learning. If you missed the details to HOW all this fits our Congressional bills we are seeing (not to mention these new Grants DeVos will hand out), read this. Warriors, as we know SEL is embedded in ESSA in several ways.
8) Introduced just one day ahead of the U.S. Dept. of Ed's announcement for these new grants (which are being rushed out), was the 116th Congressional bill, HR 3539. What does HR 3539 do? Sets up the U.S. Dept of HHS (Health and Human Services) to oversee teams of behavior health teams in our communities, especially our schools! Representative Ferguson (GA) has a press release giving more details.
Warriors, remember that the U.S. Dept. of HHS received the largest power increase/overreach, thanks to ESSA. The U.S. Dept. of Education and Labor also received huge power/overreach increases.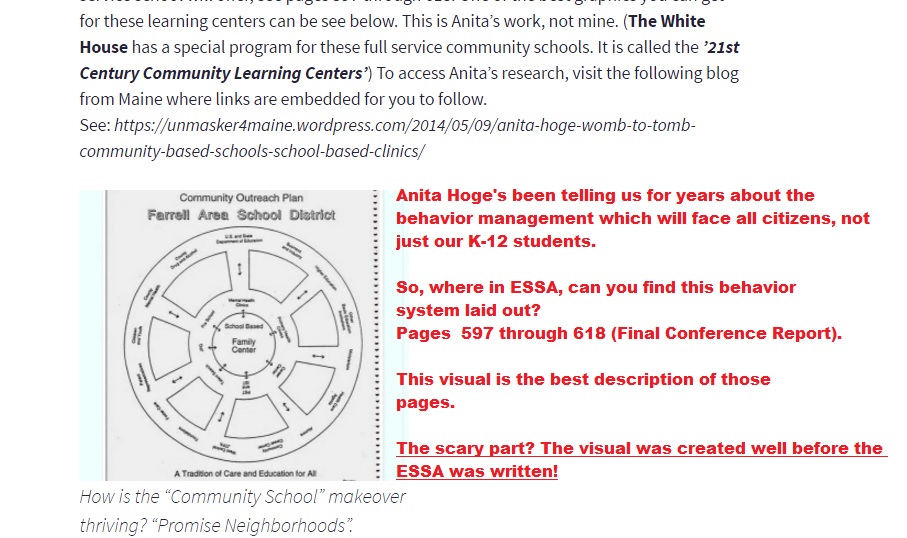 Closing:
Warriors, I urge you to stop whatever summer vacationing you may be doing. Contact your representatives who are involved with HR 3539 and HALT this bill NOW!
Contact your LEAs and urge them to keep education 100% local by NOT accepting DeVos's new Grants.
Urge your Senators and other leaders to work with you (and the rest of us Warriors) to REPEAL ESSA and every other federal educratic law.
We MUST repeal laws first, then we can have much better success at ending federally run education.