Hello, Warriors!
It's been a busy week and a half for me. Child Abuse in the Classroom's national grassroots campaign kicked off, interviews to prepare for, webinars to attend, and, a video 'class' on the UN's grasp on American education..enough to make me dizzy. Some even called me 'ditzy'. Oh well, all in the life of an outspoken education activist.
So, what do I mean by the title you read? "I might be banned IF"….I told the truth…again.
Facebook banned me for doing so…again. By now, not only am I NOT surprised, I am saddened. Freedom of speech, at least according to the Facebook 'police' is heavily censored. I could understand if what I have to say was truly awful, but, the truth?? Seriously??
What Got Me Banned:
Quite simply, my latest video presentation. Here's the link. If that link doesn't work, here's another way to access the audio. The audio version will not have the images I shared during the video, but you will be able to still get the idea that what evidence I have uncovered is key. Warriors, please share these resources. My thanks to the Warrior who created the audio version.
The research links from the video:

The first link I shared is for the Child Abuse Campaign. It has a section of its own below.

I touched on HR 3358 during the video. Use the website I embedded to search for it. This next week, I'll be diving into this bill for a closer look.

One thing I didn't point out, but intended to was the use of the Smurfs to push the UN's SDGs (Sustainable Development Goals).

During the video, I referred to my blog to access the articles by topic. As you know, I've devoted several years to researching education. One of the articles which sparked me to get involved was by Tom DeWeese. I not only gave you a bit of history with Tom's article, but I also gave you a bit of what's been happening since then and is directly related.

The technology push in America is also traceable to the UN. Read all about it, here.

One of the biggest things I shared with Warriors, is the color psychology behind the SDGs. There are two links you MUST visit! The first one is from a NGO (non government organization) run by a large group of Catholic women. Look at this resource to see the UNANIMA's grass roots efforts for the SDGs. The second one is from a group of 'stakeholders'.
The UN has some serious mandates about using the logo and colors of the SDGs. Find these 2 links and see how strict it all is.
You'll find the Global Alliance for Monitoring Education is funding assessments on a global level which fits right in with the UN's agenda.
To see the CIPP (context, input, process, and, product) model for assessing (based off the Latin American assessments all UNESCO member-states are to use), visit the highlighted link. The CIPP image is a bit fuzzy. Here's another resource to try.
To see the CIPP research (for measuring service based learning (aka: skill based learning), look here.

To see the UN's definition and purpose of assessments (a 'must' for the 2030 Agenda), go here.
To hear the US President and the US Ambassador to the UN (Haley) re-commit the US to the UN's reform, you have these 2 sources. Remember, Warriors, it isn't so much what IS said sometimes as it is what ISN'T said. By committing us to the UN's agenda, these leaders are speaking for us. We did NOT ever say we wanted UN in our US education!


Child Abuse In The Classroom:
"OUR GOAL:  To repeal ESSA and President Obama's Executive Order 12866 which changed the Family Educational Rights and Privacy Act (FERPA) regulations to allow our children's data and private information–including teacher-generated, anecdotal, psychological analysis–to be shared without parental knowledge or approval."
Warriors, we MUST have tens of thousands of citizens join us to make the grassroots effort truly pay off. To accomplish a 'repeal and restore' tactic of this nature, massive numbers of outraged citizens are needed. Please visit the website, see the ESSA's violations against all our children; learn the loopholes of FERPA.
Things I've found since the video was recorded AND are related!

Global Citizens: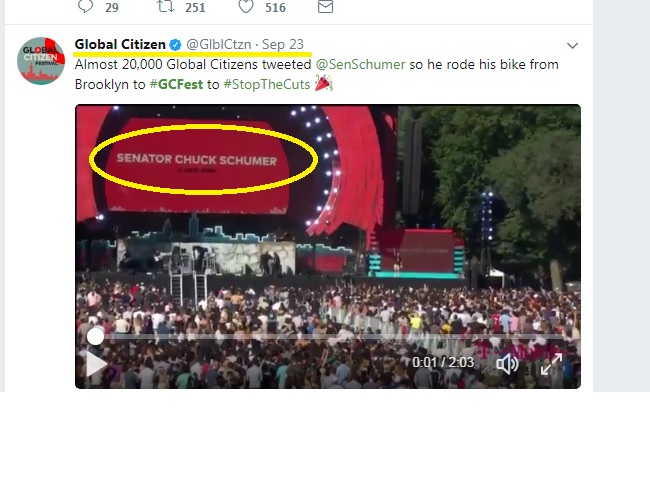 Then this: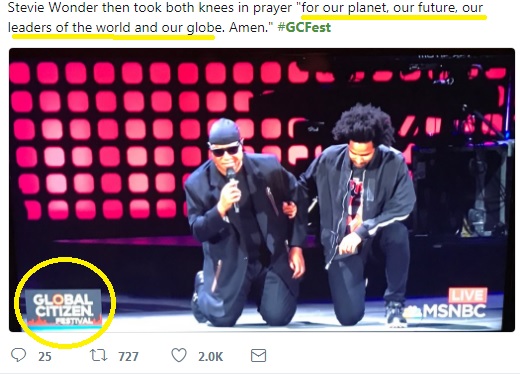 What a Global Citizen must believe and act out daily:
(*Note this is from a preschool) If you'd like to see a 'grown-up' definition of becoming a global citizen, visit this website. (*Note: This resource's history is one you'll need to read to believe!)
Then this proclamation by a US citizen: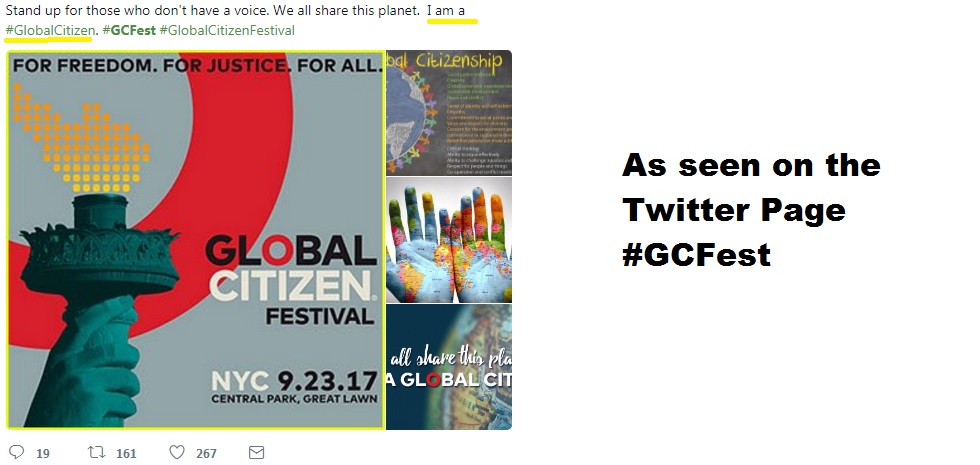 The Global Citizenship Initiative's website has a Report you simply HAVE to see. It is the Report Card for each nation involved in the organization. Of course the US is a member.
Below is how 'we' are ranked as far as aligning to the Initiative: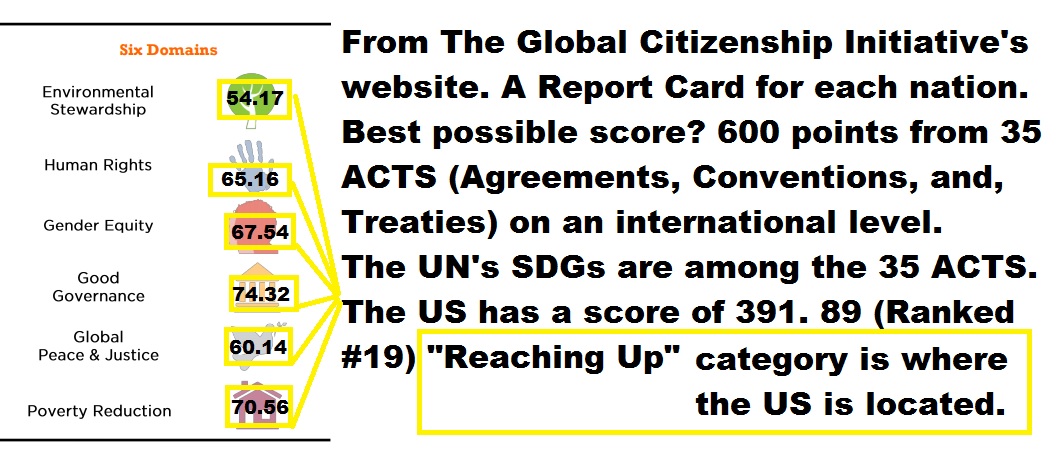 Warriors, it's vital to point out that the top 3 nations (Denmark, Sweden, and, Norway) "Leading the Way" in this Initiative are ones we repeatedly see our education systems compared to  OR lamented over that the US isn't MORE like these nations when it comes to education! Stop comparing!! When this happens, we are actually encouraging our US education system to become Un-American!!!
The Global Education Associates openly participates in the UN activities. The US, is a member country. You'll find the Eden Project is also a part of the GEA (Global Education Associates)
The P21 (Partnership for 21st Century Skills) is a well known CCSS Machine member organization. But did  you know they are 'buddies' with the UN?! That's right, the 'buddies' have been working together to ruin American education since 2013.
Not only is the P21 up to its neck in the UN's activities, but they are also pushing the 21st Century Community Learning Centers. These Centers are most definitely a globalizing move as well as being embedded in ESSA (Every Student Succeeds Act). P21's latest Report shows how our babies (18 months to 6 years old) can learn BETTER when involved in a 21st CCLC.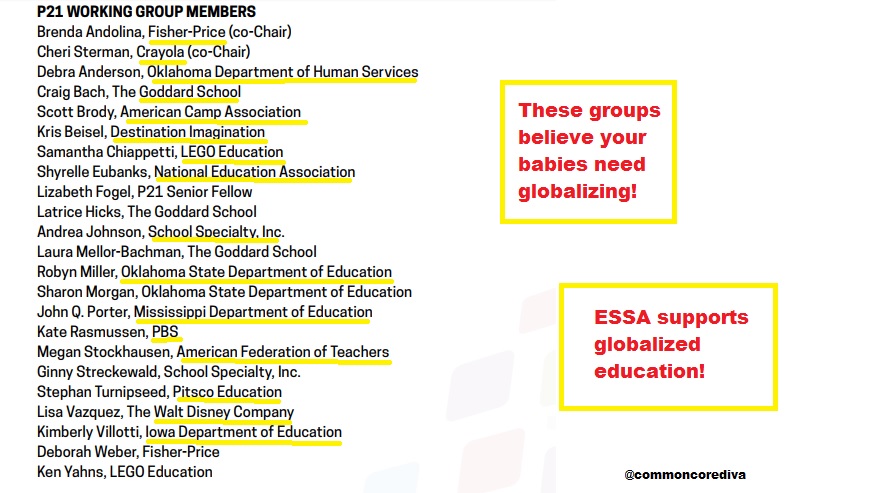 Since so much of ESSA has technology as an educational 'resource', it's important to connect that back to the UN's push for technology (see the links above I shared; as well in the video). Warriors, look at the evidence directly above.  It's from a group known as 'CUE'. Cue loves to lobby legislators. They are also partners with inACOL (International Assoc. for K-12 Online Learning). In 2016, inACOL gave a proposal to the UN for the 2030 Agenda in education. (*Note, thanks to Warrior Victoria for the CUE lead.)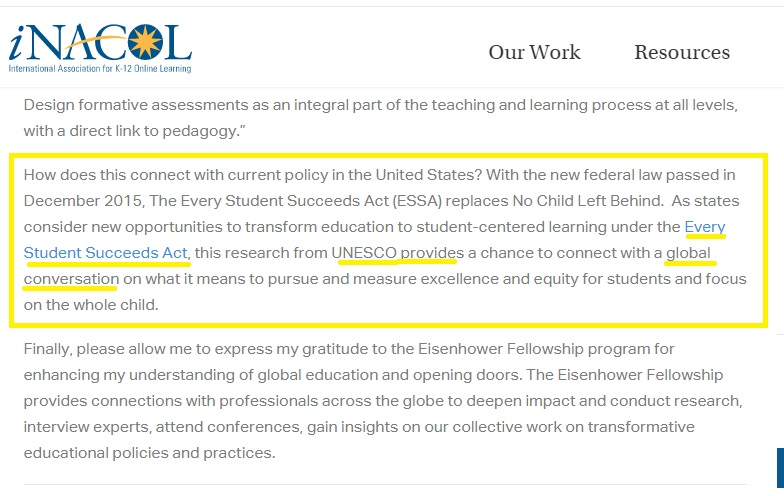 If you've heard of a "New Tech" school, it's part of the combination of efforts in educational reform. According to the NTN (New Tech Network), students are BETTER College/Career Ready Graduates! Here's their Report stating this. (*Note: "The New Tech Network (NTN) of nearly 200 schools in 28 states.." contains about 72,000 children.) When you access the Report, be sure to read the President's remarks. You'll find that global citizenship is among the themes of these schools.
Closing:
So, Warriors, there you have it. You, too, can be banned for sharing the truth about the CCSS Machine! So, speak loudly, speak daily, and speak out to save our nation!