Warriors, I was recently contacted by a concerned Anti CCSS Warrior from a big city in Texas. My fellow Warrior lives in Houston. She also is involved in a faith-based private school. The photos she sent me have been troubling her. She wants to know when the shift from academics to workforce took over her church's school.
Previously, Warriors, I've shared with you a few articles about the Catholic Church's leap from academics to Common Core (or, as it is now called, 'College and Career Readiness' or "Challenging State Academic Standards" found in ESSA, Every Student Succeeds Act). You also may remember how the private, faith-based schools are tied to a newer wave of education called 'micro schools'. The Catholic Church has been targeted by this movement based on its love of serving communities.
If you've followed my blog for a long time, you'll remember the articles about private education using CCSS aligned assessments.  That article shared an account of a distraught mother and the private Catholic school her children attended.
However, Warriors, this latest mom is from the Lutheran church. She has allowed me to share her evidence.
Let me pause long enough to answer one of her questions. She has asked me when did the Lutheran church schools sell out to the CCSS Machine? I cannot say for every single church school, but I can share that 3 large Lutheran bodies belong to the CAPE (Council for American Private Education). Look below: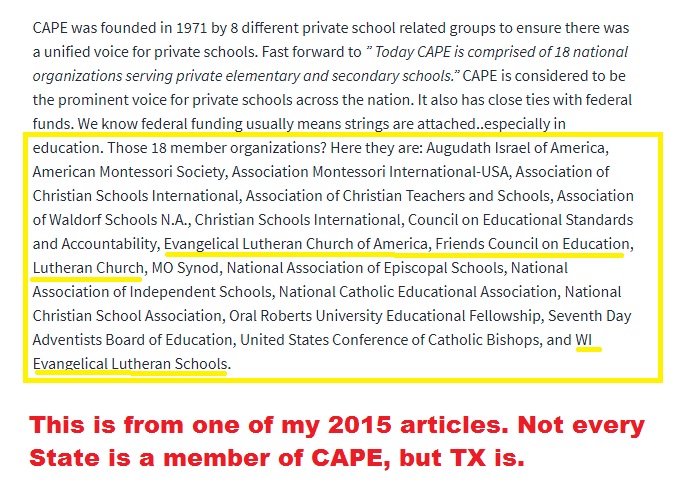 Source for image
Mom Supplied Evidence:
"Maggie", as I'll refer to her shared that her Lutheran Church recently joined forces with a more liberal Lutheran sect, Lutheran Social Services. This now allows the Social Service group to run a school. From the slides shown at a meeting about the school, Maggie noticed a definite shift. Tell me what you see, Warriors.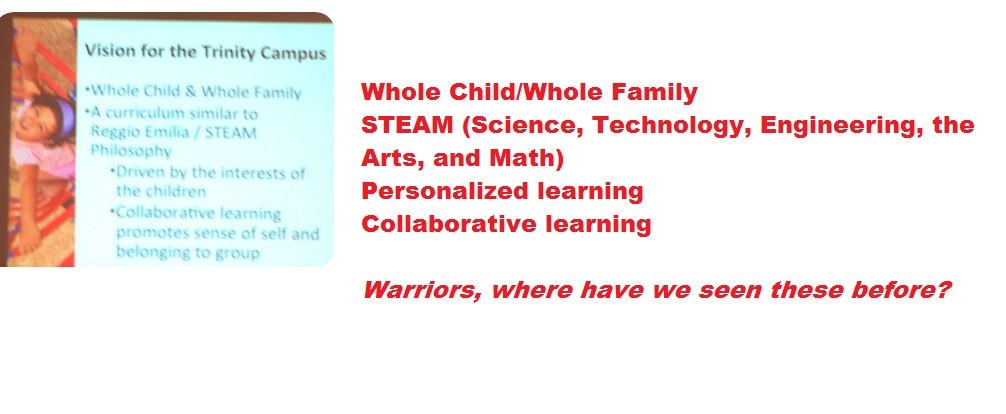 Then, this:

Other slides Maggie sent me were geared around how all this education shift was a great "Christian" thing to do. It was hyped as 'opportunity'. There were also more slides about the people in Upbring leading the school. These are a bit more fuzzy than the 2 above, but I will share them with you.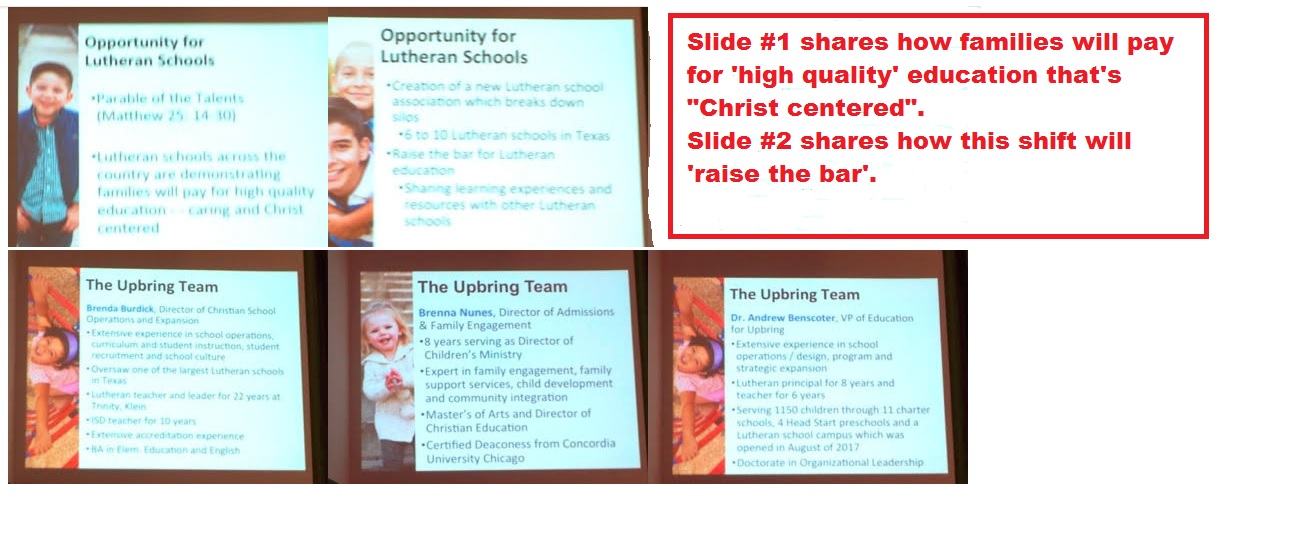 To see how Upbring is part of the Lutheran Social Services, go here.
To learn about the ties to the CCSS Machine the newly announced principal has, go here.
(*Note: if you do not see the ties immediately, think Head Start, Early Head Start.)
According to Maggie's information, the LSS (Lutheran Social Services) is a federal government contractor for refugee resettlements. When you look at the LSS's website, look at the community wide classes offered. All kinds of religion, just not Christianity.
I was able to find that others have written about this. What I discovered is it isn't only TX this is happening.
This newest Upbring school in Maggie's church will closely mirror the Austin, TX Upbring School of Arts and Science. That school uses the Reggio Emilia educational approach. If you do not recognize that early learning philosophy, think 'child centered', open classrooms, and 'critical thinking'. USAS, Upbring School of Arts and Science is a STEAM curriculum user. Recently, I shared with you an Alabama elementary school which is a STEAM recognized school. (*Note: look below for the highlighted "STEM and STEAM" phrase to see that AL elementary school.)

For the Lutheran School being a STEAM (Science, Technology, Engineering, the Arts, and Math) means, "STEAM empowers students to connect what they learn about science, technology, engineering and math through the STEMscopes curriculum with reading, writing, music and other arts."
STEMscopes is from Accelerate Learning in partnership with Rice University. It's tied to NGSS (Next Gen Science Standards), and those 'state standards'. According to the website, STEMscopes is the most widely used science program in the State of Texas in all types of PreK to 12th grade settings.
If you're interested, Warriors, I found a thesis on how well Reggio Emilia, Project Based Learning and Common Core work together. The author gave big nods to John Dewey and then tied the research back to her major, psychology.
How Low Can We Go?
Warriors, I know we are all beleaguered by the awful impact the CCSS Machine has rendered upon our schools. But to do all this and then slap a faith-based label on it? I'm sorry Warriors, but to me, that's pretty deceptive.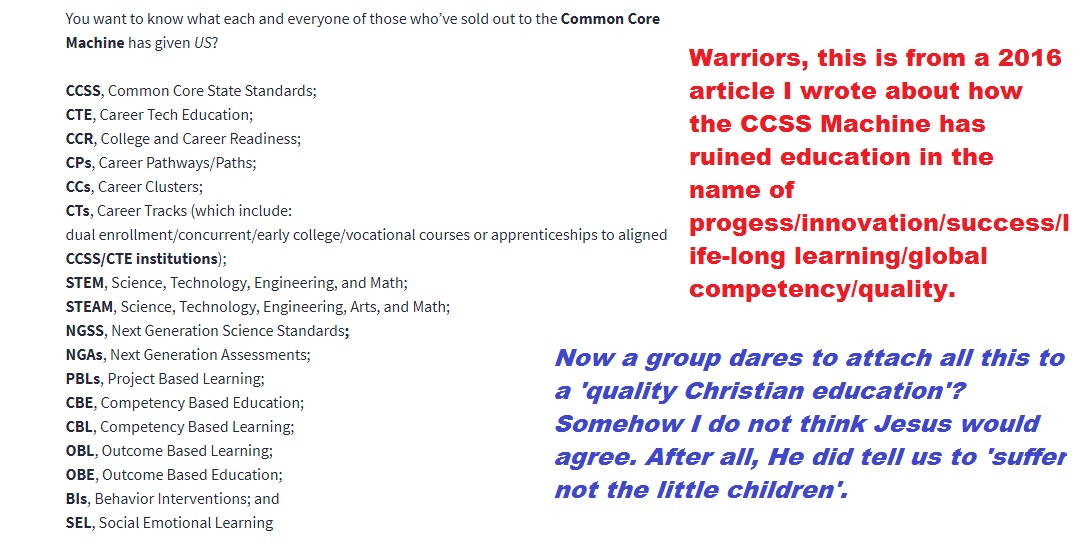 Source of the image 
Closing:
Warriors, I hope the evidence Maggie has provided paints the picture of just how much the CCSS Machine is overreaching into our lives. I hope you can see the agenda behind this type of reform in church based schools. If not, here it is:
 global uniformity in the name of educational excellence
Of the code names you see in the image above, almost every one of these can be traced back to the United Nations. Most especially STEM and STEAM. Maggie had asked me about those as well.
Warriors, we will not be free of the global agenda in education or in our nation as long as we are tied in ANY way to the UN. The US has invested too much time, taxpayer dollars, and, energy creating legislation (at all government levels) adhering to the UN's Sustainable Development Goals. Embedded in these Goals is the shift we're seeing:
One type of education for everyone. One way to live and work. Attacking faith-based schools with this? It's all part of the plan toward a one-way-to-believe-society.